What Really Happened Between Lindsay Lohan And Health Ledger?
Pablo Cuadra/Getty Images
Lindsay Lohan's triumphant performance in the 2004 teen comedy "Mean Girls" came when her career peaked. By 2007, she was starring in the critically panned thriller "I Know Who Killed Me" and struggling to stay on the straight and narrow. During filming, she completed what would be the first of three rehab stints that year, per CNN. Subsequent arrests and court appearances also kept her in the tabloids.
In a 2008 Harper's Bazaar interview, Lohan reflected back on her tumultuous year, saying, "That's what this business is. It builds you up to take you down and then sees how far you can come back." By then, Australian actor Heath Ledger had been dead for over nine months. Like Lohan, Ledger also charmed viewers in a teen comedy, the beloved 1999 classic "10 Things I Hate About You." He went on to earn his first Academy Award nomination for his critically acclaimed performance in "Brokeback Mountain" in 2006, and three years later, he won a posthumous Oscar for his role as the Joker in "The Dark Knight."
Unlike Lohan, Ledger's drug use wasn't front-page news until he died from mixing multiple prescription medications, per ABC News. He, too, struggled with stardom. "He wanted fame. And then when he got it, he didn't want it," said a friend of the late actor, filmmaker Matt Amato, in the documentary "I Am Heath Ledger" (via Time). So, maybe Ledger and Lohan aren't as unlikely of a love match as they appear on the surface.
Lindsay Lohan and Heath Ledger were purportedly dating at the time of his death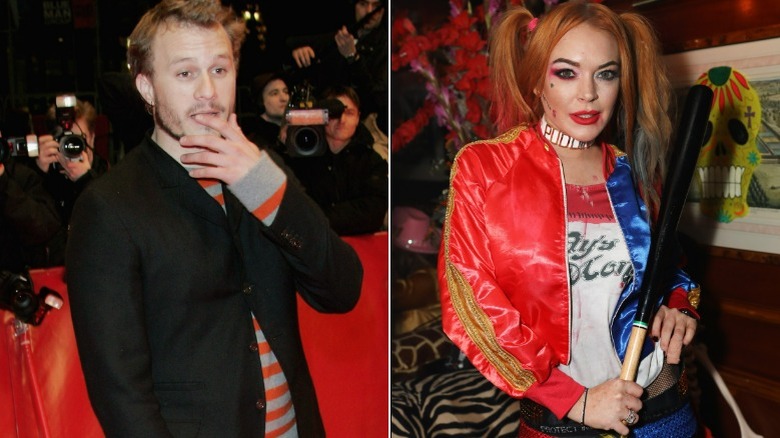 Mj Kim/Getty & David M. Benett/Getty Images
Heath Ledger had been romantically linked to model Gemma Ward mere weeks before he died. "We were both struggling with things that I won't get into, and we bonded over that," Ward later told the Herald Sun. But if Dina Lohan is to be believed, Ledger's last relationship was with Lindsay Lohan. In a recorded conversation with her ex-husband, Michael Lohan, Dina mentioned Ledger while expressing her concern for her daughter. "She was dating Heath when he died," Dina said, per a 2009 Radar report. "I know 'cause I would drop her off and they were friends, very, very close." She then discussed Lindsay's purported misuse of prescription medication, saying, "When she's drunk or takes an Adderall with it, she will do something like Heath Ledger did in a second without thinking."
Lindsay had previously spoken about Ledger in her 2008 New York magazine interview, but she didn't reference him by name when drawing parallels between his death and that of Marilyn Monroe. "They are both prime examples of what this industry can do to someone," she said. Lindsay made no mention of ever being romantically involved with the late actor, but in a 2013 "Piers Morgan Live" interview (via Oregon Live), she revealed that Ledger had given her advice on getting sober. "I don't drink every day. Heath Ledger told me to give it up for a year because he'd just done that," she said.
Heath Ledger appeared on Lindsay Lohan's famous leaked list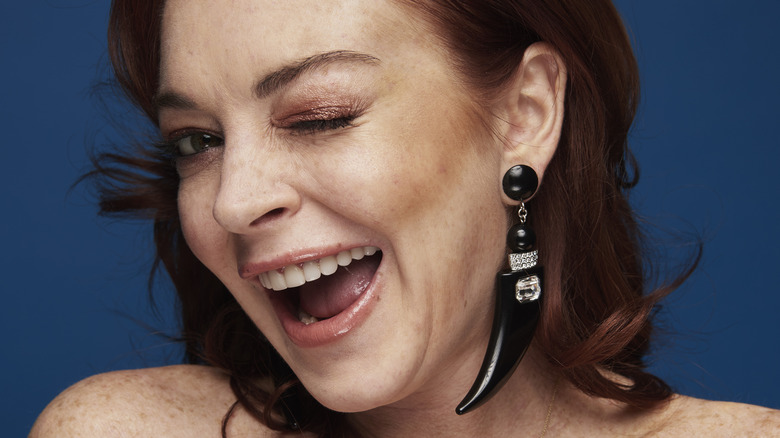 Gareth Cattermole/mtv 2018/Getty Images
In 2009, Star magazine (via Radar) published what it claimed was one of Lindsay Lohan's diary entries about her relationship with Heath Ledger. "Today Heath died. ... He was the love of my life," it read, in part. "He taught me so much, and he was everything I've ever wanted and more." Five years later, InTouch got its hands on another piece of Lohan's personal property: a list of famous men, including Justin Timberlake, Zac Efron, James Franco, Adam Levine, Colin Farrell, and Ledger. "It was [Lohan's] personal conquest list," a source dished. Lohan later discussed the document on "Watch What Happens Live." She explained, "That was actually my fifth step in AA at Betty Ford, and someone, when I was moving during the OWN show, must have taken a photo of it. ... That's a really personal thing and it's really unfortunate."
Through all the ups and downs Lohan has experienced living in the limelight, she's endured. She even staged a bit of a comeback; in 2022, she starred in the holiday film "Falling for Christmas." She might have some advice from Ledger to thank for her resilience. "He said: 'It's build you up to knock you down, and that's all it is. And you just have to see if you can stand through it,'" she recalled to Interview in 2009. Since she echoed this sentiment to Harper's Bazaar, minus the Ledger attribution, his words clearly stuck with her.