Savannah Chrisley Tearfully Admits Grayson And Chloe Struggle With Todd And Julie's Prison Sentence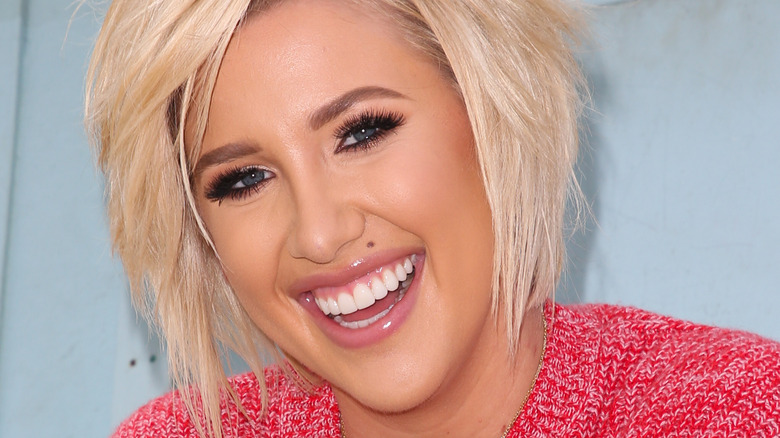 Paul Archuleta/Getty Images
On January 17, "Chrisley Knows Best" stars Todd and Julie Chrisley left their daughter Savannah Chrisley to hold down the fort as they reported to prison to serve out their 12 and 7-year sentences for tax evasion and fraud, as reported by CBS News.
As you may recall, Savannah revealed during an emotional episode of her "Unlocked" podcast in November 2022 that she had obtained custody of her 16-year-old brother, Grayson Chrisley, and 10-year-old niece, Chloe Chrisley. "[I'm] trying to navigate how you teach two younger children who aren't fully developed yet and ... get them to understand the circumstances," she lamented about her new role as a caregiver. "That's a really, really difficult thing," she added. Still, she was adamant that she was up for the challenge and declared to give them all of the "love and hugs," something she said they needed "more than anything right now."
But now, it appears things are only getting harder for Grayson and little Chloe... 
Grayson Chrisley and Chloe Chrisley are going through it right now
The kids are not alright. During the January 31 episode of her "Unlocked" podcast titled "Trashbox Tabloids and THE TRUTH," Savannah Chrisley tearfully confessed that her brother, Grayson Chrisley, and niece, Chloe Chrisley, were seriously struggling in the aftermath of Todd and Julie Chrisley's prison sentences. 
According to Savannah, Grayson had experienced his own breakdown while trying to process his parents' current situation. Meanwhile, she said little Chloe had resorted to anger. "She just said, 'Why? They're not bad people, they don't belong there,'" Savannah recalled. And although Savannah said she reassured Chloe that she was working hard every day to get her mom and dad home and suggested that they pray even harder, Chloe wasn't too sure. "And she looked at me with tears just rolling down her face and said, 'Guess what? I pray all the time ... I pray for mom and dad to get home... And guess what, Sassy? Nothing happens, it doesn't work,'" Savannah recounted.
Still, prayer and clinging to their faith is exactly what both Todd and Julie Chrisley credited for getting them through their most difficult times, including their prison sentencing. "Now, in this storm that we're in, I feel like I'm closer to God than I've ever been," the patriarch revealed during their first podcast episode after receiving their lengthy prison sentences.