Here's Why My Chemical Romance Really Split Up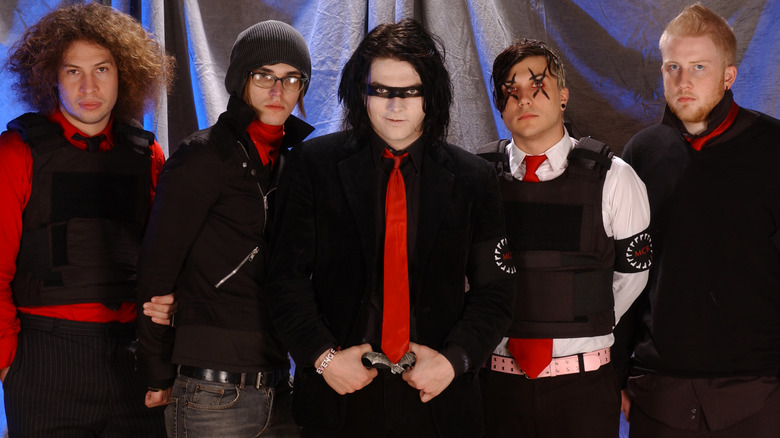 Larry Marano/Getty Images
We've been wondering for a while, whatever happened to My Chemical Romance? They were an American rock band that gained a following in the early 2000s with their major-label debut, "Three Cheers for Sweet Revenge," and worldwide notoriety with their multi-platinum selling followup, "Welcome to the Black Parade." The band was visually distinct, donning face paint and eyeliner while belting melodramatic lyrics of youthful angst. They were particular about their aesthetic and careful to maintain their image. In that vein, they turned down a chance to contribute to the soundtrack of the second "Twilight" movie, "New Moon."
Fans were stunned when the band announced their retirement in March 2013 with a post on their website. "Being in this band for the past 12 years has been a true blessing," the note began. "We've gotten to go places we never knew we would. We've been able to see and experience things we never imagined possible. We've shared the stage with people we admire, people we look up to, and best of all, our friends. And now, like all great things, it has come time for it to end. Thanks for all of your support, and for being part of the adventure." Nearly a decade later, the reigning kings of post-hardcore dropped the single "The Foundations of Decay" and announced a reunion tour that has proved "much bigger than anyone thought it could be," per Billboard. So they're back, baby. But why did they split up in the first place?
Gerard Way said their success became a hazard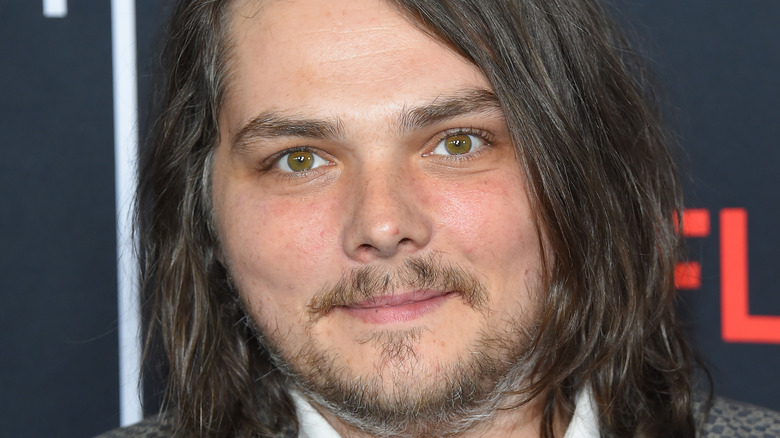 DFree/Shutterstock
My Chemical Romance may have called it quits, but the members didn't stop talking about their time as a band. Lead singer Gerard Way spoke to The Guardian in February 2019, offering his thoughts on why the band fell apart. "I like being super-creative all the time, and, unfortunately, when you're in a really big band you're actually doing a lot of boring stuff, like being on the road and missing your family. A lot of it is business," Way said. The singer married Lindsey Ann Way in 2007, and the two welcomed a daughter, Bandit Lee Way, in 2009, per Hollywood Mask. He added, "Now I get to stay home with them, and make my comics and sit in my office, and I don't have to leave the house, or those people."
Part of what broke the band apart was their success; the anxiety of their own influence became too much to bear. "When things start to succeed and go really well," Way explained, "that's when a lot of people start to have an opinion and that's when you run into struggle." Their fan base got too big, with expectations that proved challenging. Way said "The Black Parade" meant that "everybody had a fu***ng opinion about what MCR should be," he explained. "So it made it difficult to figure out what direction to take next. You get caught up in this trap of 'Is it ever gonna be good enough?'" That's a tough challenge to face.
Gerard Way said that Obama made everything right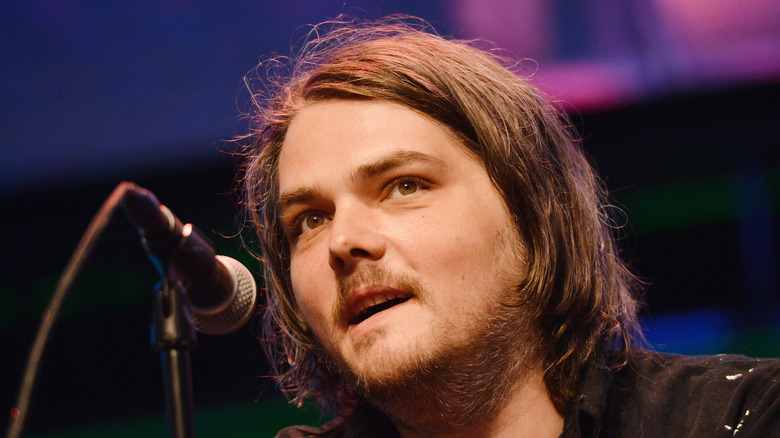 Chelsea Guglielmino/Getty Images
Gerard Way had another explanation for why My Chemical Romance broke up, revealing that the joy was gone during his interview with The Guardian. "It wasn't fun to make stuff anymore," Way said. "I think breaking up the band broke us out of that machine."
Way also explained that when they split in 2013, Barack Obama was president, giving him and the rest of his bandmates a feeling of peace in the world. However, by the time he sat down with The Guardian, Donald Trump had become president; and Way had lost his tranquility. "That's stuff I thought about when the world started to get super fu**ed-up again," Way said. "It definitely came into my head, but I'd changed so much as a person. I didn't know how I'd fit into it any more, I didn't know how the band would fit into it any more. But you're right, the world is definitely in need of something positive."
Sure enough, for reasons unknown, the band decided to reunite and tour again, playing their first reunion show in December 2019 in Los Angeles. Unfortunately, Loudwire notes that just as they were getting ready — the coronavirus pandemic paused their plans. However, things finally kicked back up again, and the band toured Oceania in 2023.