Ozzy Osbourne's Concert Touring Career Comes To A Sad Close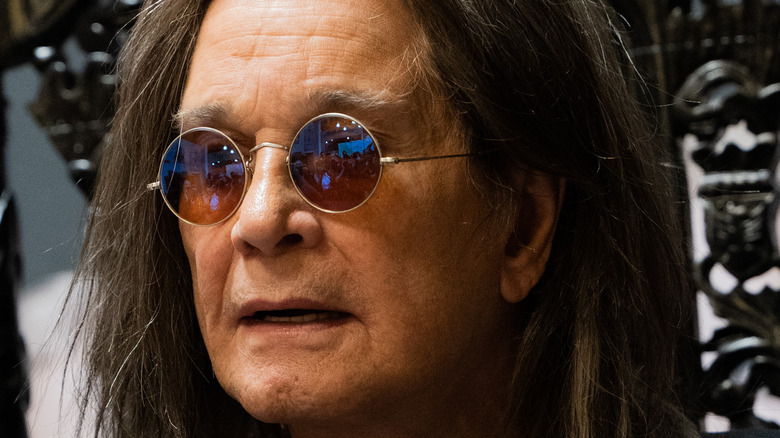 Scott Dudelson/Getty Images
Ozzy Osbourne — who has been at a major crossroads with his health — has canceled all of his tour dates, and it appears he has no intention of hitting the road in the future. "My one and only purpose during this time has been to get back on stage," he said in a statement posted to Twitter. He said that although his singing voice is intact, touring has taken a toll on his body, mentioning his spine injury. "After three operations, stem cell treatments, endless physical therapy, and most recently [a] groundbreaking Cybernics (HAL) Treatment, my body is still physically weak," he revealed.
The singer discussed the difficulty of traveling in his statement, which indicates that he may be able to perform the occasional concert. According to Variety, the Black Sabbath frontman performed during halftime at the Los Angeles Rams game in September 2022. The last time Osbourne said goodbye to touring was in 2019. "OZZY will postpone all his 2019 tour dates, inclusive of shows in North America and Europe," a statement on his Instagram page said at that time. At the time, the singer was recovering from injuries related to a "bout of pneumonia."  
Ozzy Ozbourne perseveres through the pain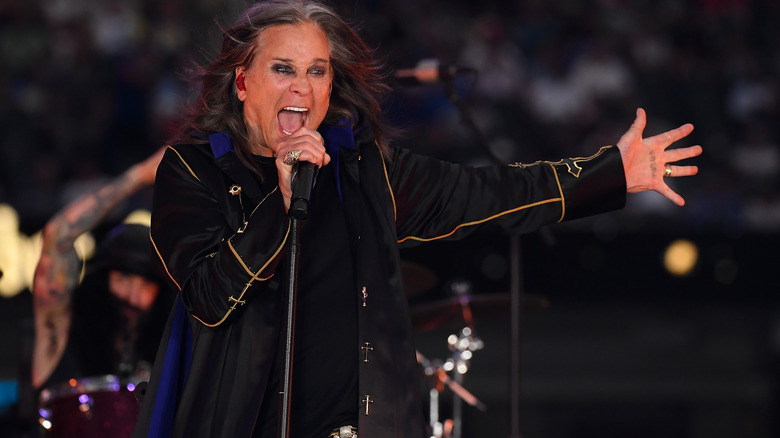 Kevork Djansezian/Getty Images
In 2019, Ozzy Osbourne had to postpone his tour due to injuries and illnesses. It was reported that the singer fell, resulting in the need for having metal plates placed in his back. He also was hospitalized for the flu, and has been diagnosed with Parkinson's disease. But Ozbourne had one thing on his mind during all of these difficulties: performing. "It is so f***ing tough because, I mean, I want to be out there," he said on Sirius XM (via Express). "I can't begin to tell you how f***ing frustrating life has become."
In a 2020 interview with Audacy Music, he refused to say his tour was "canceled," and instead said "postponed," indicating that he planned to be back on the road at some point in the future. "I cannot go out on the road until I'm 100% confident that I can pull it off," he said, adding that he didn't want to give up mid-tour. "I'm not going to go out there until I can give them the show I want to give them."
And in 2022, the singer expressed how much performing has been a part of his life. "You have not seen the end of Ozzy Osbourne, I promise you," he told The Guardian. "If I have to go up there and die on the first song, I'll still be back the next day."