Why Theo James Isn't A Fan Of Social Media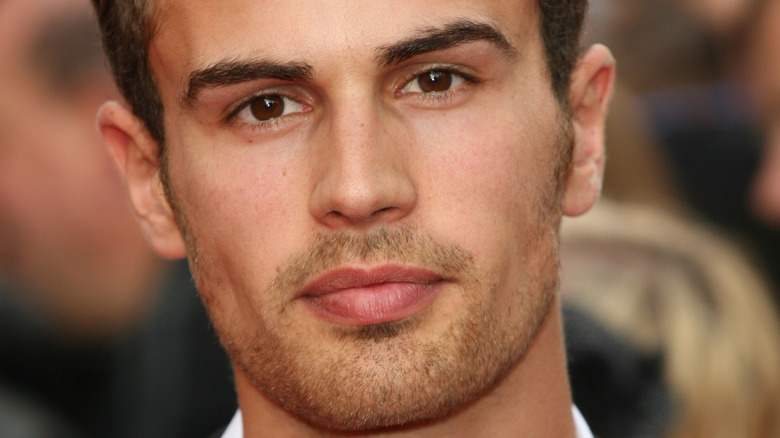 Featureflash Photo Agency/Shutterstock
British actor Theo James became a household name thanks to his role as resident heartthrob Four in the "Divergent" series. But while the first film performed well at the box office, the remaining two movies flopped, and James felt trapped by his contract with the franchise. "I felt I didn't have the fluidity to move in the directions that I wanted. You're very much in a certain type of role — and those roles can be pretty f***ing boring," the actor told Vanity Fair. However, James refused to be pigeonholed, going on to hone his acting chops in the period drama "Sanditon," as well as HBO's dark social satire, "White Lotus." In Season 2 of the latter show, James played wealthy hedge funder Cameron, whose morals aren't exactly up to snuff. "He's a devious and morally loose person, but I wanted to make sure that he was — within the prism of a villainous character — as likable as possible, the type of person that you want to be around a lot," James said in a 2022 interview with Esquire.
Playing Cameron was "freeing" precisely because his character was so over-the-top, but the sexualization that came along with the role was frustrating for James. There was even a scene where Cameron stripped down, which got a lot of attention on social media. For James, it was reminiscent of the media buzz he garnered playing Four, and a big part of the reason why he avoids the spotlight in general.
Theo James doesn't have Twitter or Instagram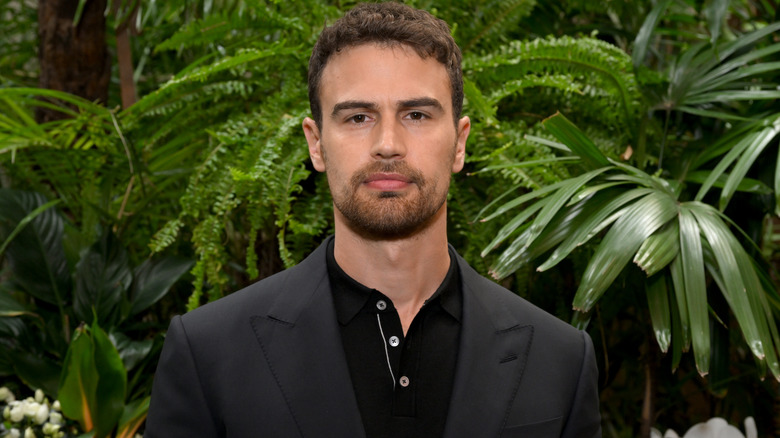 Michael Kovac/Getty Images
Just like Robert Pattinson, Theo James isn't about the whole Hollywood scene. As far as he's concerned, the less info there is out there about him, the better. "I don't have [Twitter and Instagram] and I never will," he told Flaunt (via E! News). "Other actors I know are really good at it and they rock and roll it, but it's not for me. If I post a picture ... and get loads of views or comments and stuff, then suddenly you're quite exposed and you're in a world of work. I just like being present."
In addition to working to remain present, James has struggled with becoming a sex symbol. The face of Hugo Boss, he'd like to be known for more than just his good looks — hence why he avoids the narcissism inherent in social media. "I'm a little allergic to selfies and I'm not on social media — I find it a bit invasive, and very self-centered," he told The Standard in 2017, adding that he doesn't like to take pictures with his fans. For James, it's all about being "multi-dimensional," or taking on roles that expose his different sides. Even so, he doesn't define himself by the work he does. Instead, acting is "a way of making money and I am satisfied by it, but beyond work it doesn't hold value for me," he said in an interview with Esquire. "For me, family and friends, those things are timeless."
Theo James values his privacy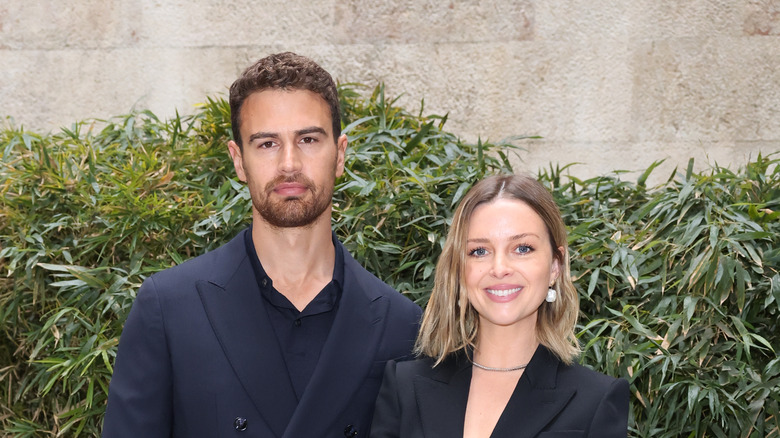 Jacopo Raule/Getty Images
Another reason you won't find Theo James on Twitter? The actor values his privacy, and holds his cards close to his chest. For example, James changed his surname around the same time he began pursuing acting. Not only was his original Greek last name Taptiklis "hard to say," but he liked "the idea of not everything [about you] is out there," per Buzzfeed. As for the reasoning behind the name change to "James," the "White Lotus" alum simply explained that it was thanks to "a very pertinent personal connection to a family member." Clearly, James enjoys his anonymity (as much as he can get, anyway). "I'm glad there's not much information," he told Flaunt Magazine (via E! News). "I don't think I'd want to share those elements of my private life." After all, as he explained to Buzzfeed, he'd rather be an actor than a celebrity.
Interestingly, James is married to another actor, so maybe it is true what people say — that no one understands a celebrity better than another celebrity. "[My wife and I] have really navigated through the very beginnings of a career to lots of different percolations of it," James shared with The Standard. "That can be really hard at times, but also that [brings] certain strengths [to] a relationship." As for whether James' wife, Ruth Kearney, is on social media, you can find her at @ruthkearney. And yes, you can find pictures of James on her accounts. Happy Insta-scrolling!