13 Fascinating Facts About Everything Everywhere Star Ke Huy Quan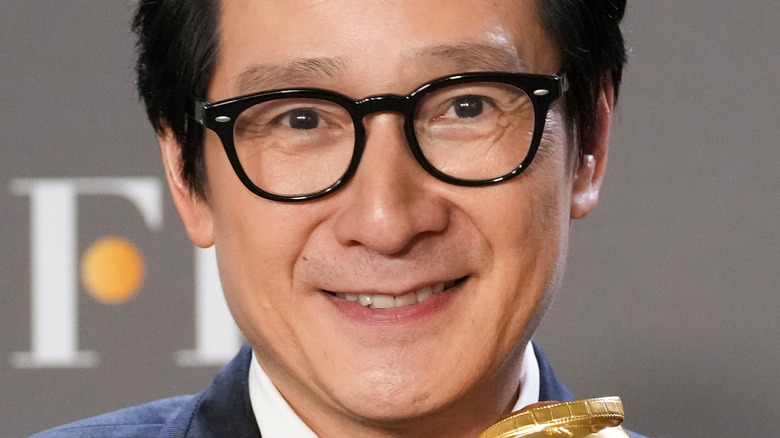 Kevin Mazur/Getty Images
Ke Huy Quan wasn't exactly a household name when he landed the role of Waymond Wang in 2022's blockbuster film, "Everything Everywhere All at Once." Since then, he's picked up dozens of awards and accolades, including a Golden Globe, a Critics Choice Award, and an Academy Award. Quan first shot to fame at age 12, playing Short Round, Harrison Ford's sidekick in Steven Spielberg's 1984 flick, "Indiana Jones and the Temple of Doom."
The following year, the actor starred in the cult favorite film "The Goonies," sharing the screen with Sean Astin and Josh Brolin in the story of a group of young outcasts searching for a pirate's treasure. But it would take several decades for Quan to make the successful transition from child star to grown-up movie actor. After appearing in a few TV shows and several unremarkable films, the former child star made the decision to leave acting behind.
Thankfully, his breakout performance in "EEAAO" revived his dormant career. More than twenty-five years later, Quan proved he still has it — and with one of the greatest career comebacks in Hollywood history, no less. These days, the actor hopes his renaissance will inspire other aspiring performers. "There are so many people out there who doubt themselves, who have dreams they've given up or didn't think would ever come true," Quan told AP. This is the inside story of a man who never gave up on his dream.
Emigrating to America was 'really traumatic'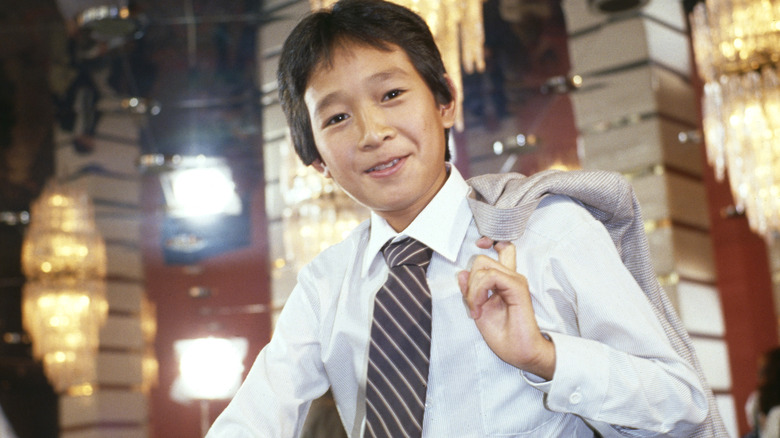 Bryn Colton/Getty Images
Ke Huy Quan grew up in Saigon, one of nine children born to Chinese parents. However, in 1978, the family had to escape Vietnam — and separated for a year to do so. His mother took three of his siblings to Malaysia, while Quan and the other kids made their way to a refugee camp in Hong Kong with his dad. "I was so young," the actor recalled to Vanity Fair. "I didn't understand why we gave up the place we called home to get on a boat in the middle of the night with 3,000 people."
When Quan was eight, the family was reunited when they emigrated to Los Angeles, but they were not welcomed with open arms. "We were refugees. Nobody wanted us. ... They would call us 'fresh off the boat,'" Quan told The Guardian. "You can imagine what that does to the mental state of a child." The family lost everything they owned to make the move, and the future child star felt like a fish out of water. "I always felt like an outsider, especially when I was growing up. I had major identity issues," Quan added. 
In an attempt to fit in, Ke Huy changed his name to Jonathan Ke Quan, which he used for his early films and TV projects. But, for years, "Jonathan" just didn't feel right. He reinstated his birth name once he returned to acting. "That was really important to me," he told The Guardian.
Steven Spielberg gave Ke Huy Quan his first big beak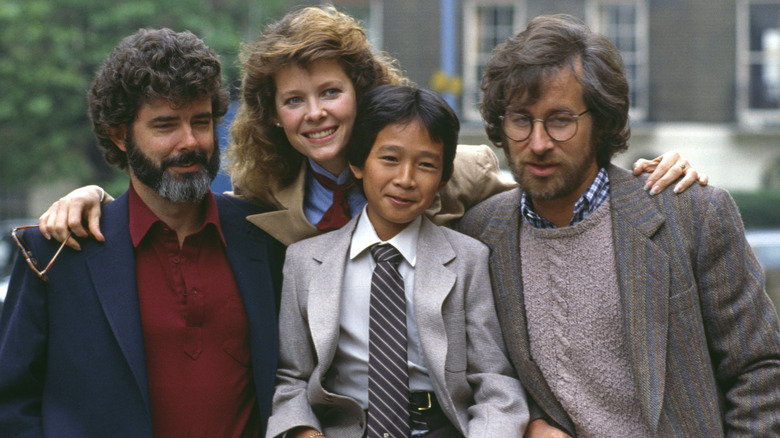 Bryn Colton/Getty Images
When Steven Spielberg (above right) was casting his 1984 film, "Indiana Jones and the Temple of Doom," he held an open call in LA's Chinatown area for a young boy to play Chinese pickpocket Short Round. Ke Huy Quan, age 12, tagged along with his brother, who was auditioning for the role, and a casting director convinced Ke Huy to read for the part too. "Three weeks later, I was on a flight to Sri Lanka on one of the most amazing adventures of my life," Quan told GQ.
Before this, he had never seen an American film. "Acting wasn't even on the horizon, or in my atmosphere," Quan told Vanity Fair. He didn't even know who Spielberg or "Star Wars" creator George Lucas were. He recalled to GQ that one particularly star-studded workday boasted Lucas, Spielberg, and Harrison Ford on set. "And then Carrie Fisher — Princess Leia! — came in to visit," he added. "And I just had the most amazing afternoon without knowing what all of these people being in one room meant to the world."
In his 2023 Golden Globes acceptance speech, Quan thanked the Oscar-winning director for believing in his talent. "I was raised to never forget where I came from, to always remember who gave me my first opportunity," he said. "I am so happy to see Steven Spielberg here tonight." The acclaimed film was a box office hit, raking in over $333 million worldwide — and Quan was its breakout child star.
He is still friends with his Goonies co-stars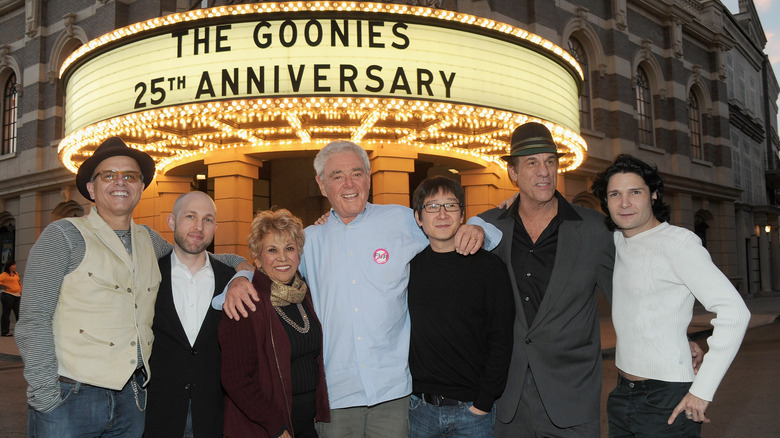 Alberto E. Rodriguez/Getty Images
To land his next big-screen role, Ke Huy Quan had some help from Steven Spielberg, an executive producer of 1985's "The Goonies." In the movie about a group of friends searching for a pirate's hidden treasure, Quan plays Data, a teenage gadgeteer, alongside Sean Astin, Josh Brolin, and actor-turned-entertainment-lawyer Jeff Cohen as Chunk. In fact, it was the latter star who negotiated Quan's contract to appear in "Everything Everywhere All at Once."
"We'll be friends for life. He's my 'Goonies' brother," Quan told People of Cohen (above left). "In fact, my ['Everything Everywhere'] producer told me a really funny story the other day. He said never in his life did he think that he would have to talk to Chunk to get Data to be in his movie." Unlike "Indiana Jones," where he was the only kid on set, "The Goonies" reminded the actor of life in his tight-knit family. "I was constantly fighting for attention," Quan told The Guardian. "... [But filming] it was a lot of fun, especially those amazing sets. Going to work was like going to the playground."
He similarly assured the outlet that he, Astin, Corey Feldman, and the rest of the cast from the cult classic film have maintained their close bond. "Even though we don't see each other often, it's like family, because we're truly brothers forever." In 2022, Astin and Cohen even made a special appearance at the 20th Unforgettable Gala, honoring AAPI artists, by presenting the best actor award to their Quan.
The actor abandoned his craft altogether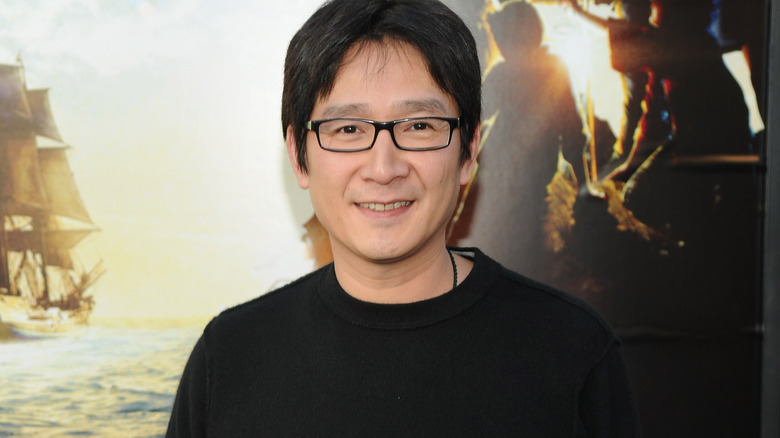 Alberto E. Rodriguez/Getty Images
After starring in two major motion pictures, young Ke Huy Quan decided to pursue a career in acting. "I thought that the road would be that easy," he told Vanity Fair. "But boy, was I wrong." He did a stint on the CBS sitcom "Nothing is Easy," followed by two seasons on ABC's "Head of the Class." Quan appeared in a string of forgettable movies, including "Encino Man" with Brendan Fraser and Sean Astin. One day, he found himself at an audition for a no-name role, and the character only had two lines. "I walk in the room and there were 30 other Asian actors fighting for this tiny breadcrumb," Quan told AP. "When I didn't even get that, I didn't see a future for myself anymore as an actor." 
In 1993, he quit acting and decided to continue his education, enrolling at USC's film school. After graduation, he began working off-camera in the film industry, but the transition was challenging for the well-known star. Especially because people continued to recognize him as an actor. "People would come up to me and say, 'Oh, my God, you're so iconic!' or, 'How come you aren't acting again? You were so good at it when you were a kid.' And then I'd go, 'No, it's done, I'd rather work behind the camera," he told Vanity Fair. "... I said it so many times for so many years, I actually believed it."
Ke Huy Quan worked behind the scenes for years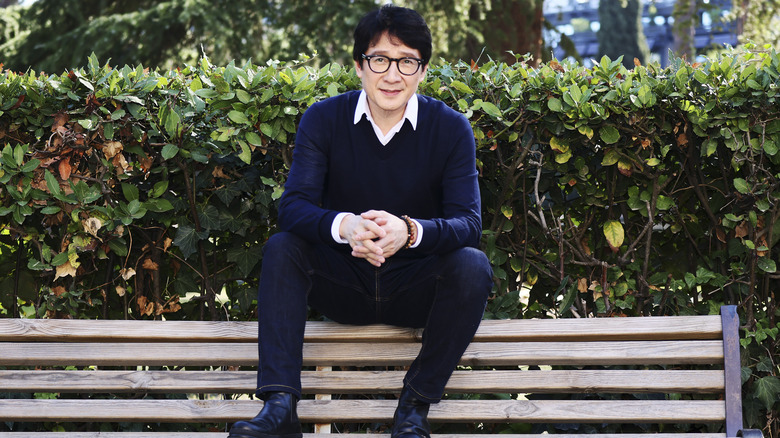 Ernesto Ruscio/Getty Images
With a strong martial arts background, Ke Huy Quan worked as a stunt coordinator with Jet Li in the 2001 film, "The One," and with action director Corey Yuen on the Hugh Jackman-led Marvel flick, "X-Men." In an interview with Deadline, Quan said Yuen approached him back in the '80s about a leading role in one of his films. After the actor finished film school, the director had a different kind of offer for him.
Yuen called him and said, "Ke, I just got this little movie in Toronto, I would love for you to come work for me." Quan explained, "This is literally right after graduation, so I packed my suitcase, got on a flight, landed, walked on set, and realized it was ... 'X-Men.'" He went on to work with Yuen on several films. This led to an introduction to Wong Kar-wai, the renowned Hong Kong auteur, and a gig as assistant director for his romantic drama, "2046."
Quan's off-camera experience and Taekwondo training came in handy on "EEAAO," when they were shooting Waymond's famous Fanny Pack scene. Speaking to SyFy, Quan explained the segment had to be filmed in one continuous shot, and director Dan Kwan told him he only had a few takes to master it, which he did on the second try. "Jackie Chan used to do it in like 100 takes just to get it right, so I'm pretty happy with how it turned out," he said.
Crazy Rich Asians inspired him to try again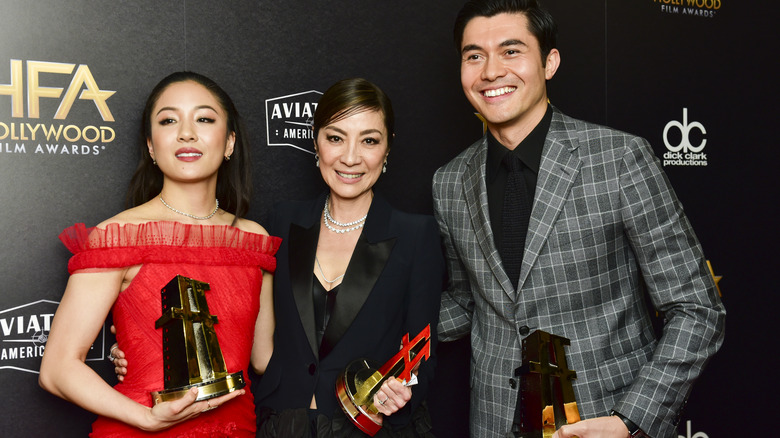 Rodin Eckenroth/Getty Images
The 2018 film "Crazy Rich Asians" inspired Ke Huy Quan to take his shot at a comeback. The actor, who was pushing 50, spent a year contemplating whether to return to acting. "I noticed Asian actors were getting more opportunities, and I began to harbor this dream of getting back into acting, but it took a lot of courage to give voice to that dream," he told The Guardian. "One day I decided: if I don't do this, I will regret it."
Growing up, Quan was inspired by watching Bruce Lee and James Hong — the actor who incidentally depicted his father-in-law in "Everything Everywhere All at Once." But as he explained to Deadline, there was a lack of Asian talent in mainstream American movies. "For the longest time, I would go watch movies and I would enjoy them completely but I wondered how come they didn't write roles like that for Asians? How come it's only for one group of people?" he mused. That lack of opportunity led him to quit altogether.
Featuring a predominantly Asian cast including actors like Constance Wu, Henry Golding, and Michelle Yeoh (above) playing well-rounded, three-dimensional characters, "Crazy Rich Asians" was a welcome hit. Quan said the film gives hope to any actor who dreams of seeing themself on the silver screen. "'Crazy Rich Asians' dared me to pursue acting again," he told SyFy. "I wish that ['Everything Everywhere'] does for a lot of these dreamers, what 'Crazy Rich Asians' did for me."
Everything Everywhere changed everything for Ke Huy Quan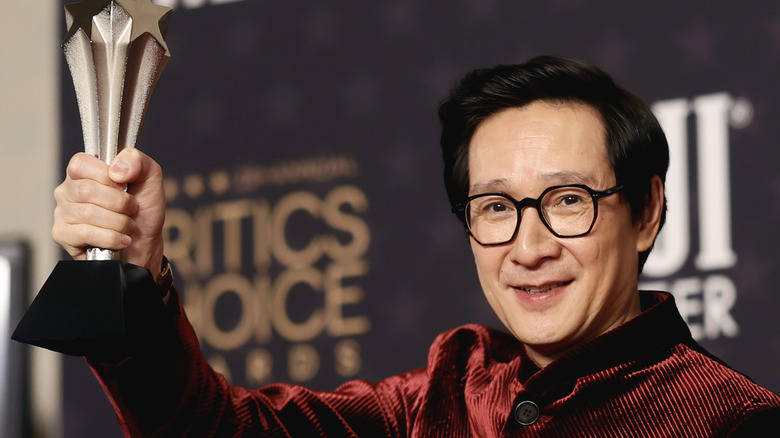 Emma Mcintyre/Getty Images
After Ke Huy Quan decided to give acting another try, he signed with a new agent. "Everything Everywhere All at Once" was the first script that came to him. "For the longest time, all I wanted was just a job," Quan told AP. "Just an opportunity to act, to show people what I can do." When the project wrapped in 2020, Quan was about to lose his health insurance. He begged his agent for auditions, but he wasn't having any luck. "I even made a joke, saying, 'Hey, nobody wants to hire me except Spielberg, George Lucas, Wong Kar-wai, and the Daniels ['EEAAO' directors Daniel Kwan and Daniel Scheinert]," he said. 
The film topped the 2023 Oscar nominations with 11 nods, including one for Quan and one each for his co-stars Michelle Yeoh, Stephanie Hsu, and Jamie Lee Curtis, respectively. The runaway hit grossed over $105 million worldwide and garnered rave reviews. In their profile of Quan, GQ wrote of his performance, "[He serves] as the beating heart of this relentless tornado of a movie."
Quan kept the film a secret from his entire family, except his wife. On an episode of the "Happy Sad Confused" podcast, Quan admitted, "I was so afraid. I didn't know if I was gonna be any good at it." The day before the movie's trailer dropped, he called his mom and their family, and said, "Hey, I got a little bit of news to share with you ... I'm an actor now."
He felt Waymond Wang was written for him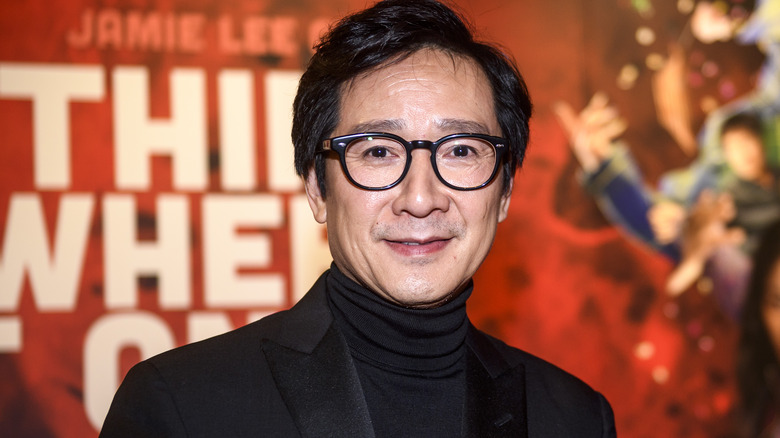 Antonio Masiello/Getty Images
By all accounts, the character of Waymond Wang felt personal to Ke Huy Quan. "When I read the script [for 'Everything Everywhere All At Once'] I thought it was written for me," he told People. In the sci-fi action comedy, he plays three versions of the same character. There's "Alpha Waymond," the Fanny-Pack-wielding tough guy who takes down four IRS security guards at once with his fashion accessory. And there's debonair bachelor Waymond in the movie star universe. Both are the opposite of the doting Chinese immigrant husband we first meet in the film. "I understood every single one of them," Quan assured People.
Waymond and his wife, Evelyn, owners of a Los Angeles area laundromat, travel through the multiverse as they try to save the world and their struggling marriage. As the actor told The Hollywood Reporter, it was present-day Waymond's final speech about kindness which remains his favorite part of the film. "That's one of the reasons why our movie resonated with people. It's the message. It's about being kind, having empathy for one another, and showing each other love," he explained. Speaking to People, Quan said the flick came to him at the perfect time in his life — had it arrived a decade earlier, he might not have had the experience necessary for the role. "Looking back upon my life, all the highs and lows, I reached deep within me to pour my entire life into these three different characters," he noted.
Ke Huy Quan and Michelle Yeoh are friends for life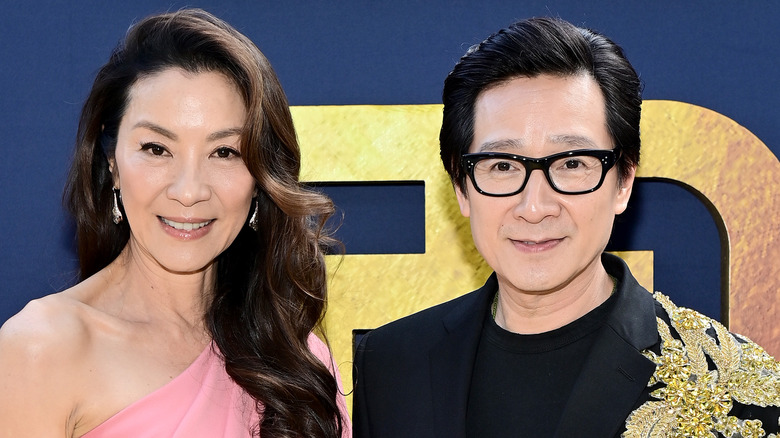 Stefanie Keenan/Getty Images
Michelle Yeoh and Ke Huy Quan have admired each other's work for years. While Yeoh and her film "Crazy Rich Asians" inspired his return to acting, the "Crouching Tiger, Hidden Dragon" star said Quan's career had a huge influence on her, as well. "Ke is too humble — he forgets he was one of the iconic Asian faces in an era where so few Asian faces had broken through to Hollywood," she wrote in an email to Vanity Fair. "His work paved the way."
The two actors clicked immediately on the set of "Everything Everywhere All at Once." "To be able to do my first movie in more than 20 years with Michelle, who is the reason I got back into acting in the first place, was incredible," Quan told Daily Hive, adding that he couldn't have done the film without her. The duo reunited in the Disney+ series "American Born Chinese," based on Gene Luen Yang's graphic novel. Quan played the star of a fictional TV show, while Yeoh took on the role of the Goddess of Mercy in the supernatural comedy.
In an interview with People, Yeoh gushed about her fellow Oscar winner, noting that their connection is more than just professional. "He's the most wonderful on — and off-camera husband," she said. "He's loving, charming, and funny, and his wife is now my good sister-friend. We are very blessed that he's back on the big silver screen."
His wife Echo Quan is the actor's biggest fan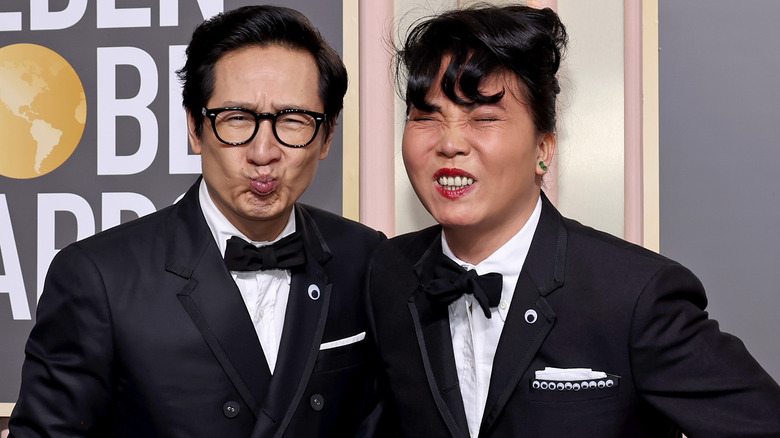 Amy Sussman/Getty Images
Director Wong Kar-wai brought Ke Huy Quan and his wife, Echo Quan, together while they were both working in Hong Kong. For years, Echo couldn't find any work in Hollywood, until "Everything Everywhere All at Once" directors the Daniels gave her her first job in the film industry, working as a Chinese language translator on their movie. "Echo Quan (On Set Translator) was the secret soul of our film set," the directing duo tweeted. "So many people have told us how much it meant to them to hear the family speaking in multiple languages (Cantonese, Mandarin, Chinglish, and English), and we couldn't have pulled it off without her," they added. 
As happy as Echo must be to see her husband get the long-awaited recognition he deserves, she wasn't thrilled when he practiced his Fanny-Pack scene in their Los Angeles home. "I kept swinging it in my house, everywhere I went, and I was constantly breaking things," he told People with a chuckle. "She wasn't too happy about it."
At the end of his emotional Golden Globes acceptance speech in early 2023, Ke Huy Quan teared up as he acknowledged his partner of more than two decades. "And last but not least, I want to thank the most important person in my life," the actor said. "The one person that never stopped believing in me, my wife, Echo, I love you with all my heart."
Ke Huy Quan believes representation is essential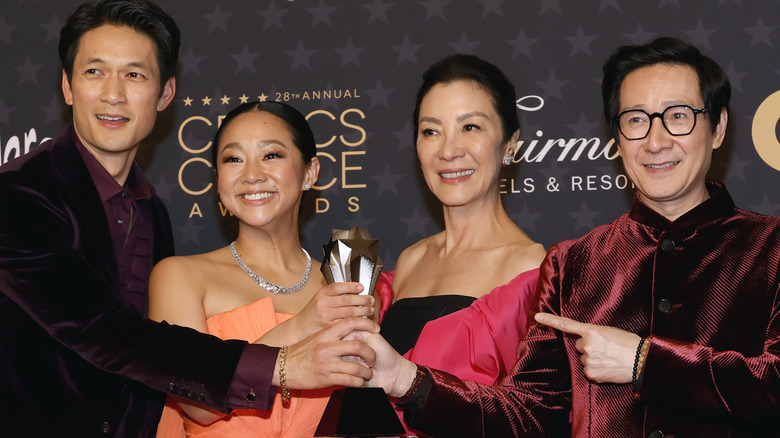 Emma Mcintyre/Getty Images
Ke Huy Quan knew his character in "Indiana Jones and the Temple of Doom" was groundbreaking, but it wasn't enough to change the landscape for Asian actors in film and TV. "Spielberg was the first person to put an Asian face in a Hollywood blockbuster," Quan told The Guardian. "That was a rarity then. For many years after that, we were back to square one."
Before "Crazy Rich Asians," Quan said many of the characters written for Asian actors felt stereotypical, disparaging, or disposable. "I was thrilled, and I was so grateful to see the Asian representation that we had that we've been seeing in the past few years — 'Fresh Off The Boat,' 'Crazy Rich Asians,' 'Shang Chi,' now we get to be superheroes too," he told Daily Hive. 
Studies such as the one published by the Annenberg Inclusion Initiative in 2021 may suggest that the industry still has some way to go in creating tangible improvements for API representation and opportunities. However, the mainstream success of films like "EEAAO," "Shang-Chi and the Legend of the Ten Rings," and "Parasite" — 2020's best picture Oscar-winner — is encouraging. "Over the years, a lot of Asian people come up to me and oftentimes they will say, 'Hey, you're the OG man! Thank you for paving the way for us to be here,'" Quan told SyFy. "Interestingly, they are also the ones that paved the way for my return."
What's next for the comeback kid?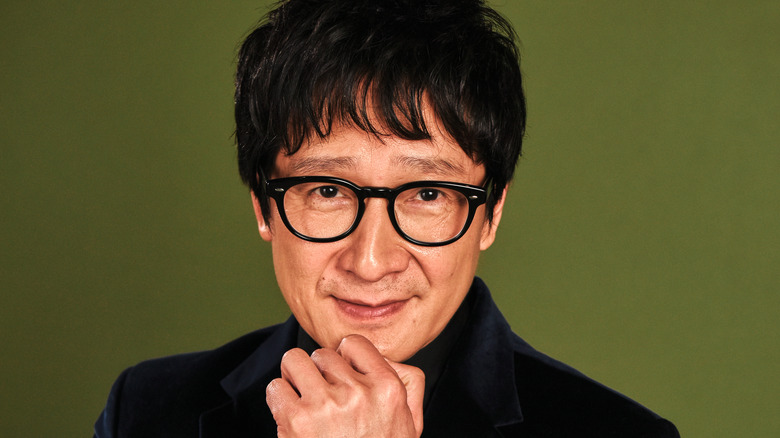 Irvin Rivera/Getty Images
After Ke Huy Quan's storybook comeback in "Everything Everywhere All at Once," Hollywood producers lined up to sign the award-winning actor for future projects. Besides "American Born Chinese," Quan was booked to appear in Season 2 of the Disney+ series "Loki," scheduled for release in the summer of 2023. The star was also cast in the sci-fi thriller, "The Electric State," alongside Chris Pratt and Millie Bobby Brown, as a doctor who meets the "Stranger Things" star on her quest to find her brother. 
In "American Born Chinese," Quan plays a fictional 90s TV star reexamined through a 2023 lens — a role he found challenging. "For me to step into that character scared the heck out of me," he shared during a panel for the 2023 Television Critics Association, per USA Today. "But it was important to show the audience today what it was like to be an Asian actor back in the late '80s and early '90s." At the same event, co-star Michelle Yeoh shared her optimism that she and Quan had helped to destroy the API glass ceiling, once and for all. "We've ninja-kicked it to hell," she said. "And hopefully it will never come back, broken like Humpty Dumpty pieces." 
For now, Quan is enjoying his moment in the spotlight. After his Golden Globe win, he told AP, "When you have a dream and you kind of bury it because you think it won't come true, to see it finally come true is incredible."
Ke Huy Quan's biggest dream came true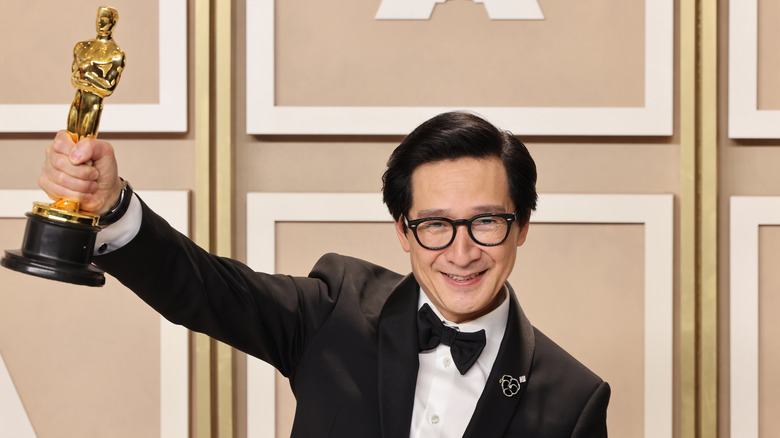 Rodin Eckenroth/Getty Images
In March 2023, Ke Huy Quan made history when he was named best supporting actor at the 95th Academy Awards for his role in "Everything Everywhere All at Once" — he is the first Asian man in nearly four decades to win a supporting actor Oscar. The coveted award capped off a glorious awards season for Quan, who had been celebrating his very own "pinch me" comeback for months. 
"Oh my God!" the newly minted Oscar winner shouted as he accepted his statuette. "Thank you. My mom is 84 years old, and she's at home watching. Mom, I just won an Oscar!" the tearful actor continued as the crowd (already on their feet) cheered him on. The film itself, which was nominated for 11 awards, swept the night, winning seven categories — including best picture and best director — while picking up trophies for Quan's co-stars, Michelle Yeoh and Jamie Lee Curtis. An emotional evening for Quan, the Oscars ceremony also served as a sweet, full-circle moment for the "American Born Chinese" star, who hugged Harrison Ford as his "Indiana Jones and the Temple of Doom" co-star presented the team behind "Everything Everywhere" with the best picture award. 
Quan, who fought back tears throughout his own speech, added, "Dreams are something you have to believe in. I almost gave up on mine. To all of you out there, please keep your dream alive."