Are Britney Spears And Kate Hudson Still Friends Today?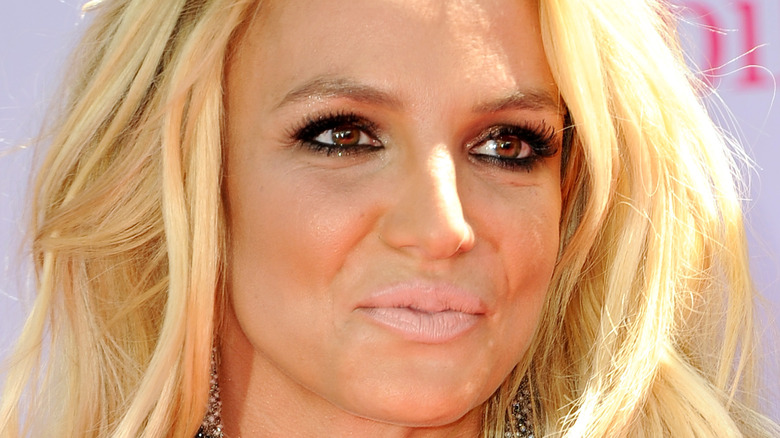 Tinseltown/Shutterstock
After over a decade of courthouse showdowns, Britney Spears was finally free in November 2021. Her father, Jamie Spears, and attorneys had seized control of Britney's life following her breakdown in 2008. The New Yorker reports that they dictated her every move for 13 years, including her drinking coffee or tea, going on vacations, performing, and visiting the spa. Not surprisingly, Britney's life post-conservatorship is like night and day.
She got engaged then married her boyfriend, Sam Aghari, in June 2022. Britney's wedding was completely star-studded, with Madonna, Kathy and Paris Hilton, Maria Menounos, and Drew Barrymore among the famous faces, per Page Six. Barrymore and Britney became close after bonding over growing up in the media glare. During an episode of "The Tonight Show With Jimmy Fallon," Barrymore revealed how their deep friendship began. "The humanity in what she was going through, trying to get her freedom back, was something I felt compelled to reach out, and we found a deep connection there," Barrymore said. "We made friends, like genuine friends."
However, another of Britney's buddies, Kate Hudson, was absent from her wedding. People reports that the two fangirled over each other in 2005 after Britney crashed Hudson's games night. "Two blondes... Too much fun. Loved hanging with you last night, Kate Hudson," Britney posted. "That moment when [Britney Spears] shows up to your game night and [you're] all like #itsbritneybitch," Hudson captioned a pic of them on Instagram. So, are Britney and Hudson still friends today?
Britney Spears and Kate Hudson set #FriendshipGoals
Kate Hudson was expected to be on the guest list for Britney Spears' wedding to Sam Asghari, according to Elle Australia. Paris Hilton claimed the glamorous day was an "Icons Only" event, so maybe Hudson didn't make the A-list cut — or (most likely) she was in post-production for "Glass Onion: A Knives Out Mystery," as referenced on IMDb. Either way, she wasn't there, however, it seems Spears and Hudson are most definitely still friends today.
In fact, just two months before her wedding, Spears gushed about Hudson, and their mutual pal, Drew Barrymore, in an Instagram post. "I've met 1000s of celebrities in the business ... but I have to say the 2 people where I literally went speechless were [Kate Hudson] and [Drew Barrymore]," Spears wrote, via Yahoo!. "They are by far the 2 most beautiful people I have ever seen in my life !!! Like shocking !!!"
Spears admitted to plucking up the courage to speak to Hudson when they met but then "ran away immediately." However, she was speechless after setting eyes upon Barrymore. Britney confessed that she found it difficult to live up to the often fake beauty standards that social media sets. She further shared that the negative reaction she'd received recently from a bunch of strangers that she smiled at made her "feel stupid" and want to disconnect from the world. Hudson was right there to bolster her buddy's confidence, though, with a touching and heartfelt message.
Britney Spears is crazy for Kate Hudson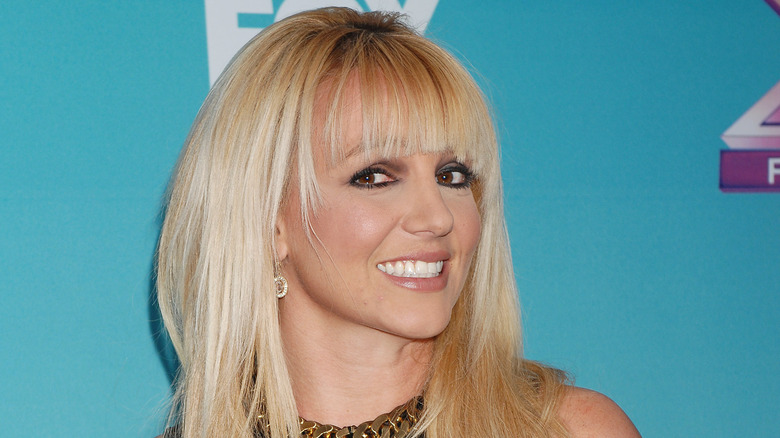 Ga Fullner/Shutterstock
When Britney Spears laid her insecurities bare after writing about how gorgeous Kate Hudson is — the actor immediately set the pop princess' crown straight. "So much to unpack here, lovely woman!" She replied, via Today. "But I have three important things to say...I think! 1) DON'T EVER STOP SMILING AT STRANGERS! You can and have changed lives with that smile! 2) Perfection is BORING. 3) I'm beyond flattered by this compliment."
According to OK! Spears is also a huge fan of Hudson's mom, Goldie Hawn. "What a BABE !!! She's f***ing God to me ... she looks identical to Kate!!!" Spears captioned an old black & white photo of Hawn. "My first time meeting Kate was in Amsterdam ... I didn't meet her. I just saw her," Spears continued, explaining that Hudson had been exiting a bar as she was entering.
Spears is open about her insecurities, sharing her anxieties and shining a light on what's real and what's filtered. "I wanted to show you what I really look like on a daily basis!!!!" She captioned candid pics of herself bare-faced and beautiful in glasses and a plaid shirt. "I can get insecure when photos are taken of me that I'm not prepared for ..... so I have always put so much effort into my appearance ... but you know, sometimes it's nice to not try so hard and pull down your walls every now and then!!!!"