Who Is Tim Allen's Wife, Jane Hajduk?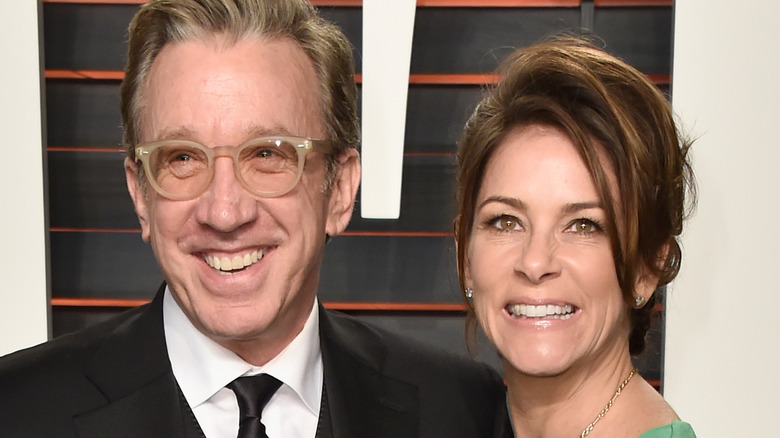 Pascal Le Segretain/Getty Images
Actor and comedian Tim Allen has been in the spotlight for decades, but he generally has remained less forthcoming about his personal life despite his long career. Allen has landed his share of iconic roles, including Buzz Lightyear on "Toy Story" and Tim Taylor on "Home Improvement." Now that his younger daughter, Elizabeth Allen-Dick, has made her foray into acting by playing her dad's onscreen daughter in the Disney+ series "The Santa Clauses," it's likely that more people are curious about Allen's wife, Jane Hajduk, too.
Though Hajduk has been photographed at events alongside her husband and daughter over the years, she doesn't seem to have as much of a public profile. Nevertheless, it's clear that she is also involved in the entertainment industry, with multiple credits to her name listed on an IMDb profile. Beyond that, her relationship with Allen can be pieced together from various sources.
Even if she hasn't always made the headlines, we're breaking down what we know about Jane Hajduk and her marriage to Tim Allen.
Jane Hajduk and Tim Allen met years before they started dating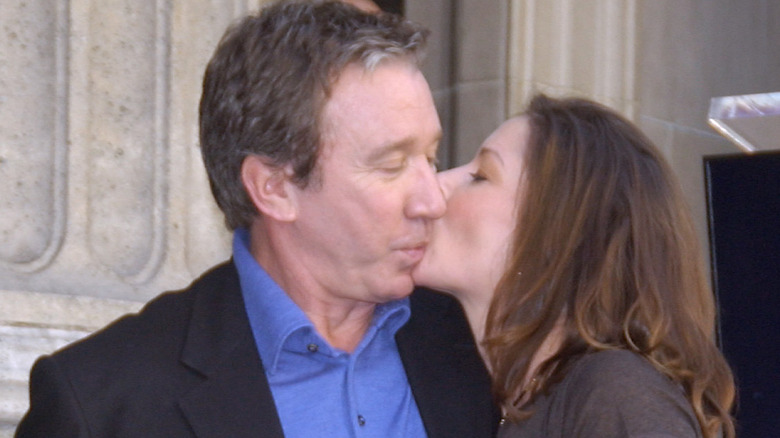 Featureflash Photo Agency/Shutterstock
According to her IMDb page, Jane Hajduk served as future husband Tim Allen's physical trainer on the set of the 1997 film "For Richer or Poorer," and many websites seem to believe that the couple met one another at work. That wasn't exactly the case. On an episode of the podcast "Today's Takeaway with Florine Mark" on which Hajduk was featured as a guest, Hajduk shared that she first met Allen when the two of them were attending a YMCA charity event at a time when Hajduk was working for the YMCA.
Though Allen was already famous at the time, Hajduk explained that she wasn't intimidated by his fame because of the setting in which they met. "We really, truly were friends first, and it just grew into a really, really great relationship," said Hjaduk at about three minutes into the podcast episode.
Per a report in The Denver Post, Allen and Hajduk married on October 7, 2006, in a private ceremony held in Grand Lake, Colorado. The same article reported that the two had been dating for five years prior to their marriage and that it was Hajduk's first marriage and Allen's second.
Jane Hajduk and Tim Allen share one child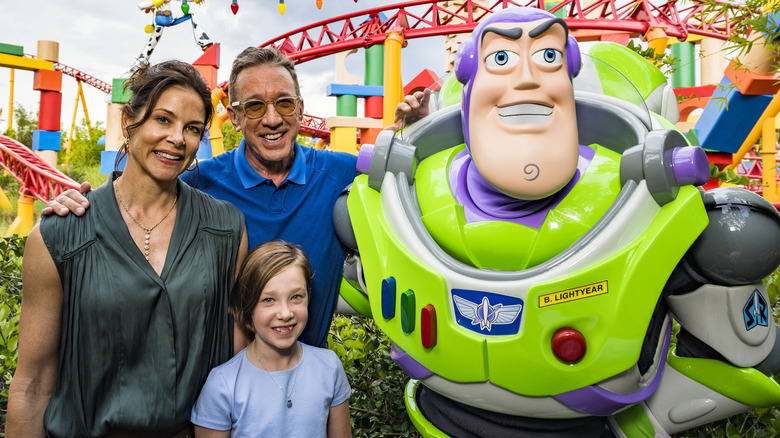 Handout/Getty Images
In addition to Tim Allen's daughter Katherine Dick, from his marriage to Laura Deibel, he and his wife Jane Hajduk share one child, their daughter Elizabeth Allen-Dick. Allen married Deibel in 1984, and their daughter, Katherine, was born in 1991. Allen and Hajduk were married for three years before they had their first child together.
In an article for People shortly after Elizabeth's birth in 2009, Allen commented, "I'm not so worried as I was the first time."
Hajduk, meanwhile, discussed welcoming daughter Elizabeth into the world by saying, "Not that we didn't have an incredible life, but there's more and our love is going to change, and now we have somebody else to love. Like every woman has ever said, you can't believe how much you love this little infant."
In 2017, Allen shared with Closer Weekly that his sobriety has affected his second marriage. He explained to the publication, "I'm not the same guy I was the first time [I was married], when I was hiding and doing what people who drink too much do. I was not connecting. But I've been sober for almost 20 years. I'm much more present."