Tim Allen Is Officially Returning To One Of His Most Iconic Roles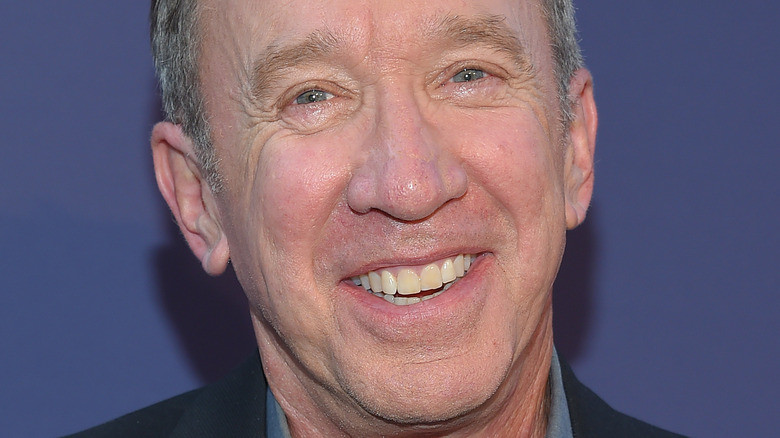 DFree/Shutterstock
Actor Tim Allen has starred in many childhood favorite films and television shows. While Allen is also known for his comedy chops, the "Home Improvement" actor has become a beloved figure over the years for his roles in family entertainment. One of his most beloved roles is that of Buzz Lightyear in Pixar's "Toy Story" films.
While on press tour for "Toy Story 4," Allen reflected on being a part of the 25-year-old story that captured everyone's hearts. "We've hit a high mark when you become an icon," Allen described of the film series," per The Healthy Mouse. He added, "I can't describe except I'm honored and humbled to be a part of this thing."
Most recently, Allen's sitcom "Last Man Standing" finished its final season in May 2021. Wrapping up the project, which generated controversy due to Allen's political affiliation, the actor admitted that he wished the show would continue on."I had health problems letting go of this one," Allen said, per UPI. "I loved every second of this experience." New reports reveal that Allen's next career move will be a return to another one of his beloved Disney roles.
Tim Allen is returning to The Santa Clause
Tim Allen will once again become his iconic character Scott Calvin in a new "The Santa Clause" project. Allen starred as Calvin, the man who became Santa Claus, in "The Santa Clause" trilogy, the first film of which came out in 1994, per IMDb. According to Entertainment Weekly, Allen will return for an upcoming "The Santa Clause" series on Disney+. The outlet reported the series will follow Allen's character when he realizes that he can't stay at the North Pole forever and decides to seek out his replacement.
Fans are thrilled to relive their childhoods all over again with Allen on the upcoming series. Though his role brings backs plenty of nostalgia for audiences, Allen has humorously said in the past he isn't keen on kids himself. "I don't like children all that much, but they cast children to be the elves," Allen recalled of filming the original film on "The Tonight Show" in 2014. "I was Santa Claus to these children, because they're not smart enough to know they're in a movie where there's booms and makeup and money involved."
Though he embodied the classic character, Allen didn't miss the opportunity to chide unknowing kids on set who asked him about Santa — including why he likes milk and cookies. "I said, 'It take the edge off the Jack and Coke,'" he joked. "Yeah, the kids love me." Hopefully the comedian will bring his signature sense of humor back to the role.