What Really Happened Between Jessica Simpson And Dane Cook?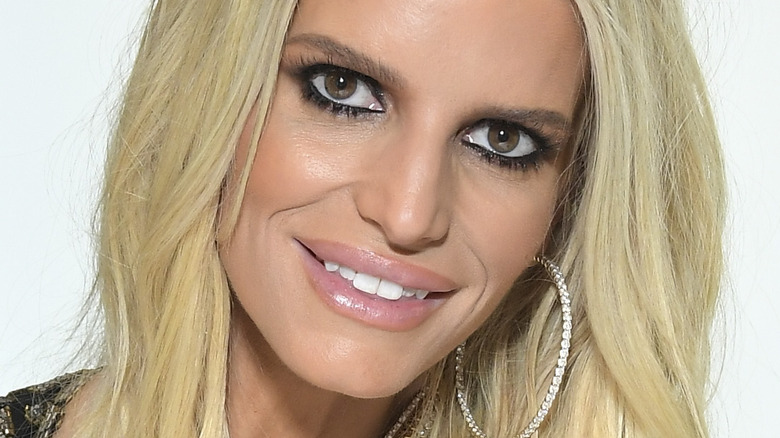 Charley Gallay/Getty Images
Jessica Simpson is now happily married to former NFL player Eric Johnson and they share three children. While a life of motherhood and marriage is her happy lot, Simpson, like many people out there, had a long stint in the dating pool and racked up a few exes. Unfortunately, many of these exes have dished about what it was like dating Simpson, and frankly, they went way overboard in some cases. (We're looking at you, John Mayer! Not cool.) Nick Lachey, Simpson's first husband, seemingly shaded his marriage to Simpson during the "Love is Blind" reunion. Also not cool.
Simpson has also spoken up, particularly in her memoir "Open Book," which came out in 2020. She got to tell her side of the story and defend herself from certain statements, especially those made by previous partners. But it just doesn't seem to end for Simpson. Why do all of these guys love kissing and telling? Dane Cook also dished about his past with Simpson and honestly, he was pretty mean.
Dane Cook had to answer a question about the 'dumbest' thing Jessica said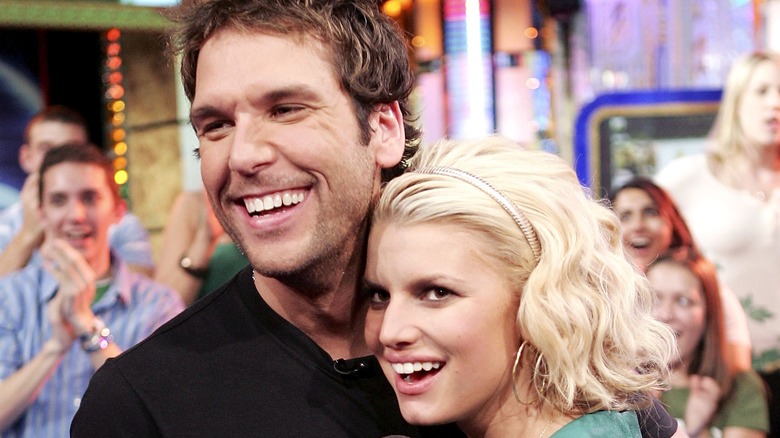 Evan Agostini/Getty Images
Dane Cook starred with Jessica Simpson in the 2006 comedy "Employee of the Month." They allegedly had a brief romantic rendezvous around that time, following Simpson's marriage to Nick Lachey, but nothing serious happened between Cook and Simpson. The goofy movie that brought them together — which scored a measly 20% on Rotten Tomatoes — spawned a few questions years later. On a 2014 episode of "Watch What Happens Live," Andy Cohen asked Cook a series of questions in a version of "Plead the Fifth." If Cook didn't want to answer, co-guest Candy Crowley could squirt cheese into his mouth. Cook obviously hates squirtable cheese — who can blame him? – because he answered every single question without hesitation.
One of Cohen's questions was pretty mean. Referencing "Employee of the Month," Cohen asked what the dumbest thing was that Cook heard Simpson say on set. Cook responded, "She said one day, 'Are we making a movie?'" Cohen laughed and said, "That's dumb!" Ouch! In Cook's defense, it was Cohen who asked the question but honestly, he could have taken a mouthful of cheese instead. And we have a few questions ourselves, like why did Cook and Cohen think it was okay to talk about Simpson like that?
Dane Cook was happy for Jessica Simpson when she became engaged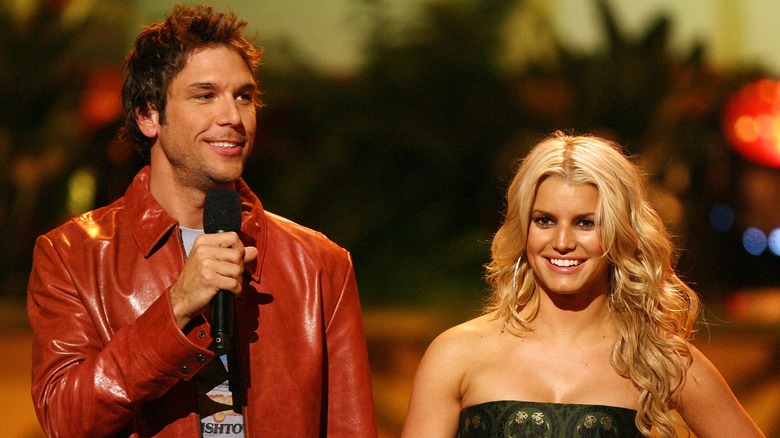 Kevin Winter/Getty Images
Understandably, Jessica Simpson was really hurt after she heard about Dane Cook's response to Andy Cohen's question on "Watch What Happens Live." As Ok! Magazine reported in 2018, Simpson felt really humiliated by his answer. "Jess has a pretty thick skin, but one thing that sets her off is when people insult her intelligence," an insider said. "She thinks Dane is so tacky and although she isn't surprised he'd stoop to something so cheap and degrading, it still makes her mad." Fair enough! And it goes to show that Simpson didn't think so highly of her ex-fling after all. 
After things ended between Simpson and Cook, they maintained a seemingly friendly relationship (which likely cooled after Dane's answer). When Simpson became engaged to Eric Johnson in 2010, Cook told Us Weekly that he was so happy for her. "Jessica's a great friend of mine and I'm so happy for her! She's an incredible person and that's great, great news for her," Cook said. "I send out a big well wish to 'Special J' as we lovingly call her." For his part, Cook went on to become engaged to long-time girlfriend Kelsi Taylor, per People, in July 2022, so both have parted in happy directions.