Taylor Swift Puts Bad Blood With Harry Styles Behind Her At The 2023 Grammys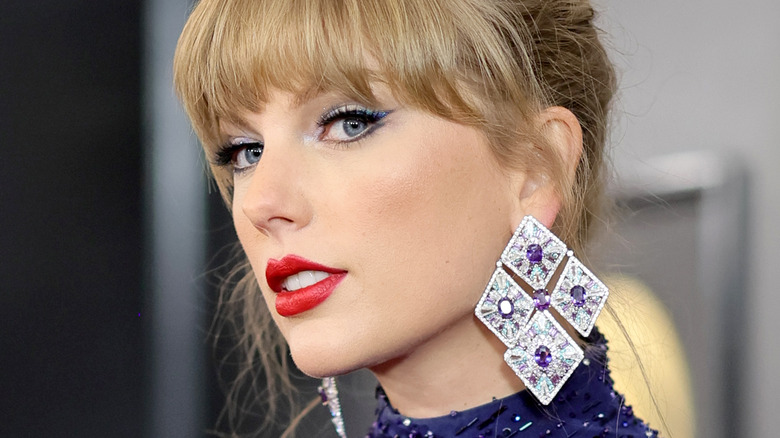 Neilson Barnard/Getty Images
Taylor Swift's reaction to Harry Styles' win at the 2023 Grammys further solidified that Haylor will never go out of style.
Despite the fact that it has been more than a decade since they split, thousands of Haylor loyalists are still keeping an eye out for the former couple's moves, tracking interaction "crumbs" and hoping they might still interact publicly, even if that means they won't ever, ever, ever get back together (pun intended). The two dated briefly from late 2012 to early 2013, with Swift saying that, at the time, the overarching feeling she felt was "anxiety." They were (and still are) two of the most popular pop stars in the world, after all. In a video for the Grammy Museum, Swift explained that "it felt very fragile, it felt very tentative." She added, "It always felt like, 'Okay, what's the next road block? What's the next thing that's gonna deter this? How long do we have before this turns into just an awful mess and we break up?" (via Elle).
And while the two have always been polite to and around each other when they're in the same space, fans can't help but wonder if they eventually managed to become good friends. Fortunately, they won't have to speculate any longer, as Swift's reaction to Styles says everything Haylor stans need to know.
Taylor Swift cheered on Harry Styles
At the 2023 Grammy Awards, Harry Styles took home the trophy for Best Pop Vocal Album for his work on "Harry's House." On stage, Styles said that the record has been "the greatest experience of my life," adding that working on the album with his best friends and performing the songs on tour has been "the greatest joy I could have asked for" (via Entertainment Tonight).
Fans were, of course, delighted for Styles' win, but some were more interested in how his ex-lover Taylor Swift reacted. The good news is that the camera captured her being happy for Styles, giving him a standing ovation and clapping as he accepted his award. "HAYLOR!!!!!! not in a haylor haylor way but in a HAYLOR way u get it," one fan mused. "Child of divorce is slaying," joked another. "DEEEEEEEPLLLLLYYYYYY PERSONAL TO THOSE WHO CELEBRATE," a Haylor fan quipped.
Swift's reaction to Styles clinching a Grammy just proves that there's no more bad blood between the two. Perhaps we'll see a collab track from the former couple next time? That's what we would all love to see!