Ben And Jen's 2023 Grammys Debut Shows They're Already Losing Steam (And We're Not Surprised)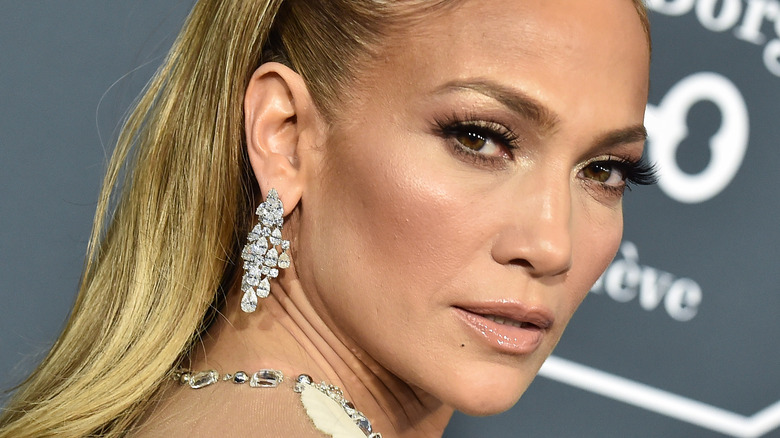 DFree/Shutterstock
Ben Affleck and Jennifer Lopez sparked fear in the hearts of everyone who's ever asked their significant other, "Should I be worried about your ex?" The duo met in 2002 thanks to the absolute disaster that was "Gigli" and things took off from there. They got engaged later in 2002 (give it some time, you two!), but things got rocky when they became the non-stop subject of tabloids. (See, Harry and Meghan? It's not just you two!)
In a retrospective, Lopez told People in 2016, "We didn't try to have a public relationship. We just happened to be together at the birth of the tabloids, and it was like 'Oh my God.' It was just a lot of pressure." Sure enough, Ben and Jen Part 1 ended in January 2004. But the two stayed low-key connected over the years. When Lopez got snubbed by the Oscars for "Hustlers" in 2020, Affleck defended her. "She should have been nominated," he said. "She's the real thing. I keep in touch periodically with her and have a lot of respect for her. How awesome is it that she had her biggest hit movie at 50? That's f***ing baller."
After they both went through breakups in early 2021, they reconnected with each other that April as friends, so they say, and went Instagram official in July 2021. One year later, in July 2022, they got married at last. While we're always a sucker for a love story, this one went way too quickly — and the proof is coming in already.
Why did Bennifer look so miserable at the Grammys?
To call Jennifer Lopez and Ben Affleck's relationship a whirlwind would be an understatement. Literally one year after reconnecting, they were engaged, and three months after they got engaged, they were married. While they weren't shy about packing on the PDA during that span, Bennifer's appearance at the 2023 Grammys showed the first cracks in the armor. It was their Grammys debut and while we expected this moment to be joyful, punctuated by lots of smooching, the two didn't even walk the red carpet together. Where's all that PDA we've grown so used to?
Camera shots of the couple showed two seemingly miserable people sitting side by side. Affleck appeared disengaged from the event, looking away from the table. That this moment would be ripe for body language experts speaks to the underlying reality of what their relationship is like away from social media. Without staging and curated photos, Affleck's energy toward Lopez showed a shocking indifference. Meanwhile, her energy appeared to exude anger and frustration.
Granted, Affleck has a history of being uncomfortable in the spotlight. He tends to shy away from cameras and paparazzi. While this is totally legitimate, it was a big night for his wife. Lopez was there to present an award, according to People, and the Grammys are all about the music scene — her scene — to celebrate the best of the best. The fact that Affleck couldn't drum up the enthusiasm to support her for less than four hours shows there's trouble in paradise.
Was Bennifer just a big rebound?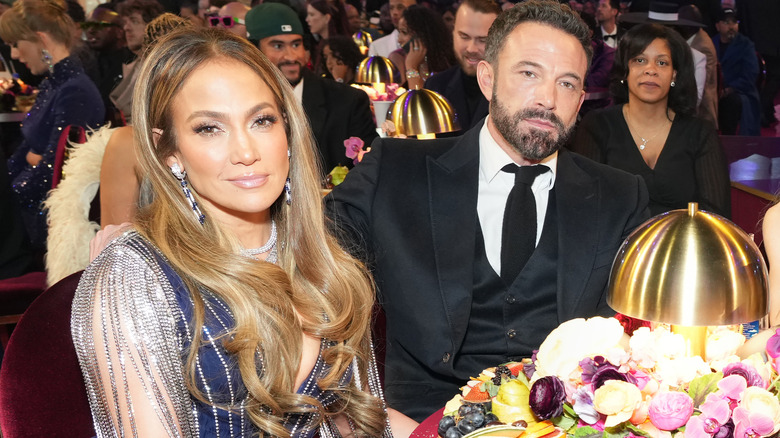 Kevin Mazur/Getty Images
Jennifer Lopez and Ben Affleck came together for their reunion romance hot on the heels of two breakups. Affleck had been dating Ana de Armas, but they parted ways in January 2021, according to People. "Ben is no longer dating Ana," an insider said. "She broke it off. Their relationship was complicated. Ana doesn't want to be Los Angeles based and Ben obviously has to since his kids live in Los Angeles." Meanwhile, Lopez and fiancé Alex Rodriguez broke up in April 2021, according to Newsweek, ending their engagement and calling off their wedding after dating since 2017. Allegedly, Lopez didn't trust Rodriguez. Literally that same month, Lopez and Affleck reconnected, which is a hasty turnaround by any standard.
It's tempting to be a sucker for a story that glorifies unrequited love, but there's also something to be said for taking a beat after long-term, serious relationships. Breakups suck and rebounds can be tempting, but they eradicate the opportunity for personal reflection and the chance to regroup.
There's also reason to be skeptical of Affleck, especially considering how he spoke about ex-wife Jennifer Garner with Howard Stern. Speaking of his sober journey, Affleck said he would still be drinking if he stayed with Garner (via Page Six). "Part of why I started drinking was because I was trapped," Affleck said of that marriage. He admitted that he stayed for his kids. Umm... Sorry, Affleck. That's not how you speak about an ex! J.Lo should be very wary.