The Painfully Offensive Flub Fans Misheard During Quavo's 2023 Grammys Tribute To Takeoff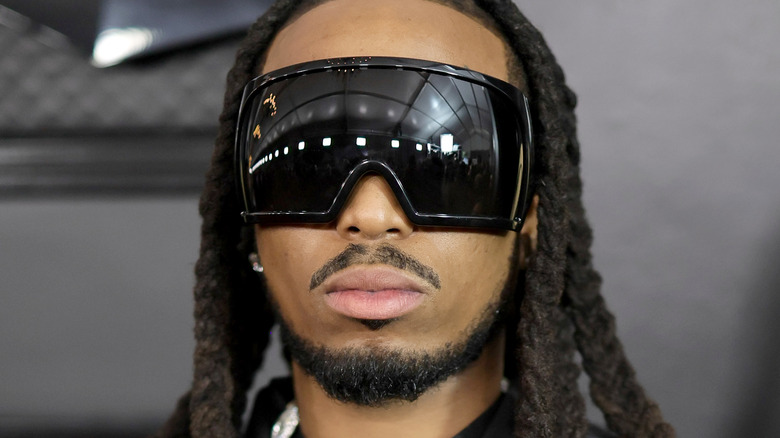 Neilson Barnard/Getty Images
Takeoff, a member of the group Migos, died on November 1, 2022, at age 28. TMZ reported that the young rapper died immediately after being shot in the head. Takeoff was at a bowling alley in Houston, Texas with Quavo — also a member of Migos and Takeoff's uncle — when a fight broke out around 2:30 a.m. and the young rapper was killed shortly after. Looking back at specific details of Takeoff's life, it makes his death that much more heartbreaking.
Following the shock and tragedy, Offset, also a member of Migos, opened up about losing his friend. On Instagram, he wrote, "The pain you have left me with is unbearable. My heart is shattered, and I have so many things to say, but I can't find the words. I've been going to sleep and waking up hoping that all of this is a dream, but it's reality, and reality feels like a nightmare." Offset went on, "You have left a hole in my heart that will never be filled." At the 2023 Grammys, Quavo paid tribute to his friend, but many thought the announcer made a really offensive mistake.
People thought the Grammys announcer said Quavo died, not Takeoff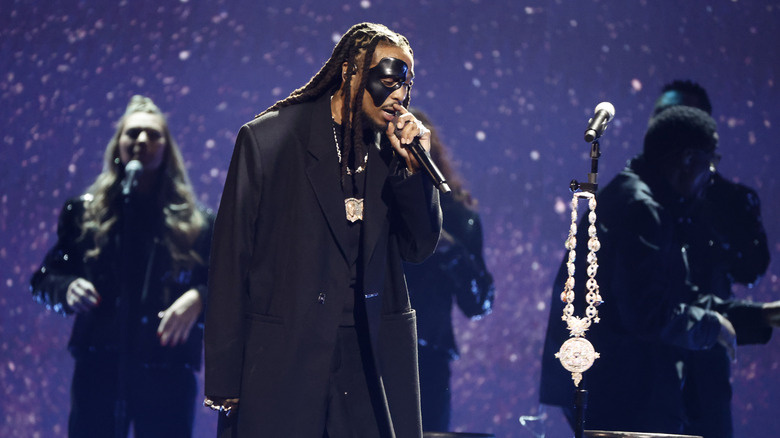 Frazer Harrison/Getty Images
At the 2023 Grammys, Quavo paid tribute to Takeoff, his nephew and fellow rapper, by performing "Without You," per Page Six, during the "In Memoriam" portion of the evening. Quavo was joined by a choir. The performance was deeply moving and Quavo looked heartbroken and solemn.
Unfortunately, many thought the announcer mixed up Quavo and Takeoff, claiming that Quavo died. Twitter was rightly upset by the mistake and called out the Grammys for this error. "Hol on...did she just say Quavo's one of the music artist we lost recently?!" one person tweeted. "Was that a pic of Quavo up there as an artist who just recently passed?!! #GRAMMYS" another wrote.
However, others were quick to correct this. It turned out that the announcer was introducing all of the artists who were performing the tributes rather than saying who died. However, the delivery was really confusing. "I heard it too but she was saying those are the ppl honoring the ones that was lost. It was a writing flaw," someone noted. "They were naming all the performers about to perform for the people that died this year," another added. So it was a near mistake, but an unfortunate one because it distracted people from the moving tribute.