Madonna Certainly Didn't Look Like Her Airbrushed Instagram At The 2023 Grammys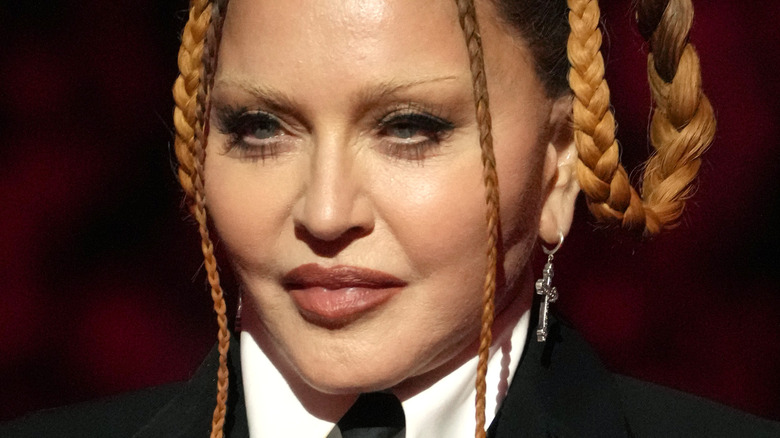 Kevin Mazur/Getty Images
Madonna has been the Queen of Pop for decades, and it seems that, even now, no new artist can top her. Because of this, she's been a major focus in the media for pretty much the entirety of her career. She's had a long list of head-turning moments since the '90s, and our gal isn't shy to court controversy. Of all things, Madonna had a big spat with Ben Affleck, claiming that he and Jennifer Lopez blamed media attention on their previous breakup but didn't do a good enough job of keeping parts of their relationship private.
Then Madonna got into it with rapper 50 Cent, and the two have been feuding about her online presence. He roasted Madonna for posting sexy photos on social media and teased that he hoped her kids didn't have to take the pics. The truth is, Madonna's been getting a lot of attention for her online presence as of late, and not all of it is good. Fans have claimed she's had work done, which is hardly rare, nor is it particularly news-worthy. However, people take umbrage with that fact because she looks so unrecognizable. 
Again, it doesn't seem totally fair to take her down for having plastic surgery or using filters. Nevertheless, people persist, and when Madonna attended the 2023 Grammys, she got called out yet again for looking different than her airbrushed Instagram persona. So, once again, the Queen of Pop is forced to face vitriol from fans for choosing to age how she wants to age. But people are pretty heated.
People call out Madonna for aging, claiming it's ungraceful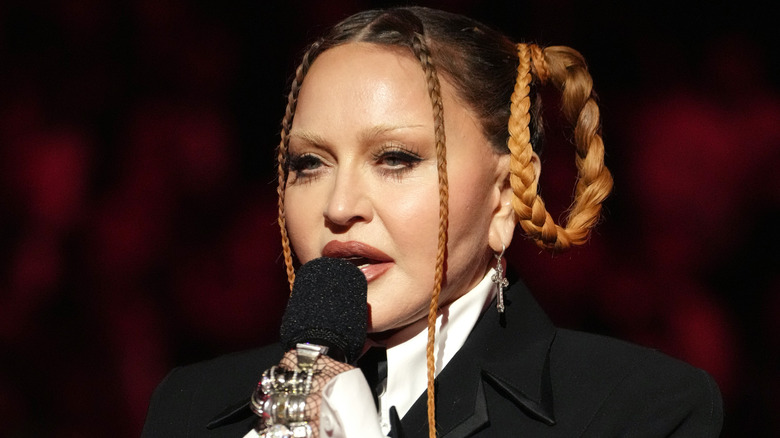 Kevin Mazur/Getty Images
Madonna had a big moment at the 2023 Grammy Awards. Not only did she announce the 40th anniversary of her Celebration Tour, per People, but she also praised artists, like herself, who courted dissent. Before Sam Smith took the stage, Madonna spoke to the crowd about the virtue of causing a ruckus. "Are you ready for a little controversy? Come on people, let's make some noise. Y'all are going to sleep over here," she said. "So, here's what I've learned after four decades in music — if they call you shocking, scandalous, troublesome, problematic, provocative or dangerous, you're definitely on to something."
But this was largely lost on people thanks to the noise about Madonna's altered look. Frankly, people were pretty mean. "Madonna looks good for her age... if her age is 2,700 year old vampire who eats babies and small animals alive," one person tweeted. "Me attempting to ignore the fact that Madonna has a whole new face," another wrote. "If they didn't announce that was Madonna I'd have no idea who this person presenting at the Grammy's was," another tweeted. "I wish Madonna would have loved herself enough to let herself age gracefully," someone else added. 
But the backlash for these kinds of comments was immediate. One fan clapped back, "I wish you loved women enough to not help tear them down." In fact, the issue of Madonna's changing face raised an interesting issue on Twitter and people were eager to talk about it.
Fans come to Madonna's defense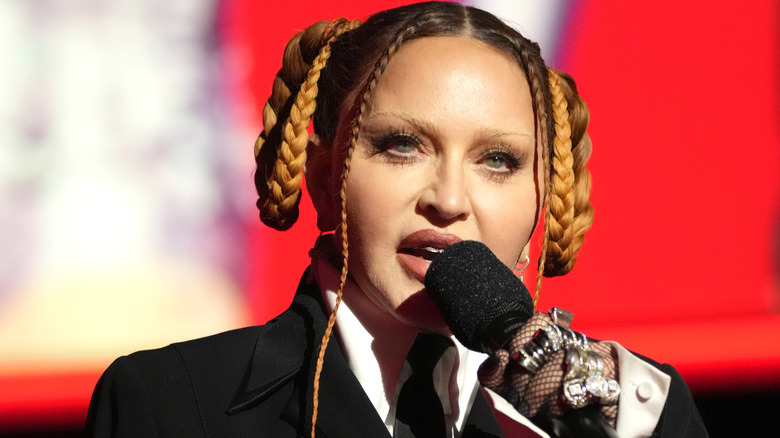 Kevin Mazur/Getty Images
While many jumped on Madonna virtually for her unrecognizable face at the 2023 Grammy Awards, others swiftly came to her defense. The major argument was that Madonna would get criticized no matter what, as if aging was a fault. Had she foregone plastic surgery, there would still be an audience eager to take her down. "To everyone dragging Madonna for being unrecognizable: sit the hell down. If she had shown up with no botox, filler or work, looking her real age, y'all would have dragged her for that, too. Let her do her thing and continue to be the queen of the revamp and check your misogyny," one fan tweeted.
Another defender brought up Twitter receipts of people trashing Jill Biden at the Grammys for having wrinkles on her neck. "A perfect example of 'Dammed if you do, dammed if you don't' for Madonna and Dr. Biden at the Grammys," they wrote, tapping into the evidence that women will get trolled for aging no matter how they do it.
Someone else on Twitter decided, instead, to focus on Madonna's legacy, and shared a clip of the pop star's 2005 music video for "Hung Up." They wrote, "thinking about how madonna gave us one of the biggest dance songs of the 21st century at age 47 and danced in the video for it with eight broken bones after falling off a horse a few weeks earlier." Thankfully, criticism doesn't seem to stop Madonna — but she's got to get sick of it once in a while!