How Ashton Kutcher And Mila Kunis' Age Difference Influenced Their Relationship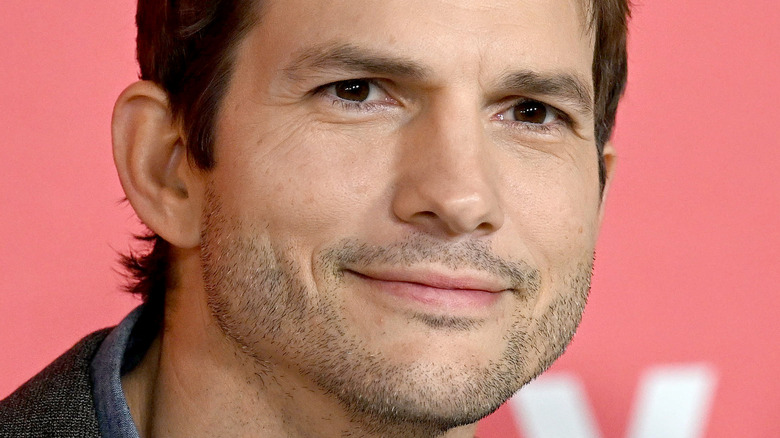 Albert L. Ortega/Getty Images
It's safe to say that Ashton Kutcher and Mila Kunis are one of the most famous couples in Hollywood — their romance is one for the books. The duo initially met on the set of "That 70's Show," but it wasn't until 2012 that they formed a romantic connection at the "Golden Globes," of all places. Kunis explained the encounter during an appearance on the "WTF with Marc Maron" podcast. "I was looking around, and there was a really beautiful man from the back," she told Maron. "I was literally like, 'Oh, he's kinda hot.' And then he turned around, and I was like, 'Oh, my God, it's Kutch.'" While Kunis said it was a weird experience to have the hots for someone who she had known forever, things worked out for the pair. That night, Kutcher invited Kunis to a party at his home, and the romance blossomed.
According to Us Weekly, Kutcher popped the question to Kunis in 2014, and a source close to the pair said, "she is crazy about him!" The couple welcomed their first child in October of the same year, per TMZ. Not too long after the engagement and the birth of their daughter, Wyatt, the pair tied the knot in 2015, per Brides. The outlet revealed that the actors wed at Parrish Ranch's Secret Garden in Oak Glen, California. In 2016, the happy couple welcomed their second child, son Dimitri, per People. 
However, things didn't start off strong when Kunis and Kutcher first met.
Ashton Kutcher says Mila Kunis was too young when they first met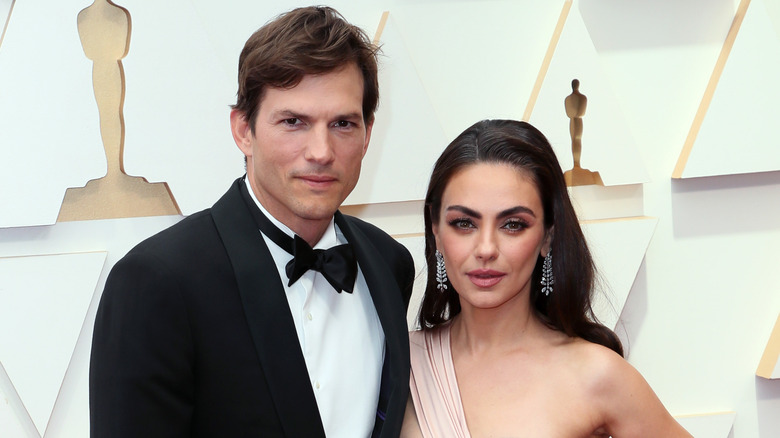 David Livingston/Getty Images
Not all relationships begin with love at first sight. In an interview with "The One Show" (via BuzzFeed News), Ashton Kutcher talked about the first time he met his now-wife, Mila Kunis, on the set of their hit series "That 70's Show." Even though they worked together, they kept it professional as Kutcher says their age difference played a factor in why there was no romance. "I mean, when we were there, she was 15 years old, I was 20 years old; there was zero romantic connection between the two of us," he told the outlet of why they never took things to another level when they worked together.
However, as most of us know, a lot has changed since they first met on set. In fact, the two even worked together on the spinoff series "That 90's Show," which Kutcher says is "nostalgic." In that same interview with "The One Show," the "No Strings Attached" star also gave a nod to his wife as he explained how working together this time around is totally different. "Any day I get to go to work with my wife is the best day of the year," he told the outlet. "I think the crazy thing about that experience is we are in a completely different place in our relationship now than where we were then." 
In January, Kutcher shared a trailer for the new Netflix series in a full-circle moment for the pair. 
Inside Ashton Kutcher and Mila Kunis' love story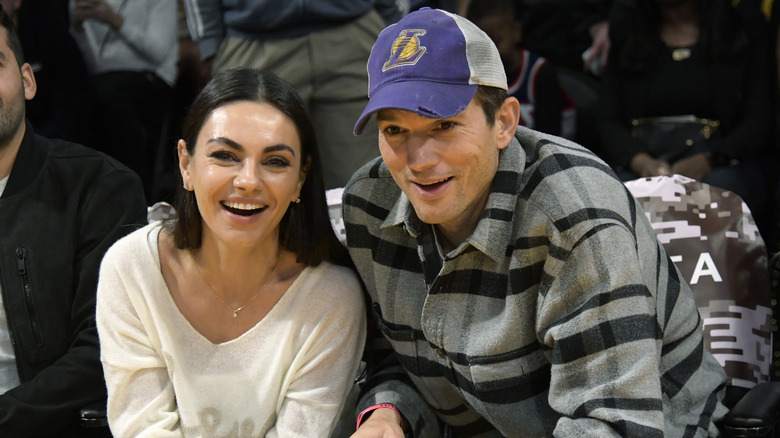 Kevork Djansezian/Getty Images
Mila Kunis and Ashton Kutcher regularly sing one another's praises in interviews, and it totally gives us heart eyes. Ahead of their wedding, Kunis gushed over her partner in a 2014 interview with W Magazine (via Us Weekly). "I never wanted to get married. From the age of 12, I prepared my parents for no marriage," she told the outlet at the time. "Then things changed — I found the love of my life." The actor also called Kutcher her "movie star" crush as she raved over how lucky she was to marry him.
In addition to being a great husband, Kutcher also happens to be a great dad, and Kunis will be the first to tell you. In an interview with The Telegraph, per People, Kunis referred to Kutcher as a "brilliant" dad who does normal dad stuff. "My husband is an incredibly hands-on dad," she told the outlet. "When my child was born, I was breast-feeding, and he said, 'That's your connection, I want to change every diaper.'"
The 44-year-old also has no problem gushing over his bride on social media. In 2022, he shared a short Instagram video dedicated to Kunis and her new film, "Luckiest Girl Alive," where she plays the role of Ani Fanelli, per IMDb. "Wifey has a new film out on Netflix," he told viewers. "It rocks, and so I just wanted to recommend that you check it out." Kutcher added, "I'm so proud of her."