Jennifer Lopez Paints Rosy Picture Of Marriage To Ben Affleck Following Listless Grammys Debut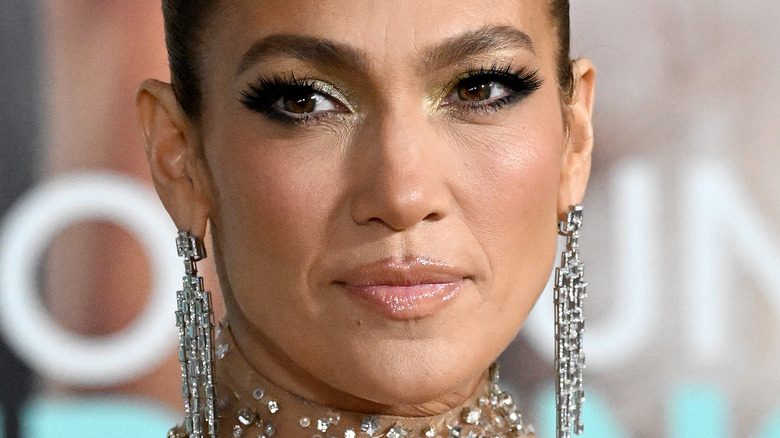 Albert L. Ortega/Getty Images
Jennifer Lopez and Ben Affleck stepped out together at the 2023 Grammy Awards on February 5, marking the first time they'd attended the event as husband and wife. According to Us Weekly, Lopez walked the red carpet in a navy blue Gucci gown that was accentuated with dazzling crystals. The former "American Idol" judge presented the award for Best Pop Vocal Album, which was the first award of the night. "Even with inflation, her love still don't cost a thing. Please welcome Jennifer Lopez," Grammys host Trevor Noah said, introducing the star (via Us Weekly). After presenting Harry Styles with the Grammy win, Lopez took her seat in the audience next to Affleck, who ended up making headlines on his own.
On a night that is dedicated to music, Affleck seemed to stick out like a sore thumb, despite being married to a Grammy Award winner. Each time the camera panned over to Lopez and Affleck, the "Good Will Hunting" actor looked less than amused. It didn't take long for people to start talking about Affleck on social media, and tons of memes were created using stills of his face as he looked bored, disinterested, and even a bit sad. While sites like BuzzFeed created lists of the funniest jokes about Affleck, Lopez appeared to do a bit of damage control, though she wasn't too successful. 
Jennifer Lopez penned a sweet tribute to her husband
Without actually making mention of Ben Affleck's clearly unhappy demeanor, Jennifer Lopez paid tribute to her husband in a sweet Instagram post after the show. On February 6, she shared a video of some of the sweet moments that she and Affleck shared at the Grammys. "Always the best time with my love, my husband," she captioned the post, adding a white heart emoji. Lopez used Harry Styles' hit song "As It Was" as background music to accompany the video. 
Despite Lopez's attempt at keeping things positive, fans didn't let her off the hook that easily. Dozens of comments about Affleck's unhappy face have been racking up on the post. "I don't know but I get vibes from those two that seem off," one Instagram user wrote. "The pictures and video I saw did not portray happiness," another Instagram user said. "Leave Ben home. Clearly it's not his thing," a third Instagram comment read.
Regardless of what may have been bugging Affleck at the Grammys, it seems as though all eyes will be on these two the next time they step out together.