Pamela Anderson Stands By Her Bombshell Claims About Tim Allen's On-Set Behavior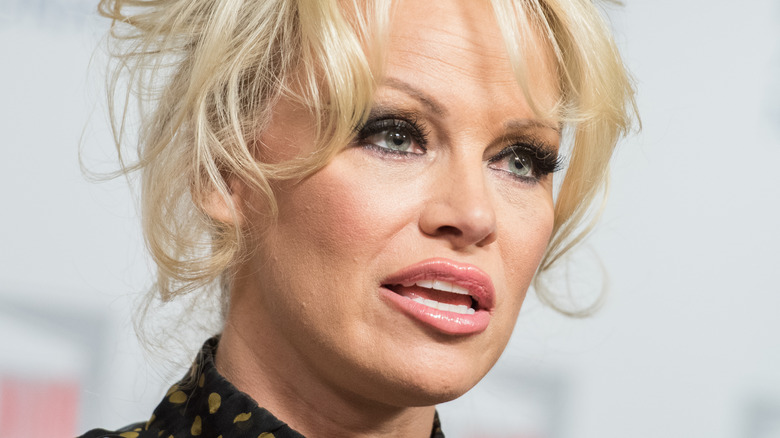 Frederic Legrand - COMEO/Shutterstock
We may receive a commission on purchases made from links.
This article contains mention of sexual abuse.
Pamela Anderson is known for many things in her career, but her recent bombshell allegations that Tim Allen exposed himself to her on the set of his show have made plenty of headlines in 2023. The star first made the claims against Allen in her memoir, "Love, Pamela." The actor wrote, "On the first day of filming, I walked out of my dressing room, and Tim was in the hallway in his robe. He opened his robe and flashed me quickly — completely naked underneath," according to an excerpt from the book that was taken from Variety. Anderson claimed that the encounter occurred in 1991 when she was starring in Allen's hit show, "Home Improvement." The movie star added, "He said it was only fair, because he had seen me naked." She also wrote that she "laughed uncomfortably" afterward since she didn't really know what else to do. 
After Anderson's claims came to light (and went viral on the internet), Allen had no choice but to break his silence. While Allen picked up a java from Starbucks, the Daily Mail stopped him and asked about Anderson's bombshell claims. "'She was a great co-worker, I'll tell you that. She's a fun girl. Everybody loved her, but everybody at ABC is a little disappointed in her... memory, put it that way. All of us at Disney/ABC, really," he told the outlet.
But, it looks like Allen isn't going to get the last word — at least not for now.
If you or anyone you know has been a victim of sexual assault, help is available. Visit the Rape, Abuse & Incest National Network website or contact RAINN's National Helpline at 1-800-656-HOPE (4673).
Pamela Anderson slammed Tim Allen... again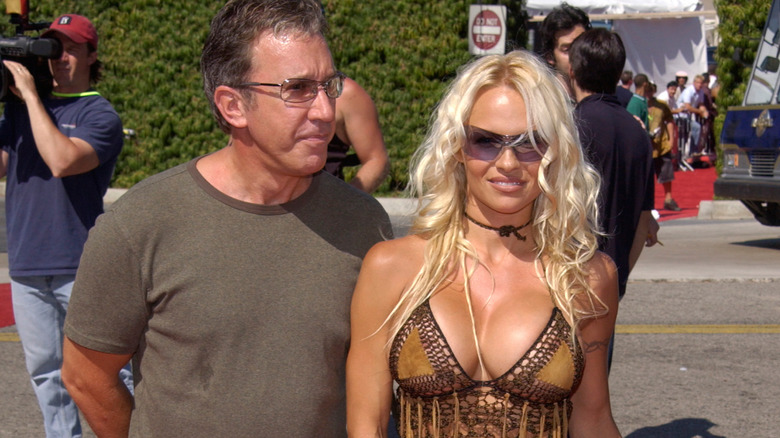 Featureflash Photo Agency/Shutterstock
Pamela Anderson is sticking to her guns. In an interview with "ET Canada," the star did not back down from claims that Tim Allen exposed himself to her on set. The interview came shortly after Allen denied the claims against him. Anderson explained Allen's NSFW moment occurred on the first day she was on set filming, explaining that Allen began to approach her while clad in a bathrobe after they each came out of their respective dressing rooms.
"He closed [his bathrobe] and he goes, 'Now we're even, I've seen you naked, you've seen me naked, now we can start the show,'" she explained. "How could you make that up? Then he ran back into his room, and then he was embarrassed all day and acting like a little giddy schoolboy. And I was like, 'Okay?' Yeah, you can't make that stuff up." Anderson went on to say that she believes Allen denied the claims because of today's climate, and then she dropped another bombshell. "A lot of these stories is just the tip of the iceberg — not that story," she said, and added that she has only talked about some of the more pivotal moments in her life. "It was because it was my first job, 'Home Improvement,' I felt that it was important to say."
Fox News reports that Anderson also made claims against Sylvester Stallone, saying he offered her a car to be his "number one girl." Stallone has since denied those claims.
Pamela Anderson has had to deal with several instances of inappropriate and abusive behavior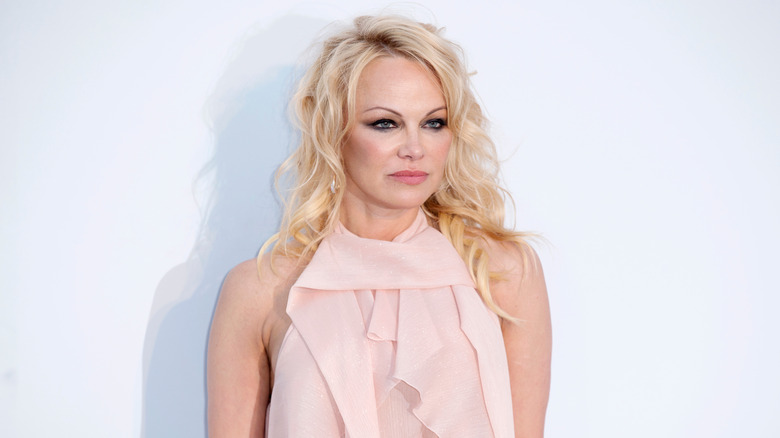 Andrea Raffin/Shutterstock
Pamela Anderson has talked about some of the more tragic parts of her past prior to her memoir release. In 2014, Anderson discussed her difficult upbringing at the Cannes Film Festival, per The Sun. "I did not have an easy childhood," she confessed. "Despite loving parents, I was molested from age six to 10 by a female babysitter." According to Today, Anderson also wrote about the same experience in her memoir, and it's easy to see that it profoundly affected her. In fact, the star said she was so traumatized by the abuse, she wished her babysitter would die. 
Sadly, that was not the only instance where someone sexually assaulted Anderson. According to The Sun, the "Baywatch" star also detailed another time when a 25-year-old sexually abused her. At the time, she was only 12 years old. "I went to a friend's boyfriend's house," she explained. "While she was busy, the boyfriend's older brother decided to teach me backgammon, which led into a back massage, which led into rape — my first heterosexual experience."
The 55-year-old also included yet another traumatic experience at a young age in her book, per "Today," where her boyfriend at the time and a group of "four, maybe six boys," sexually assaulted her, causing her to "blackout." Considering her tragic past, it's easy to see why Tim Allen's alleged behavior would be triggering for Anderson.