Empty Nester Leah Remini Gets In Her Feelings Over Her Daughter's Life Choices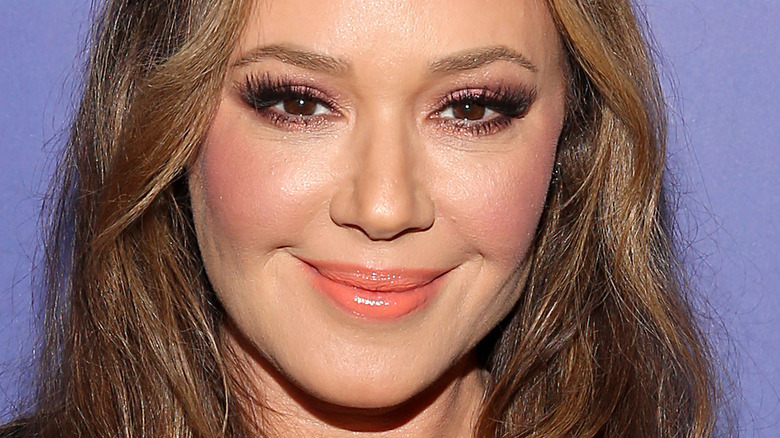 Jesse Grant/Getty Images
This past fall, actor and former Scientologist Leah Remini announced that her only daughter, Sofia Bella Pagan, had recently enrolled in college. Unfortunately, this milestone was incredibly difficult for the "King of Queens" star. "Bringing our only child to college for the first time has been the most excruciatingly painful and proudest moment of my life," wrote Remini on Instagram. "I have never cried so much in my life ... It is the hardest thing I have ever done, and I'm still torturing myself with the idea that I might have pushed my daughter on the college track because I never got to go when I was her age." Remini also revealed that she and her husband didn't want to become empty nesters.
Remini echoed similar sentiments early in the year after Pagan attended her senior prom. "Last night was Sofia's senior prom," shared Remini on Instagram (via Today). "Senior year is filled with exciting milestones but it doesn't make it any less sad for parents when we wonder how time flew by so fast. Angelo and I couldn't be prouder of the young woman Sofia is becoming. But I need this process to slow down." Unfortunately, Pagan's recent life choices have completely stripped Remini of that possibility and it has her feeling sentimental.
Leah Remini posts heartbreaking response about daughter's return to college
So, good news first. Leah Remini actually did get to spend a bit more time with her daughter, Sofia Bella Pagan. As Remini revealed in a new Instagram post, Pagan didn't mesh well with her chosen school and decided to move back home, allowing she and her husband "to have her home for a few more months. However, Pagan has decided to give college another try. "A few weeks ago, she started courses at another University, and we moved her into an apartment," wrote Remini. "You'd think the second time would be easier, but Angelo and I are even more of a mess now." 
The "Second Act" star also revealed that while Pagan adjusts to first-year student issues, she and her husband are "going through what parents like us go through. Crying, not knowing what to do with ourselves now other than looking at pictures and videos and crying some more." Fortunately, Remini has a good support system around her. In addition to her husband, she can also lean on her sister. After Pagan took her first swing at college, Remini's sister helped her to make decorate Pagan's dorm room. "My sister @nicole_b_remini flew in from Arizona to help me move my daughter into college," wrote Remini on Instagram. "I can't express how much it means to me that my sister did this for her niece and me."