Tristan Thompson Hit With More Cheating Allegations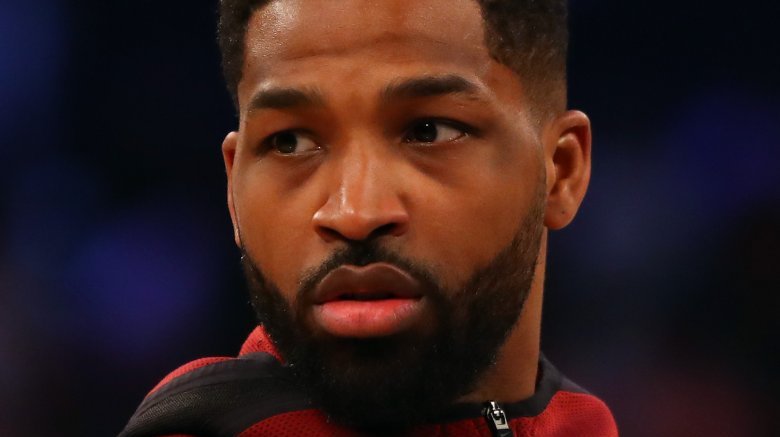 Getty Images
Tristan Thompson is facing more allegations amid his cheating scandal.
On Sunday, April 22, 2018, an Us Weekly source accused the NBA star of sending flirty messages to women on social media in order to arrange meet-ups while his girlfriend, Khloé Kardashian, was still pregnant with their baby girl.
"Tristan slides into girls' DMs," the insider alleged. "He messages girls that way, on Instagram, and then meets up with them. He likes exotic or non-American-looking girls with big butts."
In another Us Weekly exclusive, published on Saturday, April 21, an eyewitness source claimed that Thompson had flirted with models Jasmine Rose and Maya Nova James at the NBA All-Star Weekend in Los Angeles on February 16. "[Tristan] didn't look or act like someone who had a pregnant girlfriend," the insider said, explaining that while "he wasn't all over" or "kissing on" the two women, he reportedly "had his arms around and on" Rose. "The flirting and body language were definitely inappropriate for someone in a serious relationship expecting a baby."
The following evening, Thompson and Kardashian were spotted at the Klutch Sports Group More Than a Game dinner. As another eyewitness told the magazine, they "seemed cute and happy together but only stayed for a little [while]."
As Nicki Swift previously reported, Thompson was caught on video allegedly cheating on Kardashian with multiple women just days before the couple welcomed their first child together, daughter True. 
In footage taken at a New York City nightclub on Saturday, April 7, the Cavaliers star appeared to be kissing another woman, who has since been identified as Instagram model Lani Blair. Another clip later emerged of Thompson and Blair returning to a hotel together the following morning. Around that time, surveillance video taken at a hookah lounge in Washington D.C. in October 2017 was also released, in which Thompson could be seen getting intimate with two other women.
"[Khloé] was devastated when she saw the pictures of Tristan with that girl, she went absolutely ballistic at him," a Page Six source said. "She is not only hurt, she is humiliated and worried for their child. How could he do this, and so publicly, when their baby daughter could arrive within a week?"
Since the scandal broke, the Revenge Body star has reportedly tried to keep the peace and focus on their daughter. According to a previous Us Weekly report, the basketball pro is "incredibly remorseful for everything that has happened," and has asked the reality TV star "to give him another chance and to give them time as a couple and a family to bond."
Thompson, 27, and Kardashian, 33, who have been together since October 2016, have yet to publicly comment on the infidelity reports.