Sister Wives' Gwendlyn Brown Calls Out Father Kody's Estrangement From His Kids
One by one, Kody Brown's wives and children seem to be turning on him. "Sister Wives" became an increasingly popular show following Kody and his marriages with four other women. As time has gone on, the women have grown distant from Kody.
It all began when Christine Brown, Kody's third wife, announced she would be divorcing him in November 2021. Christine shared on Instagram, "After more than 25 years together, Kody and I have grown apart and I have made the difficult decision to leave." Christine shared that moving forward, she and Kody will focus on continuing to support their children. Not long after, Meri and Janelle followed Christine's footsteps by announcing they would also be leaving Kody, per People. It was obvious during the latest season of "Sister Wives" that tensions had arisen between the three women and Kody, especially as Kody was spending most of his time with his fourth wife, Robyn.
Tensions grew not only between Kody and his wives — but also between him and his many kids. In season 17 of the reality show, viewers saw Janelle's children, Garrison and Gabriel, butting heads with their father, as noted by US Weekly. In addition, Christine's son Paedon isn't too fond of Kody either, with Insider noting that he made a TikTok video criticizing his father. Now, Gwendlyn Brown has become the latest of the brood to take a jab at Kody.
Gwendlyn says Kody has changed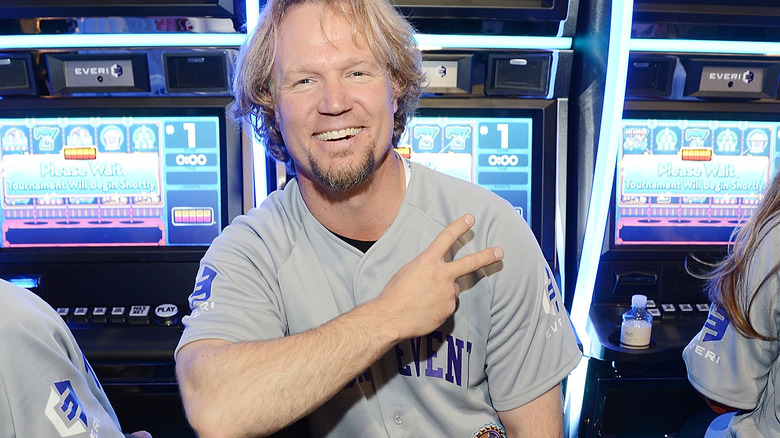 Denise Truscello/Getty Images
It's common for children to disagree with their parents, even the kids from "Sister Wives." Kody Brown's untraditional lifestyle has caused him to slowly drift away from several of his kids, including Gwendlyn Brown. Gwendlyn is one of the six children Kody and his ex-wife, Christine Brown, share, per US Weekly. Recently, the 21-year-old has launched a Youtube channel reacting to episodes of "Sister Wives," and the latest video is a reaction to season 17, episode 7 of the series. 
Throughout the video, she revealed how she truly felt about her father. After watching Kody and Gabe go at it in the episode, Gwendlyn shared a sentiment about her father's relationship with his children. She said, "He just doesn't seem to get along with his kids very much anymore." The reality star also answered a fan's question about Kody's "emotional manipulation." She shared, "Now I just don't have the patience for it, And, a lot of the time, I just space out ... and I'll wait until he stops repeating the same thing. At this point, I just don't listen to him at all." Clearly, Gwendlyn gets as frustrated by Kody as viewers do.
She didn't stop there, speaking on Kody's character. Gwendlyn said, "He really has changed. The reason I think he started changing is because his kids used to be young and easily, I think, manipulated. Now we're adults, and we have our opinions. And we have our adult thoughts. It's just different now."