Matthew McConaughey And Woody Harrelson's Friendship Has Lasted For Decades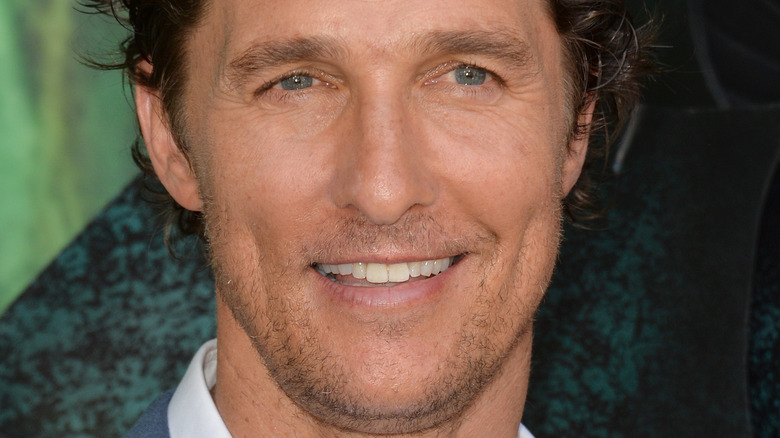 Featureflash Photo Agency/Shutterstock
Trigger warning: The following article contains language about sexual abuse
In Los Angeles, relationships are often superficial and fleeting. Still, Matthew McConaughey and Woody Harrelson's friendship has stood the test of time. When you look at their commonalities, it's a little surprising. Both men are Texan — Britannica reports that McConaughey is from Uvalde, while Harrelson hails from Midland, just 327 miles away — and they're equally proud of their Lone Star roots.
"I've traveled. I've filled many passports. But I'm from Texas," McConaughey told People. Despite his stellar career, the actor mainly shuns the bright lights of California in favor of remaining in his home state — albeit in the more prominent locale of Austin now. Meanwhile, Harrelson has talked about moving back to Texas and getting a place down the road. "I love Texas. I haven't lived there in a very long time. Maybe it'll happen again," he told Cowboys & Indians. "I'm gonna come back to Texas and move down the road from [McConaughey] — just so I can hound him," Harrelson quipped.
The two men are renowned for being so laid back that they're almost horizontal, which may have something to do with their shared love of weed. People reports that McConaughey once "rapped for 13 hours straight" after accidentally toking on Snoop Dogg's stash. Harrelson's taken it to another level by opening his own cannabis dispensary in LA, per Spectrum News 1. However, that's just scratching the surface — we're taking a deep dive into why Matthew McConaughey and Woody Harrelson's friendship has lasted for decades.
Matthew McConaughey and Woody Harrelson have a lot to bond over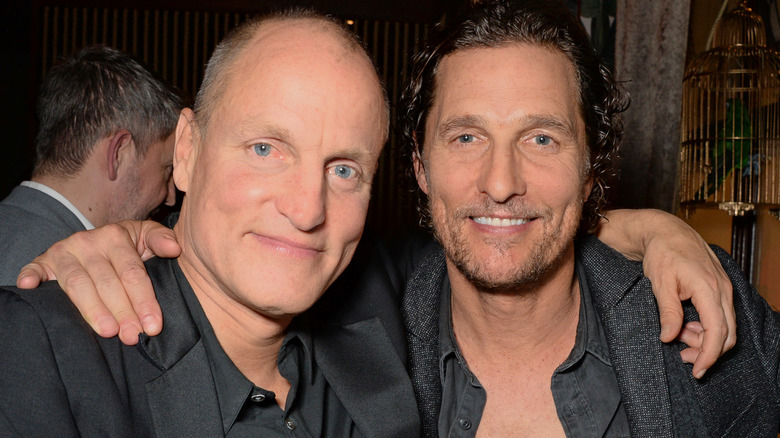 David M. Benett/Getty Images
Matthew McConaughey and Woody Harrelson have worked together several times over the years, including "EDtv," "Surfer, Dude" and "True Detective." The latter was a distinct change from their previous fluffy flicks as the pair played detectives investigating a gruesome occult murder. McConaughey told USA Today that he and Harrelson are on the same "frequency" for comedies, which makes them gel so well, but they had to dig deep and get on "different frequencies" for "True Detective."
Both men have plenty to draw from when it comes to the gritty side of life. McConaughey's troubled teenage years are well documented. He told "Today" that his "sometimes violent" upbringing would probably be considered abusive now. And in his memoir "Greenlights," the "Interstellar" star opened up about being sexually abused as a teen. He revealed that "while knocked unconscious in the back of a van" at 18, a man molested him (via Independent).
Meanwhile, Harrelson's parents split when he was around seven, and he has a "disturbing" family history. His dad spent years behind bars for being a contract killer, something his son didn't know until he was "11 or 12" and rarely talks about. "I heard his name mentioned on a car radio," the "Hunger Games" actor told The Guardian. "It was talking about Charles V Harrelson, and his trial for murder and blah blah blah blah, and I'm sitting there thinking there can't be another Charles V Harrelson. I mean, that's my dad!"
If you or anyone you know has been a victim of sexual assault, help is available. Visit the Rape, Abuse & Incest National Network website or contact RAINN's National Helpline at 1-800-656-HOPE (4673).
Matthew McConaughey and Woody Harrelson's bromance was born from tequila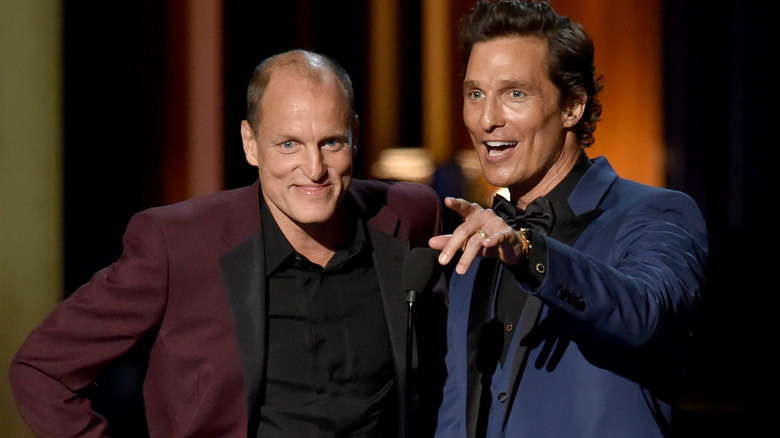 Kevin Winter/Getty Images
Woody Harrelson is known for his close relationships with other actors — Wesley Snipes and Harrelson's friendship has lasted for years — but nothing trumps his bromance with Matthew McConaughey. The two even vacation together! Thankfully, McConaughey's wife, Camila Alves, is happy being the third wheel. Hola! reports that when the trio journeyed to Dubrovnik to celebrate Harrelson's birthday, she videoed the two bros frolicking in the sea. "Sometimes the bromance trumps the romance!" Alves captioned a cute clip of the two actors paddleboarding together as she made do on a solo canoe.
Alves spoke about the trip with Access Hollywood. She said when McConaughey asked her to go paddleboarding, she assumed it was just with him. She was psyched to put on her sexy bikini and spend a little alone time with him, minus the kids — but then she was ditched for Harrelson. "I showed up, and it's Woody on the back of his board," Alves said, laughing. "I'll just follow you guys," she told the bros. "And then they just took off," leaving her in their wake.
Meanwhile, although there's no disputing McConaughey and Harrelson's friendship spans back decades, they argue over how it all began. "It's a little dicey on how we first met," McConaughey explained on his YouTube channel. He claimed his BFF was hazy about the exact details. "I remember! You don't remember," Harrelson shot back. "There was tequila involved in that night," McConaughey admitted.