RHOP: Juan Dixon's Supposed Other Woman Pokes Holes In Robyn's Version Of Their Rendezvous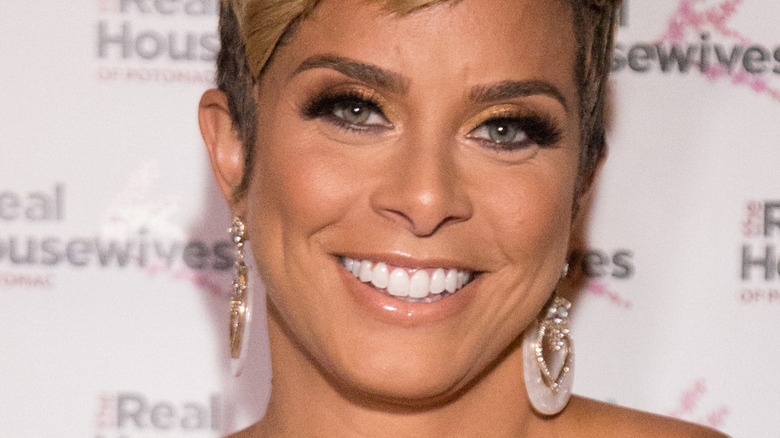 Brian Stukes/Getty Images
Things are not looking good for the start of Robyn and Juan Dixon's marriage. The "Real Housewives of Potomac" star frequently had the status of her relationship with Juan questioned after they decided to give their relationship another try. Robyn seemed to put her castmates' concerns to bed after Juan finally proposed to her in Season 5, but after three years, the two still weren't married. Fellow "RHOP" star Karen Huger questioned Robyn and Juan's plans to wed during Season 7, and then shared the gossip of Juan being seen with another woman around Maryland.
Robyn and Juan refuted those rumors, but podcast host Georgio Says shared that a woman reached out to him and claimed that she dated the basketball coach for over a year. The unnamed woman also sent him a snap of a hotel invoice with Juan's name on it. Robyn later revealed in a Patreon excluve episode of her podcast, "Reasonably Shady," that Juan was in fact in contact with a woman but he had paid for her hotel because she lost her wallet and asked him for help. The "RHOP" star emphasized that her husband was not having an affair and reiterated the story on "Watch What Happens Live with Andy Cohen." However, the mystery woman has come out again and her version of the story is not as innocent as Robyn has led us to believe.
A Canadian woman claims she flew to Maryland just to see Juan Dixon
Juan Dixon's alleged mistress is spilling all the details, and Robyn Dixon is not going to be happy about it. During a phone interview with Georgio Says, the woman refuted Robyn's claims that she had flown to Maryland to see a Ravens football player. "I have no idea where that story came from. It's very confusing. I had no reason to go to Maryland other than to see Juan," she argued. The woman also denied Robyn's story about her losing her wallet and asking Juan to pay for her hotel room. When asked if anything happened between her and Juan, she answered, "I'm not here to hurt Robyn, I was never trying to hurt Robyn. And like I said, I'm not a malicious person like that. So I'm not gonna get into all those details. He didn't just get me a hotel room ... just to say goodbye."
The woman also claimed that Juan and Robyn's marriage was all for show, just to get a paycheck. "They needed to do what they needed to do pretty much for TV," she revealed. She went on to say that while Juan respects Robyn, there is no "real relationship" between them.
Juan and Robyn got married on August 24, 2022, three years after their engagement, per People. The two got married away from the cameras and none of their "RHOP" castmates were there, but the reality star claims she has "zero regrets."