Even Chrissy Teigen Is Speechless Over Her Wild Resurfaced Tweet To Donald Trump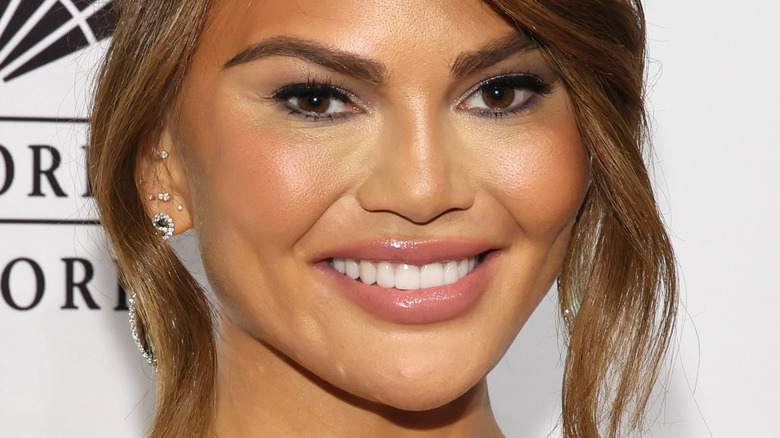 Dia Dipasupil/Getty Images
Chrissy Teigen has never been shy about sharing her opinions on social media. Yup, Teigen has been known to cause quite a stir. Many of her unfiltered views have been directed at one celebrity in particular — fans who've kept up with the model very well know that Teigen was not a supporter of Donald Trump. During Trump's presidency, she made plenty of jabs towards the polarizing personality. Back in September 2019, Trump made a fuss about the lack of praise he received for criminal reform legislation, per Vanity Fair. He tweeted, in part, "Boring musician @johnlegend, and his filthy mouthed wife, are talking now about how great it is — but I didn't see them around when we needed help getting it passed. " Of course, Teigen fired back, tweeting, "lol what a p***y a** b****. tagged everyone but me. an honor, mister president."
During a recent congressional hearing, the tweet was brought up, reigniting the flames about Teigen's insult. Unsurprisingly, it went viral on social media, and Teigen and fans can't get enough of it.
Chrissy Teigen's tweet was read at a congressional hearing
Chrissy Teigen's brutal tweet about Donald Trump is making waves again. On February 8, there was a congressional hearing regarding Twitter's restrictions on user access to a New York Post piece concerning Hunter Biden's laptop, per Vanity Fair.
Amid these discussions, witness Anika Collier Navaroli, who previously worked for Twitter's content moderation team, revealed how the White House tried to get rid of Teigen's tweet. Representative Gerry Connolly asked, "The White House almost immediately thereafter contacted Twitter to demand the tweet be taken down. Is that accurate?" Navaroli replied, "I do remember hearing we'd received a request from the White House to make sure we evaluated this tweet, and they wanted it to come down because it was a derogatory statement directed at the president." A representative prompted Navaroli to read the tweet, in which Teigen referred to Trump as a "p***y a** b****."
Teigen took to social media to share her reaction to the unforgettable moment. She tweeted, "I...oh my god." On Instagram, she wrote, "I don't know how to go on after this." Fans were equally amused by the situation. One user tweeted, "That it was read into the Congressional record is the most beautiful thing I have seen in quite some time." Another user wrote, "The free-est free speech, if ever there was..." Someone else remarked, "I didn't have Chrissy Teigen calling Trump a p***y a** b**** being read into the Congressional record on my bingo card."