Chiefs Heiress Gracie Hunt Defends Patrick Mahomes' Controversial Brother Jackson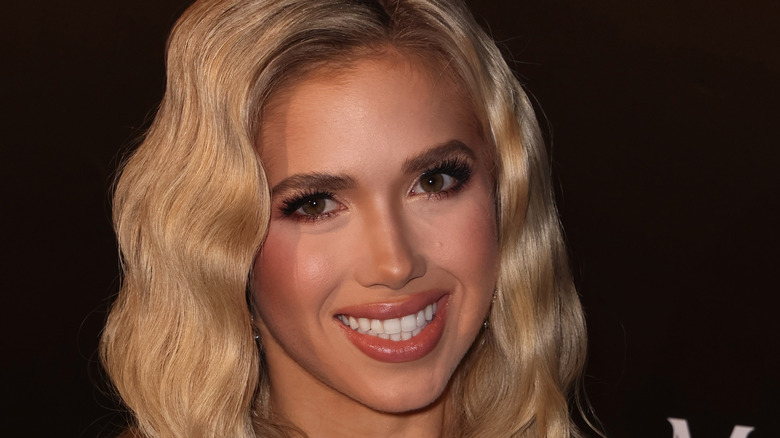 David Livingston/Getty Images
The 2021 NFL season was, to put it lightly, unremarkable for the Kansas City Chiefs and particularly quarterback Patrick Mahomes. But while Patrick struggled on the field, his brother Jackson Mahomes was on the sidelines, cheering the quarterback on — and racking up a slew of controversies. In October 2021, the younger Mahomes sparked outrage after sharing a TikTok of himself dancing on the late Sean Taylor's memorial logo at FedEx Field. "I want to sincerely apologize for accidentally being on the Sean Taylor #21 at FedEx Field," he later wrote in a tweet. "We were directed to stand in that area and I meant absolutely no disrespect to him or his family." Still, it did not take too long before Jackson found himself in hot water again. 
In December 2021, a local Kansas City bar dubbed Jackson entitled for acting out after he and his friends could not get a table during a visit to the establishment. "Often times people with un-earned status and a sense of entitlement think they are above the rules and will lash out at the employee enforcing them," the bar wrote in a statement, per the New York Post.
On a separate occasion, Jackson also faced serious backlash after pouring water on Ravens fans who taunted him following a win against the Chiefs. Despite all of these incidents, however, Gracie Hunt, daughter of Chiefs CEO Clark Hunt, has no ill feelings towards Jackson — you just might find her defending him even.
Gracie Hunt thinks Jackson Mahomes is 'wonderful'
While NFL fans are convinced Jackson Mahomes is nothing but an attention-seeking TikToker, Gracie Hunt believes he is only being a supportive younger brother. "I think Patrick Mahomes has a wonderful family — from Brittany to Jackson. They are wonderful people and we are so blessed to have them as part of our organization and are huge rocks in Patrick's life," Hunt said during a recent interview with Fox News. On the backlash that Jackson so often receives online, Hunt urges critics to extend more grace to the younger Mahomes. "I do think that we live in a culture that's often quick to criticize and slow to forgive. But I think we need to be one that's quick to forgive and slow to criticize," she said.
Luckily, Hunt is not the only one who thinks trolls should cut Jackson some slack. In January 2022, Patrick's wife, Brittany Matthews came to Jackson's defense after internet users made fun of the 22-year-old for allegedly wearing a jacket that misspelled his last name as Mahoms instead of Mahomes. "Y'all are ignorant," Matthews wrote in response to a now-deleted tweet. "At least make sure your facts are straight. This is just not necessary AT ALL! There were plenty other photos to look at to confirm before you post stupid s*** like this. Y'all have no sense if you think this is accurate. Be better."
He might not always get things right, but one thing Jackson Mahomes undoubtedly has is a support system.