Madonna Sends Not-So-Subtle Message To Critics Of Her Appearance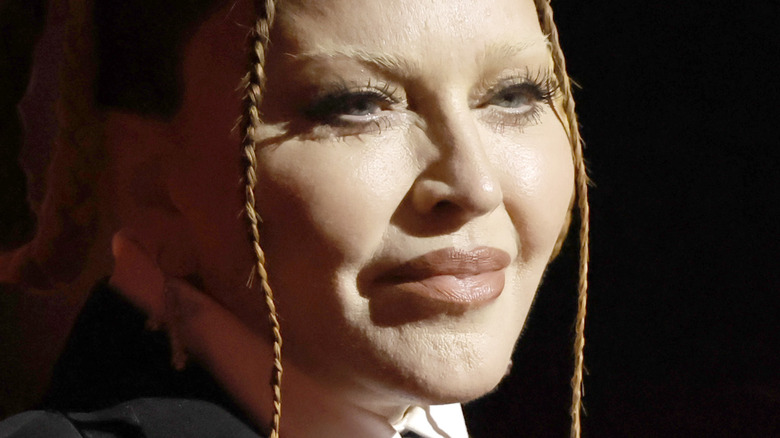 Kevin Winter/Getty Images
Quite a few celebrities made a splash at the 2023 Grammys, but Madonna's cameo had people talking for all the wrong reasons. Viewers took strong note of Madge's appearance that night, with the singer wearing a space-age, twin-buns hairdo. However, it was her face that sparked the real conversation. Rocking bleached and plucked-to-near-oblivion eyebrows (a new trend in 2023), Madonna's lips and cheeks appeared fuller than usual. On Twitter, fans quickly noted that they found the 64-year-old unrecognizable. "Where is the real Madonna ? Her ears are not as big as this, no way. Plus what is this flap where the cheek meets the ears, it looks like a prosthetic mask ?," one tweeted, insisting that the "Vogue" singer "wouldn't do this to her face."
It wasn't long before Madonna addressed the fan discussion head-on. In a February 7 Instagram post, Madge lamented that "instead of focusing on what I said in my speech ... Many people chose to only talk about Close-up photos of me Taken with a long lens camera By a press photographer that Would distort anyone's face!!" Blaming "ageism and misogyny," the entertainer bemoaned a "world that refuses to celebrate women past the age of 45." In a tweet the same day, she posted a selfie in a similar hairdo, writing, "The world is threatened by my power and my stamina ... But they will never break me."
As the conversation around Madonna's face continues, the iconoclast has returned with another rebellious social media move.
Madonna is giving unapologetic at its fiercest
Taking to her Instagram Stories on February 9, Madonna continues her campaign of edgy self-defiance in the face (pun unintended) of haters. Clearly feeling her look of ripped jeans and a denim jacket (à la French brands Vetements and Matières Fécales), the singer served followers a series of über-"Vogue"-y poses as her famous track "Sorry" played in the last Story, per Page Six. As the icing on the fashionista cake, Madonna also captioned, word-by-word across the four photos, "Most ... definitely ... not ... sorry." (Hmm, we wonder what she's addressing there.) As she stated firmly in her February 7 Instagram post, responding to discussion over her appearance at the Grammys, "I have never apologized for any of the creative choices I have made nor the way that I look or dress and I'm not going to start."
The "Like a Virgin" songbird also decried society in her post for refusing "to celebrate women past the age of 45." This remark itself solicited many Twitter replies, with one user's counterpoint reading, "Madonna is the one who refuses to celebrate women over 45 by trying to constantly look 25 when she's almost 65." The queen of pop had her defenders on social media, as well. As one fan pointed out, male public figures rarely face scrutiny for cosmetic enhancements they have had done. "Let Madonna be Madonna. 'Rocky' Stallone is full of fillers and nobody says anything," they wrote.