Madonna Perfectly Swings Back At Critics Of Her 2023 Grammys Look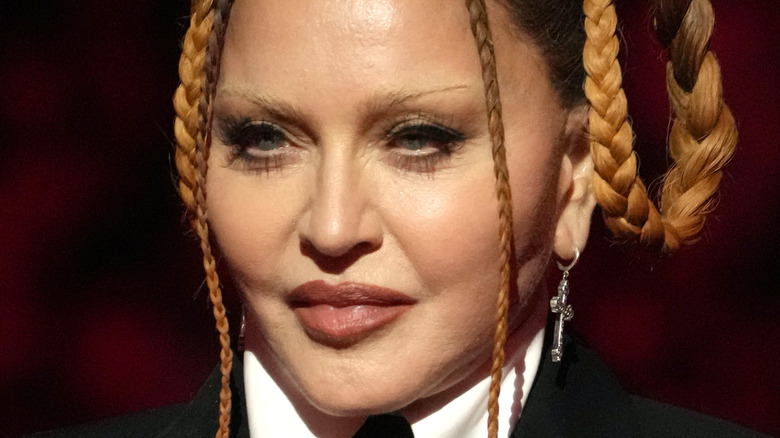 Kevin Mazur/Getty Images
Throughout her career, Madonna has rocked several talked-about looks. From hairstyles to designer dresses and overall unique fashion choices, she always keeps people guessing. She sported tight, ringlet curls in her blonde mane and fans saw her rock brown hair for several years, including when she starred with Rosie O'Donnell in "A League of Their Own," and there has been no shortage of hair colors or styles. Madonna has also wowed with several headline-making fashion choices, including the ever-famous cone-bra dress.
Several celebs made headlines at the 2023 Grammy Awards show, but there's no doubt that Madonna was one of the most talked-about people of the evening. For her look, the songstress sported pigtail braids and two smaller braids that fell over her eyebrows. Speaking of eyebrows, Madonna also showcased her very light ones, which have been trendy as of late. Many took to social media to weigh in on the singer's appearance, and the peanut gallery wasn't too kind to the star. "What happened to Madonna? She's almost become unrecognizable," one person tweeted. "I know she's gotten older, but that's not it. She looks like a different person!" According to the New York Post, Megyn Kelly blasted the singer on her podcast. "This is an unwell person who we featured at the Grammys the other night, and I don't know if it says more about her, about our society, or about celebrity, but it's disturbing me at the core," she told listeners.
Now, Madonna is clapping back.
Madonna slams critics in lengthy Instagram post
Madonna is not letting her critics have the last laugh. After the singer's look at the 2023 Grammy Awards went viral, the "Material Girl" singer took to Instagram to share a video that featured several clips from the evening. Madonna penned a lengthy caption, beginning the post by stating that it was an "honor" to introduce Kim Petras and Sam Smith. In the middle of the update, she took a more serious tone, slamming people for choosing "to only talk about Close-up photos of me Taken with a long lens camera By a press photographer that Would distort anyone's face!"
The singer continued, "Once again I am caught in the glare of ageism and misogyny That permeates the world we live in." She also claimed that the world "refuses" to give women over 45 any credit or celebrate them. "I have never apologized for any of the creative choices I have made nor the way that I look or dress, and I'm not going to start," she added, noting that she has been "degraded" ever since her career started. "In the words of Beyonce 'You-won't break my soul,'" she added before vowing never to change.
This is not the first time that Madonna has slammed her critics. According to The Blast, the singer also vocalized her opinion on her Instagram story in 2022. "Stop Bullying Madonna for enjoying her life," she wrote with the addition of a topless photo. Don't mess with Madonna...