Who Is Thelma Riley? Ozzy Osbourne's First Wife Wasn't Sharon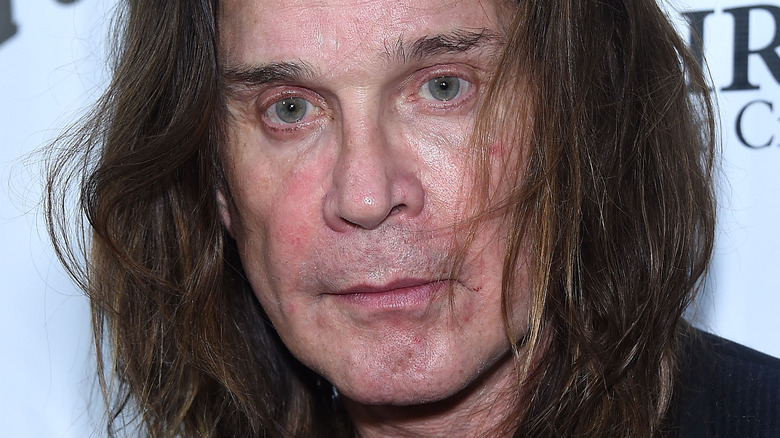 DFree/Shutterstock
When you think of Ozzy Osbourne's wife, you immediately think of Sharon Osbourne, right? The couple may have weathered their fair share of relationship storms, but the two have been married since 1982 and have known each other for most of Sharon's life, meeting when she was just 18 years old when her dad was the manager of Ozzy's band, Black Sabbath (via The Independent). They've welcomed three children — Aimee, Kelly, and Jack — together since then, too. Ozzy has also been pretty vocal about how much meeting Sharon changed his life. In fact, Ozzy has admitted he believes Sharon saved his life. "Love, I suppose. If it wasn't for Sharon, I'd be dead," he told The Independent in September 2022 when asked for his tips on how to keep a marriage alive. "I was doing f***ing huge amounts of drugs and booze. I never stopped. People wouldn't know if I was gonna go through the door, the roof or the window," he shared. "Now I don't drink or smoke or f***ing do any of that s***. I'm f***ing boring!"
But while it's clear Ozzy and Sharon have so much love for each other after celebrating their very impressive 40th wedding anniversary in 2022, you may be surprised to hear Sharon isn't the only woman Ozzy has ever called his wife. Before tying the knot with the former "The Talk" co-host, Ozzy was actually married to Thelma Riley. Here's what you need to know about her.
Ozzy Osbourne admitted he was a bad husband to Thelma Riley
Ozzy Osbourne got pretty candid about his first marriage in his 2010 book, "I Am Ozzy," recalling that he first met Thelma Riley at a nightclub in Birmingham, England, back in 1971. It didn't take long for Ozzy to put a ring on it either, as the two married that summer, just a few months after they first met. The whirlwind only continued, as the couple welcomed their first child, Jessica Osbourne, the following year, and later welcomed son Louis Osbourne, while Riley was already mom to a son, Elliot Kingsley. But their marriage was hardly a fairytale. "If I loved Thelma, I certainly didn't treat her like I did. If I've got any regrets about my life that's one of them," Ozzy wrote in his memoir. "I put that woman through hell. I should have never married her. She didn't deserve it: she wasn't a bad person, and she wasn't a bad wife."
Jessica and Louis both spoke candidly about what it was like growing up with Ozzy as a dad in the 2012 documentary "God Bless Ozzy Osbourne." The latter admitted while Ozzy was a good father when he wasn't drinking but claimed that sadly didn't happen too often, as he recalled how his dad would often be chasing drugs during his childhood. Jessica then noted, "I don't remember ever being bathed or put to bed by dad. I wouldn't say he was there for us."
If you or anyone you know needs help with addiction issues, help is available. Visit the Substance Abuse and Mental Health Services Administration website or contact SAMHSA's National Helpline at 1-800-662-HELP (4357).
Ozzy Osbourne reportedly got romantic with Sharon while still married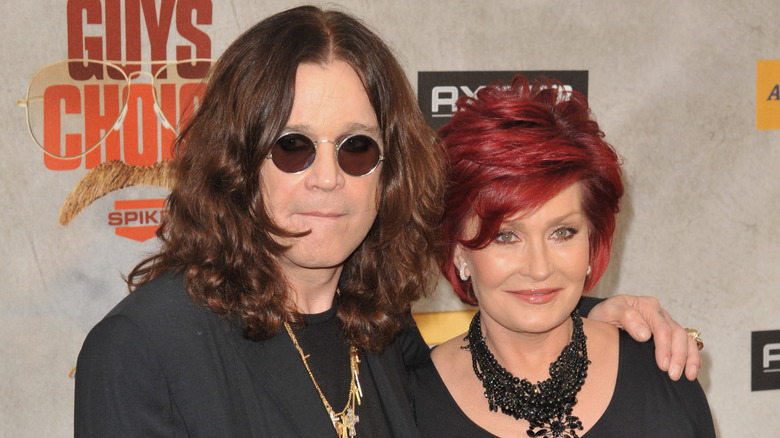 Featureflash Photo Agency/Shutterstock
Another fly in the ointment when it came to Ozzy Osbourne's marriage to Thelma Riley? The fact that he reportedly got romantic with Sharon Osbourne while he was still married. Though they met when she was just a teenager, Nine.com.au reported the two didn't actually form a romantic relationship until almost a decade later — though he was supposedly still married to Riley at the time. Us Weekly claimed Ozzy and Sharon started dating in 1979 and married three years later, the same year his divorce from Riley was finalized. Somewhat ironically, Sharon later claimed in 2017 that Ozzy had cheated on her with six different women during their marriage, though she decided to stay by his side.
But while Ozzy and Sharon have very much enjoyed a life in the spotlight (even inviting the cameras into their home for their reality show "The Osbournes"), it seems Riley has very much moved on from her doomed marriage to the rocker and prefers to live a much quieter life than the Osbourne clan. According to My Heritage, she still resides in England and is a teacher who now goes by the name Thelma Mayfair, suggesting she may potentially have married again.