What Is Lauryn Hill Doing Now?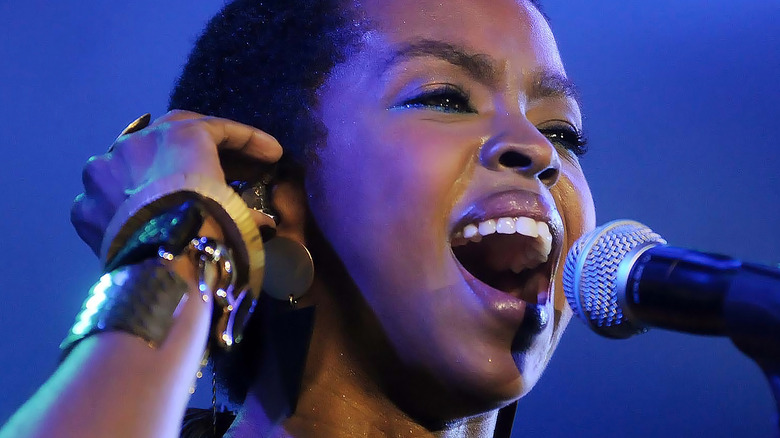 A.PAES/Shutterstock
Lauryn Hill disappeared from the spotlight following the release of her 1998 album "The Miseducation of Lauryn Hill." With its captivating hits like "Can't Take My Eyes Off You" and "Ex-Factor," the record cemented the Fugees lead as one of the most acclaimed artists in hip-hop. The rapper-singer won five Grammys including Album of the Year and Best R&B Album, as well as Best New Artist. To this day, fans and critics alike reminisce about the record's legacy. In 2020, Rolling Stone ranked the album No. 10 on its "The 500 Greatest Albums of All Time" list.
Following rave reviews of her debut solo album, fans expected to see a lot more from Hill in subsequent years. However, to peoples' disappointment, Hill didn't drop another studio albums. In an interview on "Rolling Stone's 500 Greatest Albums" podcast (via People), Hill explained how she was at odds with the recording industry, saying, "The wild thing is, no one from my label has ever called me and asked, 'How can we help you make another album?' Ever ... ever. Did I say ever? Ever." But, that didn't push Hill to drop out of the music scene completely. When it comes to recording and performing, the star's still going strong.
Lauryn Hill hasn't quit making music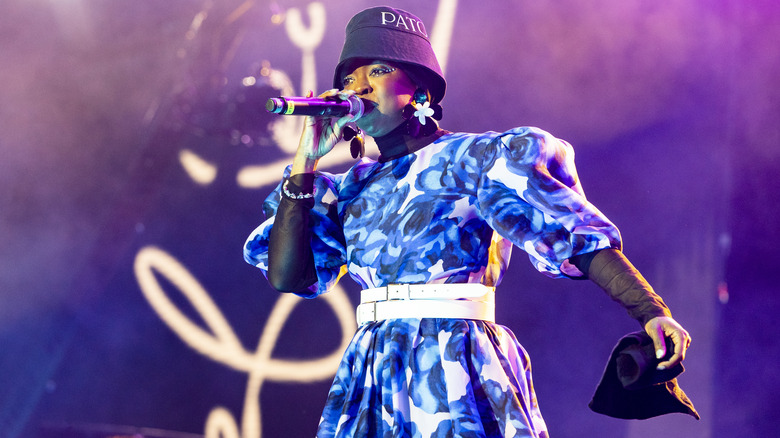 Erika Goldring/Getty Images
Lauryn Hill may not be releasing any new albums, but she's still making waves in the entertainment industry. She was featured on Nas' 2021 album "King's Disease II," per the New York Post. She sang on his song, "Nobody," where she reflected on her departure from the studio scene. Hill rapped, "All my time has been focused on my freedom now / Why would I join 'em when I know that I can beat 'em now?" The iconic duo also soundtracked the trailer for the 2023 biopic "Big George Foreman," per HipHopDX. Fans can hear a rendition of their track, "If I Ruled The World," which was on Nas' second album, "It Was Written."
In 2021, Hill's record "The Miseducation of Lauryn Hill" achieved new heights. Selling more than 10,000,000 units, Hill became the first female rapper with a diamond album, per Revolt TV. On Twitter, the Recording Industry Association of America wrote, "Welcome to the RIAA Diamond Club @MsLaurynHill! #TheMiseducationofLaurynHill is now a (10X) certified album!" One user commented, "Legendary." Another person wrote, "10 million sold. It's a gem."
Inside Lauryn Hill's recent performances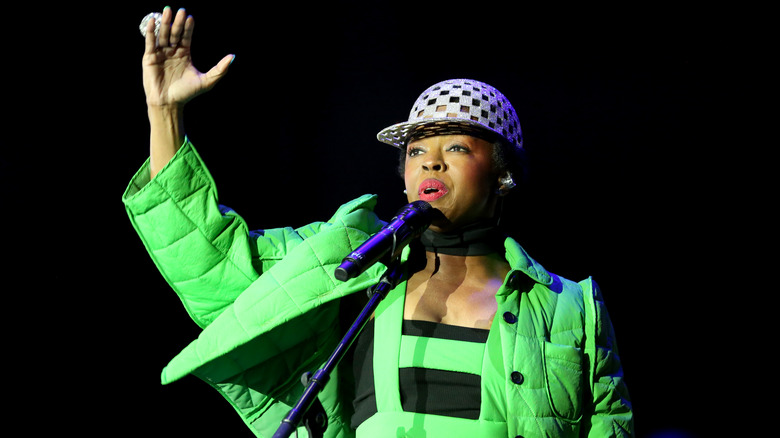 Gabe Ginsberg/Getty Images
As of late, Lauryn Hill hasn't pressed the pause button on performing. In September 2021, Hill joined the Fugees for a Global Citizen concert in New York City, per Variety. Their appearance was notable, as they reunited for the first time in almost 16 years. The trio and ensemble performed seven songs, including hits like "Killing Me Softly" and "Ready or Not." Hill told the audience, "We're still cooking it." Their performance offered a taste of their then-upcoming worldwide tour, "Diaspora Calling," which ended in December 2021. In a statement (via another Variety article) Hill said, "As I celebrate 25 years with the Fugees, my first memory was that we vowed, from the gate, we would not just do music we would be a movement. We would be a voice for the un-heard, and in these challenging times, I am grateful once again, that God has brought us together."
Hill also did a live show in 2022. That September, she wrote on Instagram, "Just got back from having a LOVELY time with the people of Belo Horizonte at the Festiva Planeta Brasil...." Along with the caption, she posted a wide shot of her singing in front of a massive audience. Fans were captivated by her performance, with one user commenting, "Lauryn, I took a 16h bus trip to see ur concert and every second was worth it. One of the must incredible shows I have ever seen. You are unbelievable."