Christina Applegate And Selma Blair Have Grown Closer Since Their MS Diagnoses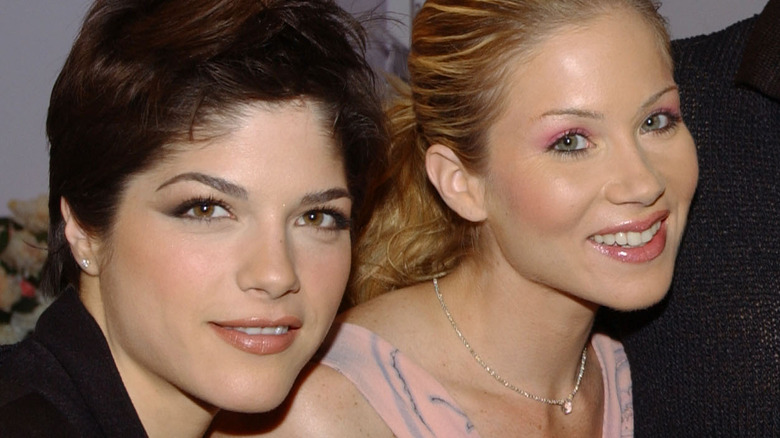 Scott Gries/Getty Images
Actors Christina Applegate and Selma Blair — although incredible in their own unique ways — have a lot in common. Of course, both are critically acclaimed artists with storied careers in Hollywood. In fact, Applegate and Blair starred in the 2002 comedy film, "The Sweetest Thing," playing BFFs alongside Cameron Diaz.
Sadly, another point the two have in common is their shared experience with the autoimmune disorder multiple sclerosis. According to John Hopkins Medicine, the symptoms of MS vary from person to person, but often include tremors, vision loss, and losing control over parts of your body. After living for years without understanding what was causing her symptoms, Blair announced her diagnosis with MS in 2018, per Us Weekly.
Years later in 2021, the "Dead to Me" actor shared her own diagnosis with the public via Twitter. "Loving you always. Always here," Blair wrote in response to the sad news. "As are our kids. Beating us up with love." Applegate tweeted back, "Love you sister. Our kids are so weird. I love our two weirdos. They are so fun." Add being loving moms to the list of things they have in common. With these shared experiences, the two actors have connected on a whole different level.
Selma Blair and Christina Applegate watch out for each other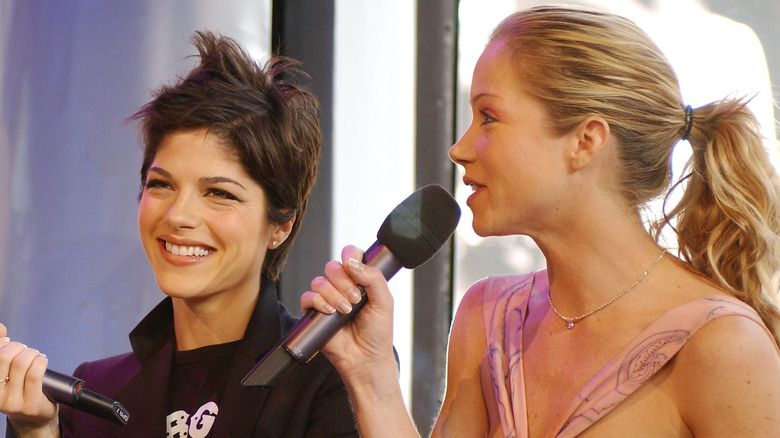 Scott Gries/Getty Images
In troubling times, it's invaluable to be in touch with those who can relate to your struggle. For actors Christina Applegate and Selma Blair, the two have been able to support each other through their diagnoses. When the "Cruel Intentions" star released her soul-baring 2022 memoir, "Mean Baby," Applegate shouted out her friend's work. "Get it," she simply tweeted in response to the powerful book. "Congratulation MS sister."
When the former child actor earned a spot on the iconic Hollywood Walk of Fame in November 2022, Blair was at the ceremony to cheer on Applegate at one of her first appearances since her diagnosis. In an interview with Entertainment Tonight later that month, the "Legally Blonde" actor gushed about her and Applegate's endless support for one another.
"Oh gosh, I've known Christina for so many years, we're really close, and I'm just a fan of hers," Blair reminisced. "Christina still supports me. She's just a strong one. She really is. She's such a nurturer. If you need something she's at your house. There have been things that I had been unglued, and she's like, 'I'm outside. Answer the door.' She's just amazing and strong and fun." Blair then revealed she helped Applegate when it came to getting and using a cane for mobility. "She has a lot on her plate. It's a lot, but she's as brilliant and beautiful as ever."
Christina Applegate and Selma Blair adjusted to living with MS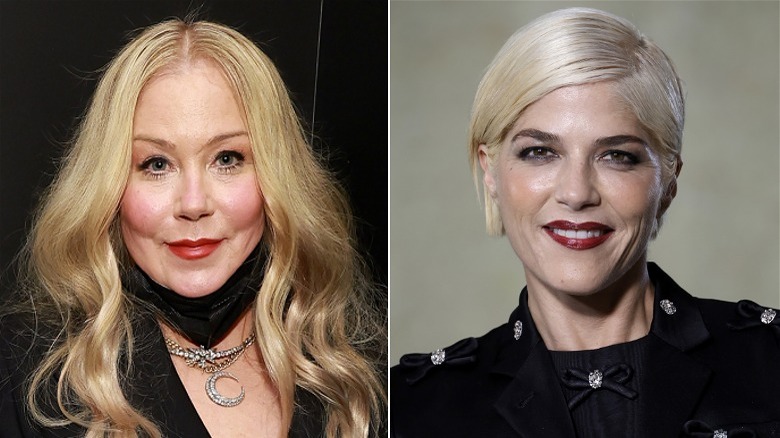 Matt Winkelmeyer & Frazer Harrison/Getty
Both Selma Blair and Christina Applegate have been open about the difficulties and accommodations they make when living with multiple sclerosis. In 2019, Blair shared on her Instagram (via Us Weekly) the extent of her symptoms, such as vomitting due to her medical treatments. After years of suffering with symptoms, Blair revealed in 2021 that she had underwent a stem cell transplant, which greatly alleviated many of her ailments, and was now in remission, per AP News. But, she has her limits, though, as Blair had to drop out of "Dancing With the Stars" halfway through due to the toll rehearsals took on her body in addition to the MS, as reported by Entertainment Tonight.
Overall, Blair told Self in January that she wants to represent for those with disabilities. "It's so the viewer at home normalizes that the kid in the wheelchair or the braces or with cerebral palsy — whatever it is that makes them feel different than the person that can just bounce up with their heels — can be in the movies."
In Applegate's case, she's still working through the autoimmune disease. When speaking with the Los Angeles Times on February 7, the actor lamented that this upcoming Screen Actors Guild Awards may be her last, as she's unable to work those long days on set anymore. In lieu of that, Applegate revealed she plans to continue her voice acting work, as well as being the boss behind the scenes as a producer.