Megan Fox Seemingly Burns Engagement With Machine Gun Kelly To The Ground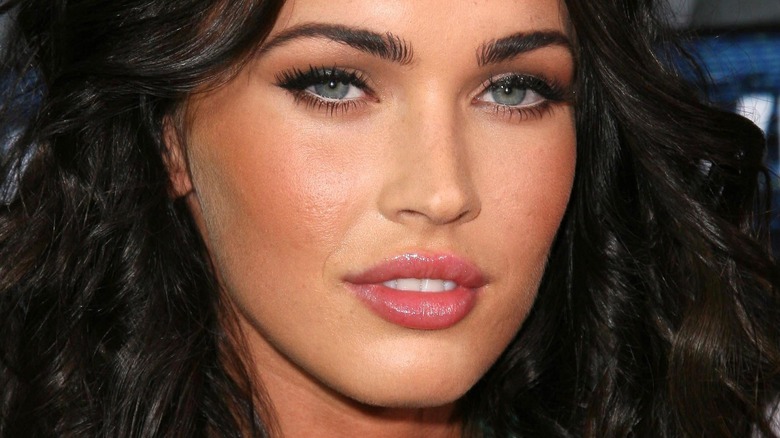 s_bukley/Shutterstock
Megan Fox and Machine Gun Kelly got engaged in 2022 after two years of dating. After the romantic proposal, the couple shared their big news on Instagram. "Beneath the same branches we fell in love under, I brought her back to ask her to marry me," MGK captioned a post of Fox showing off her two-stone ring. MGK explained the symbolism behind the design which features each of their birthstones — an emerald for her and a diamond for him — "set on two magnetic bands of thorns that draw together as two halves of the same soul forming the obscure heart that is our love."
In the time since, Fox has been fairly active on social media and has been known to post regularly on her Instagram account. Most recently, Fox shared a photo of herself in a red strapless dress that she wore to a Grammys party that she attended with Kelly. "Off the plane with a broken wrist and a concussion straight to a Grammys party," she captioned the Instagram snap. She later praised MGK for having "grace" despite his Grammy loss. "You have handled this process with a grace and maturity that I haven't seen from you before and I'm so proud of you," Fox wrote, according to Billboard.
However, on February 11, the "Transformers" star made a big change to her Instagram feed; the mom-of-three appeared to be sending a message that strongly suggests that she and MGK are over.
Megan Fox seems to send clear message to MGK
Megan Fox's Instagram account is looking a little sparse after she removed any and all photos of Machine Gun Kelly from her feed. In addition, she removed MGK from the people that she follows. This list only consists of three people; Harry Styles, Timothée Chalamet, and Eminem. Many fans were quick to notice the change after Fox shared a new Instagram post with a cryptic caption and no other explanation. "You can taste the dishonesty/ it's all over your breath," quoting "Pray You Catch Me" by Beyoncé.  In the first few pictures in the set, Fox is standing in front of a PSA poster that reads, "When you can't walk away." In the fourth photo, she appeared to be having some kind of bonfire, with a couple of things, including a card, burning inside what appears to be a trash can.
Dozens of fans took to the comments section of Fox's upload to share their feelings on what transpired in the overnight hours. "Bye bye mgk," an Instagram comment read. Meanwhile, Machine Gun Kelly doesn't appear to have made any changes to his Instagram account at the time of this writing. He still has a few photos of Fox on his feed. 
So, is it over for MGKMF? We can confidently say that things are not looking good.