Rihanna And Drake Have Had A Lot Of Ups And Downs Since Their Split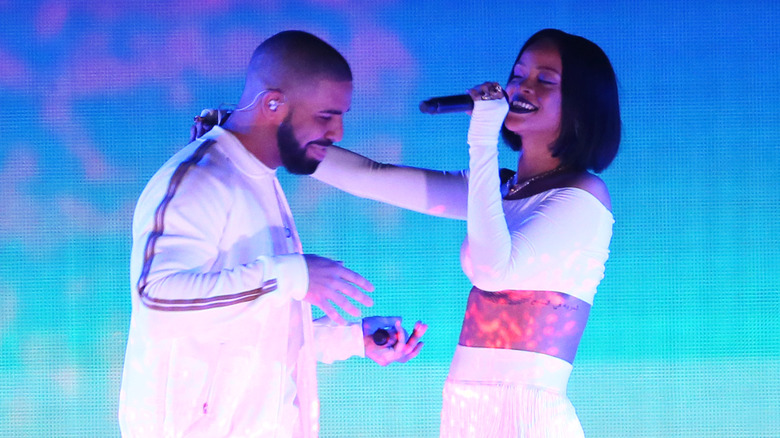 David M. Benett/Getty Images
It's safe to say that Drake and Rihanna's relationship is a little complicated. Not only have the mega stars paired up for songs such as "What's My Name" and "Work," the latter of which resulted in a rather sultry interaction at the 2016 BRIT Awards, but they've also reportedly dated in the past. And while neither party has ever admitted to having had an exclusive relationship, their flirty behavior, public declarations, and rumored behind-the-scenes drama have supported Drake's previous assertion that they had a "moment" during an appearance on Ellen.
Drake and Rihanna's close bond even caused Drake and Chris Brown — Rihanna's most high-profile ex — to feud. Drake and Brown's back and forth lasted years and even included a particularly eventful nightclub brawl, as noted by TMZ. Fortunately, Drake and Chris Brown have since ended their beef and even collaborated on a few songs. That said, Drake's truce with Brown hasn't distracted the internet from his past dealings with Rihanna. 
For instance, Rihanna's pregnancy announcement inspired social media to conjure up some pretty creative memes regarding Drake's possible reaction to the news. And while there's no way to know if Drake appreciated the internet's sense of humor, what is abundantly clear is that he and Rihanna have been through a dizzying amount of ups and downs over the years. 
Drake once declared his love for Rihanna, but it backfired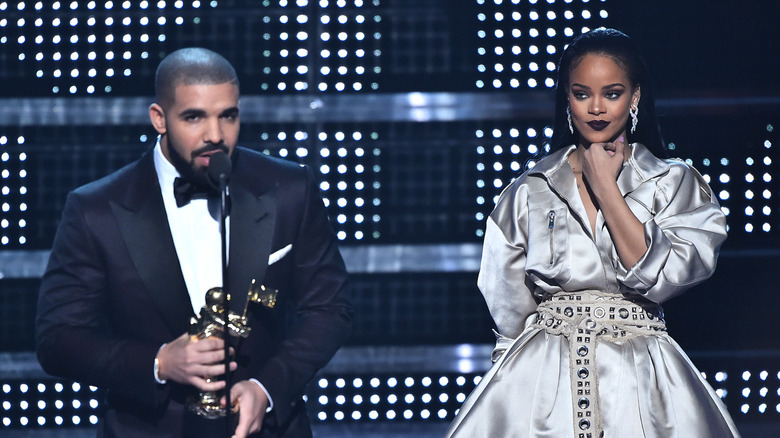 Theo Wargo/mtv1617/Getty Images
Back in 2016, Drake broke the internet when he presented Rihanna with the 2016 VMA Video Vanguard Award. Dressed in a dapper tuxedo, the "Marvins Room" rapper first gave a rundown of Rihanna's long list of accomplishments in music and fashion. Drake then ventured off script as he famously proclaimed, "She's someone I've been in love with since I was 22 years old." Naturally, Drake's comments garnered electric screams from the audience and a playful eye-roll from Rihanna, who was dressed in an elegant silver coat dress. 
However, as Rihanna revealed during a 2018 Vogue profile, she wasn't nearly as pleased with Drake as the fans were. "The VMAs is such a fan-focused awards show, so having that energy around me, and knowing the people who had received the award in the past, made it feel like a big deal," shared Rihanna. "Waiting through that speech was probably the most uncomfortable part. I don't like too many compliments; I don't like to be put on blast." Unfortunately, Rihanna also used the interview to crush the hopes and dreams of those who shipped the pair. "We don't have a friendship now, but we're not enemies either," added the "Needed Me" singer. "It is what it is." Ouch!
Drake apparently supports a Rihanna comeback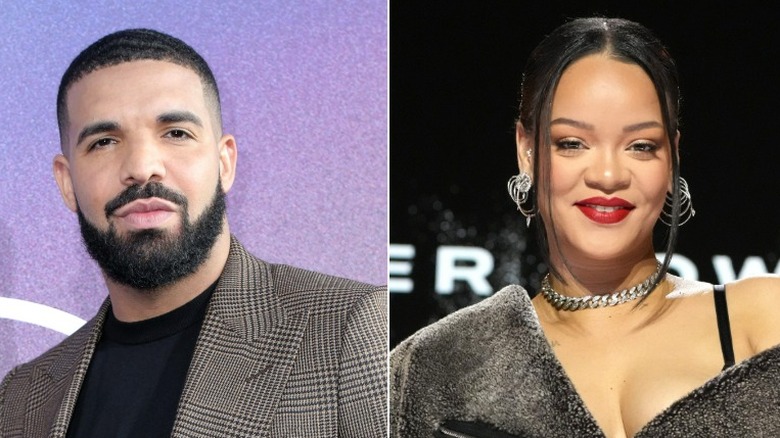 Kevin Mazur/Getty & undefined & Kathy Hutchins/Shutterstock
Even though Drake's public declaration may have backfired a bit, he and Rihanna appear to remain on friendly terms. In 2019, Rihanna even showed up to Drake's 33rd birthday party, suggesting the two moved on from their brief rift. "Rihanna made an appearance and stayed for several hours," dished an anonymous insider to E! News. "She was with two girlfriends and was escorted to Drake's table by security. Her and Drake were talking for a while and were smiling and laughing." The insider added that Rihanna and Drake shared a pleasant interaction and "looked like they were having fun together as friends." As reported by The Shade Room, Drake even treated Rihanna and her friends to some free McDonalds. 
Lastly, but most importantly, Drake is also ready for Rihanna to return to music. In 2020, both stars traded a few mildly sarcastic comments during DJ Spade's Instagram live. As BuzzFeed reported, it started once Drake playfully shaded Spade's sound. "Rih Rih, you can't buy your DJ a one Sonos speaker or something? Robyn you can't buy him a one hot spot?" asked Drake, to which Rihanna replied: "Give drake some water." Not to be outdone, Drake then demanded: "Rihanna drop R12 right now," which is a clear callback to Rihanna's highly-anticipated comeback.
So far, Rihanna has failed to produce a new album. However, anything is possible!