Ben And Jen Get Their Groove Back In Dunkin' Super Bowl 2023 Ad After Grammys Disaster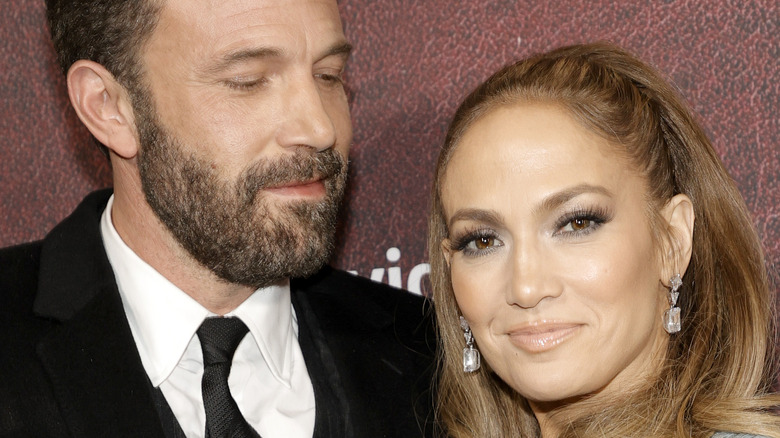 Amy Sussman/Getty Images
People are raving about Ben Affleck and Jennifer Lopez shooting a Dunkin' commercial
Ben Affleck, a Massachusetts native, joined Dunkin' Donuts as they hawked coffee to 2023 Super Bowl audiences. In the ad, Affleck plays a drive-thru employee, taking orders and shocking unwitting customers, who are as surprised as anyone to see him at the window. In the final shot, Jennifer Lopez pulls up, baffled to see her husband at work. "What are you doing here?" she asks him. "You're embarrassing me in front of my friends," Affleck whispers back. When Affleck tells his fellow Dunkin' workers that he has to go, Lopez yells, "Grab me a glazed!"
Ahead of the commercial, Affleck spoke to People about his genuine love of Dunkin' coffee. "In Boston, it was such a big deal," he said. "I think I became kind of associated with it, and this sounded like a fun opportunity to kind of play with that association, and a chance to come back here to shoot it at home in Boston."
The commercial was a huge hit for fans. "The Ben Affleck Dunkin' Donuts commercial is the greatest thing ever filmed!!!!!!" actor Devon Sawa tweeted. "Lmao, Ben Affleck working at the Dunkin' Donuts," another wrote with three laughing emojis. In reference to Affleck's miserable face at the Grammys, someone wrote, "UPDATE: Ben Affleck is fine he was just coming off working the drive thru." That's pure gold.