Blake Lively Casually Teases Arrival Of Fourth Baby With Ryan Reynolds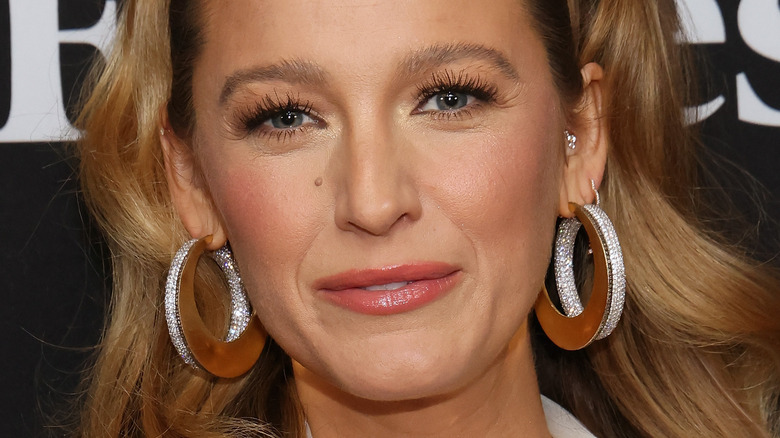 Taylor Hill/Getty Images
One thing America's sweethearts Blake Lively and Ryan Reynolds are known for is their devotion to family. Since marrying in 2012, the "Green Lantern" co-stars have welcomed three daughters: James, Inez, and Betty. In September 2022, the couple casually surprised us all when Lively turned up at the 10th Annual Forbes Power Women's Summit, rocking a bedazzled minidress — and a baby bump, per Newsweek. Without addressing baby No. 4 directly, Lively gushed about motherhood at the event, explaining that she just likes "to create. Whether that's baking or storytelling or businesses or humans..." The "Gossip Girl" alum also mused that the experience has made her more confident and "feel so much more in my skin."
As Reynolds told "Today" in November 2022, he and Lively never try to find out the baby's gender until it's born. The "Deadpool" star has made it abundantly clear, however, that he prefers being a girl dad. "I know girls," he said, jokingly adding that being raised with only brothers, he knows what he's talking about. "I love my well-being and my home," Reynolds quipped. "I was the youngest of four and we were just arsonists and firemen."
Well, it seems the couple finally has an answer to this mystery — Lively's sly social media post revealed baby No. 4 has popped!
Baby No. 4 has touched down for Blake Lively and Ryan Reynolds
Whether they were rooting for the Kansas City Chiefs or the Philadelphia Eagles, Blake Lively and Ryan Reynolds still have exciting news to celebrate on Super Bowl Sunday. In a February 12 Instagram post, Lively shared a photo of her embracing Reynolds and his mother, Tammy. The star of the snap, however, was Lively's blatantly absent baby bump, with the actor rocking a tightly fitted tank top. While Lively's caption — "Puppy Bowl Sunday 2023... been busy" — gave away no other details, the apparent birth of her and Reynolds' fourth child lit up her comments section. As one follower exclaimed, "Wait did you have your baby?? Lol cuz if not I need whatever shirt you're wearing." 
Reynolds talked to Entertainment Tonight last November about preparing their first three children for the latest addition. "They're ready," he said, adding at the time that he, too, was "very excited" because "you'd have to be a moron to do this four times if you didn't like it."
As her and Reynolds' brood grows, Lively told People in 2021 what mattered most to her as she continued her work-life balance. "I want to be as present of a mother as humanly possible," the "Age of Adaline" star said, opining that "the best way to be the best mother is to show them that you can have a life and have a passion."