Ivanka Trump Details Son Theo's Scary Trip To The Hospital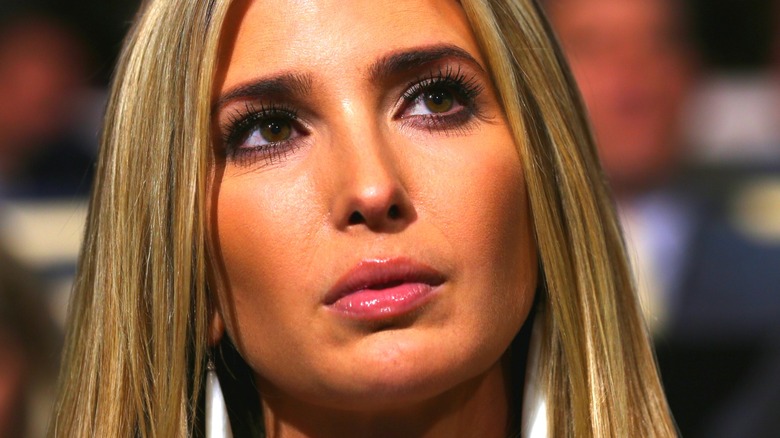 mark reinstein/Shutterstock
Ivanka Trump is a public figure to many, but to some people, she's simply "mom." Ivanka and her husband, Jared Kushner, are proud parents to three children, and from time to time, the public saw glimpses of the kiddos hanging out in the White House or attending rallies for their grandfather, former President Donald Trump.
But Ivanka has switched gears in recent years and it looks like the family will be living more of a low-key life outside of the limelight. Ivanka told Fox News in November that she no longer wanted to continue a career in politics as she was choosing family life instead after Donald Trump announced plans to run for president in 2024. "I love my father very much. This time around, I am choosing to prioritize my young children and the private life we are creating as a family," she shared. Ivanka added, "While I will always love and support my father, going forward I will do so outside the political arena. I am grateful to have had the honor of serving the American people and will always be proud of many of our administration's accomplishments."
Since Ivanka's announcement, she has shown glimpses of her life on Instagram, including several images of her kids. On December 25, the mother of three posted a photo of herself, Jared Kushner, and their three kiddos — Arabella, Joseph, and Theodore celebrating Hanukkah. Only a few weeks later, Ivanka shared a scary upload detailing her son Theo's accident.
Ivanka Trump got 'the call every parent dreads'
Ivanka Trump lived one of a parent's worst nightmares. She took to Instagram on February 12 to share details on her son, Theo Kushner's, injuries. To begin the post, Ivanka explained that Theo's school called her to inform her that the 6-year-old broke his wrist playing soccer, something "every parent dreads." She wrote, "Since I was over an hour's drive away, an ambulance took Theo, accompanied by the school nurse, to the closest hospital." Ivanka added that she and Jared Kushner raced to meet the ambulance at the hospital. Ivanka continued, "It was a bad break, but the capable EMT, doctors, nurses and Joe DiMaggio Children's Hospital staff cared for Theo tenderly and professionally. " 
She also told her followers that Theo was thrilled with the trip to the hospital because he got two ice pops. The fashion designer concluded her post by giving some praise. "Jared and I are so grateful to the doctors, nurses, EMTs, and hospital staff who cared for our son," she wrote, adding that they made a donation to the hospital. The update also included a shot of Theo in a hospital bed and another photo of him sporting a cast. Many fans commented on the post to wish Theo well.