Bill Cosby Found Guilty Of Sexual Assault, Lashes Out In Court Following Verdict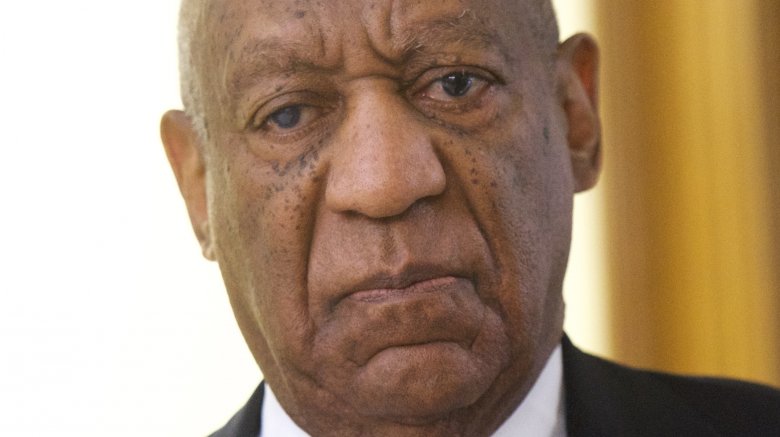 Getty Images
UPDATE:
Bill Cosby lashed out in the courtroom after receiving his guilty verdict on three counts of aggravated indecent assault, TMZ reports. 
According to multiple sources, prosecutors sought to revoke the actor's bail — which was set at $1 million — and requested that he instead be taken into custody immediately. After the legal team claimed Cosby could potentially fly anywhere in the world on a private plane he owns, he allegedly stood up and yelled, "He doesn't have a private plane, you a**hole!"
The former Cosby Show star was later released on bail, and has also been ordered to remain in his home until he is sentenced. At the time of this writing, no sentencing date has been set. However, this should occur within the next 100 days, according to Pennsylvania state law.
Meanwhile, Cosby's defense team plans to appeal the verdict. "We are very disappointed by the verdict," lead attorney Tom Mesereau told reporters (via Deadline). "We don't think Mr. Cosby is guilty of anything, and the fight is not over."
ORIGINAL REPORT:
Bill Cosby has been convicted of sexual assault.
On Thursday, April 26, 2018, the 80-year-old's retrial came to an end when the jury reached its guilty verdict, CNN reports. Cosby has been found guilty of three counts of aggravated indecent assault for drugging and sexually assaulting Temple University employee Andrea Constand in 2004. 
At the time, she had visited his mansion in a Philadelphia suburb, seeking career advice. In response to her testimony, the TV icon's defense team argued that the interaction had been consensual, alleging that Constand was a gold-digging liar with an eye on Cosby's money.
According to TMZ, the prosecuting team cited this attack "as the reason sex crime victims are afraid to come forward." During the trial, prosecutor Kristen Feden also called Cosby out for smiling as she discussed his accusers. "He's laughing like it's funny," she said. "But there's absolutely nothing funny about them being stripped of their capacity to consent."
The jury of five women and seven men had deliberated for over 14 hours, beginning around 11 a.m. the day before, before reaching its decision. The former comedian, who has been accused of sexual assault by more than 50 women, now faces up to 10 years in prison for each count. However, as the news site noted, he would most likely serve the sentences concurrently.
As Nicki Swift previously reported, Constand and five other women, including supermodel Janice Dickinson, testified against Cosby over the course of the 12-day trial, claiming they had also been drugged and sexually assaulted by him. Cosby's initial trial in 2017 had been declared a mistrial when the jury couldn't reach a verdict.