Sharon Stone's Tears Flow In Video Confirming Tragic Death Of Brother Patrick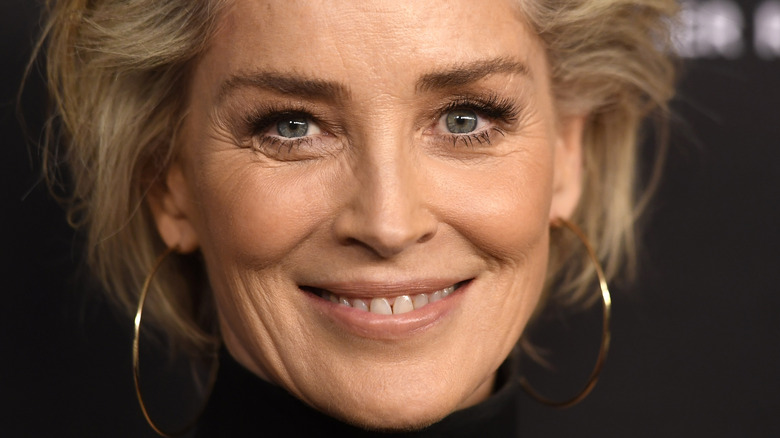 Frazer Harrison/Getty Images
On February 13, TMZ reported that Sharon Stone's brother, Patrick Stone, died suddenly on Sunday morning in Pennsylvania. According to the coroner's office, Patrick's death was ruled a cardiac arrest brought on by heart disease. He was 57 years old at the time. The tragedy happened less than two years after Patrick and his wife Tasha lost their 11-month-old son, River, due to organ failure.
Tasha shared the devastating loss of her husband on Facebook the morning of February 12. "My heart feels like it's been ripped out of my chest. Patrick went to be with our sweet River around 3:30 this morning. I don't know what else to say, he was my world," she wrote in a lengthy tribute. Tasha went on to describe how although they drove each other crazy, they also "loved each other so deeply." Patrick left behind two other children, Hunter and Kaylee. At the time, Sharon remained quiet about her brother's death, but she has since broken her silence in a heartbreaking video.
Sharon Stone shares appreciation for support during her family's time of grief
The day after news broke of her brother Patrick Stone's death, Sharon Stone verified the reports on Instagram. "This message is to confirm that, yes, we did lose my brother, Patrick Joseph Stone, to a heart attack yesterday. Yes, he is the man who was the father to River, who we lost at 11 months old," she shared in a video. With tears falling down her face, Sharon stated, "Like any family, we thank you for your love and support in this time of immeasurable grief, and we appreciate all of your condolences." Referencing River's death, she continued, "We've had a tremendous amount of loss in these last couple of years — as so many of you also have and we do greatly understand that the losses are ours here on Earth." The actor concluded her message by thanking supporters and reminding everyone to be kind.
Fellow actor and friend John Travolta shared a simple yet poignant message. "Dearest Sharon, I'm so sorry for your loss. I do understand very well what you're going through. With love -JT," he wrote. Travolta lost his 16-year-old son Jett in 2009 after Jett had a seizure and hit his head on a bathtub. The "Grease" star suffered another loss in 2020 when his wife Kelly Preston died from breast cancer.
Sharon also posted pictures of Patrick and wrote, "RIP my brother Patrick Joseph Stone." She's since received an outpouring of love and condolences from colleagues and friends.