Tom Brady Admits Motive Behind His Underwear Selfie (& It's Not Because He's Back On The Market)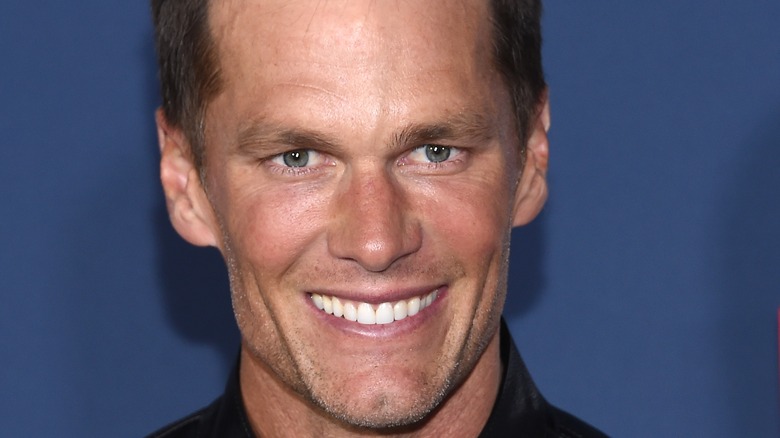 DFree/Shutterstock
The timing couldn't be coincidental, right? Freshly single after divorcing Gisele Bündchen, Tom Brady surprised Instagram followers recently with an underwear-clad shirtless snap in his Stories. Modeling a pair of his own Brady Brand briefs, Brady posed with his legs apart — his chiseled hamstring and quadricep muscles in full, glorious view (not to mention his taut abs, of course). The newly retired Tampa Bay Buccaneers quarterback also coyly rested his hand in-between his legs (just an important detail we thought should be mentioned).
Given that this is the first time Brady has shown so much skin on his social feeds, everyone had an opinion on the spicy selfie. On a February 7 episode of "The View," co-host Alyssa Farah Griffin suggested this was a subliminal message to Bündchen, saying, "I love a good thirst trap ... Make them know what they're missing." As Brady's ex-wife has reportedly been dating Brazilian jiu-jitsu instructor Joaquim Valente, fellow co-host Sunny Hostin quipped that the "clearly hot" Brady's selfie might make her "take a second look."
In fact, Brady's true reason for taking (and posting) that mirror selfie couldn't be less linked to his love life. The retired NFL star finally candidly addressed his recent viral moment. 
Tom Brady is using his sexy to sling undies
Discussing his viral underwear selfie, Tom Brady explained on a February 13 episode of his "Let's Go!" podcast that it was all in the spirit of entrepreneurship. As anyone who follows Brady on social media knows, the man is passionate about his Brady Brand underwear line. "I just thought it was a good picture with some underwear," Brady said laughingly, asking listeners if his snap motivated them to grab some. "It's Valentine's Day — go buy some ... They're actually amazing," Brady added, sharing that he had them on as he spoke. Promising he wouldn't "share too many more of those photos," co-host Jim Gray joked to Brady, "Alright, it looks like you found something to do in retirement."
Brady's seeming "thirst trap moment" actually stems back to a redemption he waged with Twitter followers in June 2022. Posting a photo of two shirtless male models clad in Brady Brad boxer-briefs, Brady promised fans, "40k likes and I'll recreate these photos." With the post exceeding that by February 6, his own Brady Brand account called the ex-quarterback out, tweeting, "Hey @TomBrady we haven't forgotten about this."
We guess the real question is... who wore it better — Brady or his Brady Brand models?