What's The Real Meaning Of Leave Me Again By Kelsea Ballerini? Here's What We Think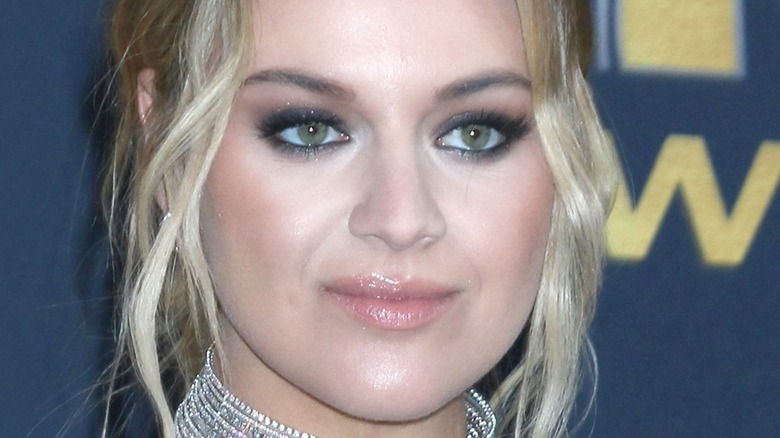 Kathy Hutchins/Shutterstock
The day before Valentine's Day, Kelsea Ballerini shared some exciting news: She would be dropping an EP consisting of six songs. "Rolling up the welcome mat. the short film. tonight at midnight. link in bio to set a reminder to tune in," the country singer shared on Instagram. Along with the tracks, Ballerini revealed that "Rolling Up the Welcome Mat" would also come with a short film.
The surprise EP comes on the heels of Ballerini's divorce from fellow country star Morgan Evans, which was finalized on November 15, 2022. Each song depicts a roller coaster of emotions the singer experienced during the demise of her marriage. "These are six songs I wish I had last year. It's about the complexities of the feelings you go through during a massive shift at a young age. 'Rolling Up the Welcome Mat' was how I processed everything. It's the way I got my feelings out of my body and heart and put them to music — which is the purest way I could've handled it," Ballerini stated.
"Leave Me Again" is Ballerini's last song on "Rolling Up the Welcome Mat." The haunting lyrics perfectly wrap up the mini-album, and here's what we think the song is really about. 
Kelsea Ballernini's Leave Me Again is about finding herself after divorce
While fans may think that "Leave Me Again" is a sad song about being abandoned, Kelsea Ballerini's last song on "Rolling Up the Welcome Mat" has an unexpectedly positive message. The song starts with the lyrics, "I hope you're spending Christmas with your family / I hope you're writing songs that you love / I hope you're feeling happier than you've ever been," giving listeners the sense that Ballerini is at peace with her divorce. The last line in the verse states, "And I hope I never leave me again," which suggests she lost herself in her marriage.
In the chorus, Ballerini sings, "For a while the shoe fit / But then I outgrew it / And staying only made me get real good at pretend," which we take to mean that, while she was initially happy with Morgan Evans, they eventually grew apart. She ends the chorus with a repeat of, "So I hope I never leave me again," reiterating that she will be true to herself from now on.
The last verse has Ballerini finding hope for Evans' future. "I hope when I see you that you smile / I hope that you find somebody new / I hope that you get the house, and the good wife, and the kids," she sings, showing that she doesn't want to hold onto bitter feelings. The singer concludes the song with "I hope I never leave me again," in a poignant ending to her album — and her divorce.
Kelsea Ballerini got tired of waiting for the glitter to come back to her marriage
In August 2022, Kelsea Ballerini announced she was splitting from her then-husband, Morgan Evans, after five years of marriage. "Friends, I've always tried my best to share my life with you in a real and vulnerable way, while also protecting layers of my personal life as they unfold. This is now public record so I wanted you to hear from me directly that I am going through a divorce," Ballerini shared in a since-deleted Instagram story.
The "Peter Pan" singer later shared on the "Tell Me About It With Jade Iovine" podcast that she felt for some time that her marriage to Evans had changed. "For a while, it was kind of like, 'Okay, this is just a new phase of a relationship,' because relationships go through seasons, right? And it's not always going to be butterflies and rainbows. For a long time, I was like, 'Oh, this is just ... the glitter wears off. That's what happens," she reflected. After waiting for the "glitter" to come back, she knew that the marriage wasn't working.
Ballerini shared on Instagram that making "Rolling Up the Welcome Mat" was her "healing journey." The singer added, "I've never been this open, i've never been this bold, and i've never been this proud of my art." Ballerini is already getting a lot of praise for her EP — and indeed, she has much to be proud of.