Priscilla Presley's Budding Friendship With Bam Margera Sours As Quickly As It Began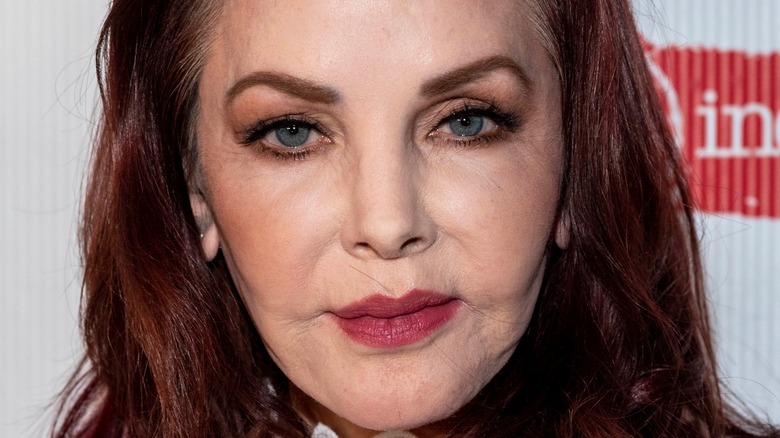 Eugene Powers/Shutterstock
After the tragic and sudden death of Lisa Marie Presley, the famous family has understandably laid low. Lisa Marie left behind her eldest daughter, actor Riley Keough, and twin daughters, Harper and Finley Lockwood. And, of course, her mother, Priscilla Presley — ex-wife to Elvis Presley — outlived her beloved daughter as well. It's understandably a heavy time right now, but it seemed like Priscilla, at least, found enough solace to make a new friend, "Jackass" personality Bam Margera. However, it looks like their budding friendship ended before it really began (if it was even a friendship, to begin with).
Priscilla and Margera were spotted at lunch only a week ago, on February 7. Margera shared a few pictures of their hangout on Instagram. While the captions and posts are a bit different now, TMZ reports Margera originally captioned one shot, "Lunch with prescilla [sic] Presley," and the other with "Priscilla Presley watching Phoenix the wolf," referring to his five-year-old son, Phoenix Wolf Margera. While it's definitely an odd pairing, Priscilla and Margera actually share a connection through her son, Navarone Garcia. Margera and Garcia are reportedly friends. Or they were, with Margera's alleged lies breaking his friendship with Priscilla, and potentially Garcia, too.
Priscilla Presley slammed Bam Margera for lying about alleged Elvis Presley gift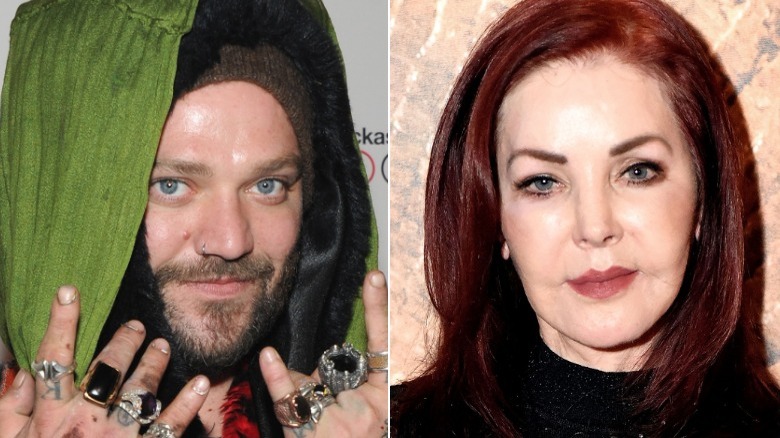 Jamie Mccarthy & Gerardo Mora/Getty
As TMZ reported, Priscilla Presley slammed Bam Margera for saying she gifted two of Elvis Presley's possessions to the embattled reality star. Margera previously told the outlet that Priscilla had heard how much of a mega-fan his father was and claimed she gifted him a robe and ring belonging to the late King of Rock 'n Roll. However, Priscilla is now telling TMZ that these claims are lies and that Margera "came over, talked non-stop about his new ventures and personal struggles and asked for a photo with me for his father, who is a big fan." She then said that "unbeknownst" to her, Margera lied from the get-go about the photos and how he obtained the items. To top it off, Margera filmed in her house without receiving permission.
"After what Bam has chosen to do, my son and I want no further communication with him," she said. "I consider him a dishonest and unstable individual. I had no idea who he was or that he was filming in my home without my consent." Priscilla stated that she still possesses everything that belonged to Elvis and that she'd never give anything away. Her team said that the robe didn't belong to Elvis and the ring he posted was Margera's. So there actually was no budding friendship, and Priscilla only agreed to pictures for Margera's father.