Rihanna's Son Makes His Magazine Cover Debut Alongside His Parents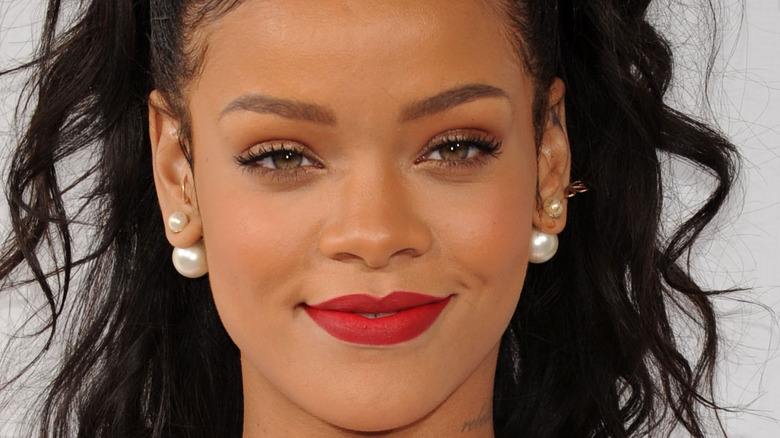 Bryan Bedder/Getty Images
Rihanna is more than just a businesswoman and musician, she's a mom. It's been a year since the "Work" singer announced her first pregnancy, per Vogue. While fans were ecstatic for the singer, they couldn't help but think this would only prolong the release of new music.
Still, it was clear that Rihanna's focus was on her son and not on work. The couple welcomed their first child in May 2022, per TMZ. Rihanna and A$AP Rocky never revealed the baby's name, and it wasn't until months later that they shared the first video of their little bundle of joy. Rihanna's TikTok showed the baby boy in his car seat fiddling with his mom's phone. With the birth of her new son, fans were hopeful that it would become an inspiration for Rihanna to get back into the studio.
However, that hope came crashing down after Rihanna's epic Super Bowl performance. The long-anticipated performance was the first time in years the "Umbrella" singer would be taking the stage. Many fans believed that with her comeback performance, they would get a new song, but the singer gave fans a different surprise. Rihanna revealed that she was pregnant with her second child during the halftime show, per Variety. Fans were happy to see the musician growing her family, but they also knew this would push back the release of new music. Since then, Rihanna has given us another look at her son and is sharing when we can expect new music.
Rihanna details son's birth and new music
Rihanna is opening up to the world about her ever-growing family in a way she never has. The "Diamonds" singer and A$AP Rocky, have been extremely private, but in the latest interview with British Vogue, the two are revealing details about their baby boy's birth.
Rihanna told British Vogue that the birth of her first child was "beautiful" and "blessed" to have such a wonderful experience. She said, "Essentially, from one person I became two. You walk into the hospital as a couple and leave as a family of three. It's nuts." Just like any new mom, the singer had to adjust to losing sleep and described herself as a "zombie" those first few days.
For the most part, the singer was in shock about the whole process. She said, "...you're so paranoid. Because you're like: they trusted us to come home with this baby? This new life? With us? No doctors, no nurses, we're just ... going home?" Even after becoming a mom, Rihanna couldn't help but think about how her fans waiting patiently for new music. It turns out, she has an update for us. She said, "Like, honestly, it'd be ridiculous if it's not this year. But I just want to have fun. I just want to make music and make videos." Despite their constant push for music, fans are just glad to see that Rihanna is happy.