Sophie Lloyd's Management Team Attempts To Clear The Air About Machine Gun Kelly Romance Rumors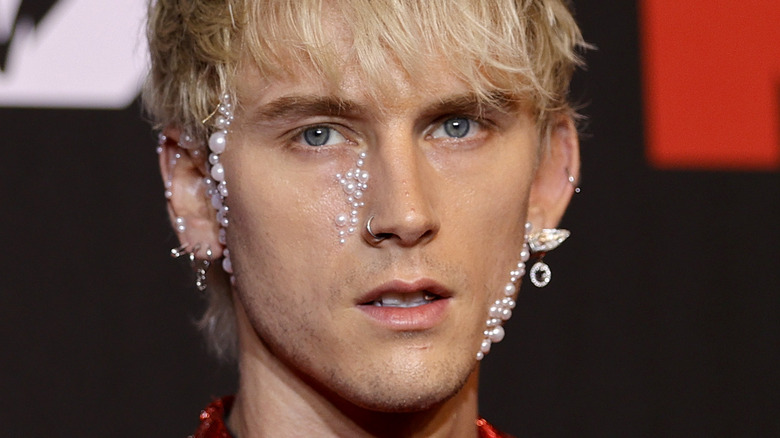 Jason Kempin/Getty Images
Over one Super Bowl Sunday, Megan Fox seemingly snuffed out her engagement with twin flame Machine Gun Kelly. Fox shocked fans on February 12 by posting a series of Instagram  selfies in front of a domestic violence PSA poster reading, "When you can't walk away." Quoting Beyoncé's "Pray You Catch Me" in the caption ("You can taste the dishonesty/ it's all over your breath"). Fox even interacted coyly with fans about the reasoning behind the post. With many suspecting MGK capable of infidelity — and some specifically calling out his guitarist, Sophie Lloyd, one fan wrote in Fox's comments, "He probably got with Sophie." Fox gave a playfully cryptic response, replying, "Maybe I got with Sophie."
Since then, the "Till Death" star proceeded to erase all photos of her fiancé from her feed — before deactivating her account altogether. (Kelly's posts featuring photos of Fox and comments by her are still up on his.) As an inside source later told People, the duo haven't "officially called off the engagement," but Fox has removed her ring (which is designed to hurt when she takes it off). "Things seem pretty serious this time," the source added, claiming that the couple had a major fight over the weekend.
In the chaos of this rapidly unfolding saga, Lloyd has stepped forward to clear her name from speculation about her and MGK.
Sophie Lloyd breaks silence over MGK affair rumors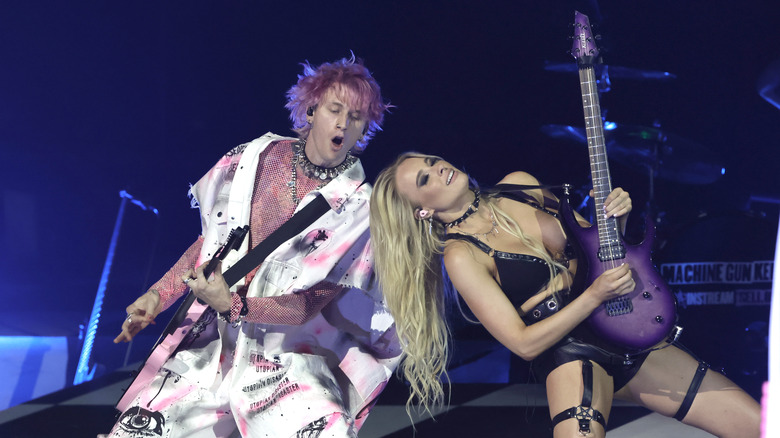 Kevin Winter/Getty Images
Sophie Lloyd is nipping the Machine Gun Kelly rumors quickly in the bud. In an exclusive statement to Page Six on February 15, her management team called "any suggestion that she has ever acted in an unprofessional manner or stepped out of her relationship" untrue. "Sophie Lloyd is a professional, accomplished musician who has been needlessly dragged into the media based off of meritless accusations made by social media ... It's disrespectful to her as a female artist and poor journalism and social commentary to be reporting anything else," Lloyd's managers concluded. 
Lloyd first teamed up professionally with the "Emo Girl" rocker when she joined his "Mainstream Sellout Tour" in May 2022. The 27-year-old London native also recently celebrated her five-year anniversary with boyfriend Christopher Painter on January 20. In an Instagram tribute, Painter wrote to Lloyd alongside a photo of his girl rocking out, "Today ... was the day I asked you to be my partner in crime. And 5 years later that is still very accurate." 
As for MGK and Megan Fox's status, things are continuing to intensify, with the couple reportedly spotted leaving a marriage counseling office in California on February 13. Looking sullen, Fox was seen wiping her eyes with her sleeve.
If you or someone you know is dealing with domestic abuse, you can call the National Domestic Violence Hotline at 1−800−799−7233. You can also find more information, resources, and support on their website.