The One Detail That Makes Megan Fox's Engagement Ring From MGK So Painful To Remove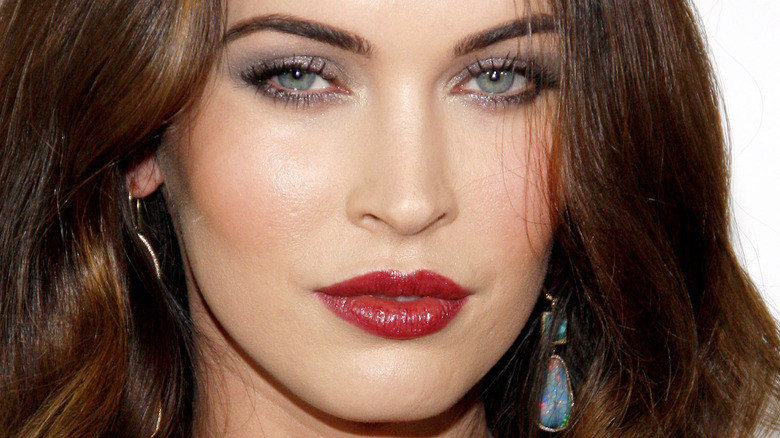 Tinseltown/Shutterstock
Machine Gun Kelly and Megan Fox started dating in May 2020, after they met on the set of the film, "Midnight in the Switchgrass," according to People magazine. MGK and Fox got engaged about 18 months later. On January 11, MGK proposed under a banyan tree where the two had previously sat and "asked for magic," according to Fox's Instagram post announcing the engagement. Dressed in a black and white striped shirt and black slacks, MGK got down on one knee and asked Fox to marry him. Fox revealed that the relationship hasn't exactly been easy, but that she said yes "...and then [they] drank each other's blood."
MGK presented Fox with a stunning, custom-made ring that features two stones and holds very special meaning. "I know tradition is one ring, but I designed it with Stephen Webster to be two: the emerald (her birthstone) and the diamond (my birthstone) set on two magnetic bands of thorns that draw together as two halves of the same soul forming the obscure heart that is our love," MGK wrote in an Instagram video of the bauble. And while the engagement ring is undoubtedly unique, there is somewhat of a special feature built into it that he explained in an interview after getting engaged.
Megan Fox's engagement ring is one of a kind
Machine Gun Kelly wanted to give Megan Fox a special ring that truly represented their relationship, which is why he put so much thought into it. And while other people have rings that look similar — like Emily Ratajkowski's two-stone ring, which can be seen in an Instagram post that she shared in 2018 — Fox's ring has an additional element that most jewelers probably don't think of when creating these special pieces.
"It's a thoroughbred Colombian emerald, with no treatment. It was just carved into the teardrop, straight out of the mine. And the diamond was directly from [jeweler Stephen Webster]," MGK told Vogue in an exclusive interview alongside his bride-to-be. He went on to explain that the ring can actually "come apart to make two rings" but it has a magnet that forms "an obscure heart" when the two rings come together. And then, he casually mentioned the added feature that he had Webster include.
"And you see this right here? The bands are actually thorns. So if she tries to take it off, it hurts," MGK told Vogue. "Love is pain," he added. That's certainly one way to ensure that your significant other doesn't take their ring off!