Here's Who Chicago Med Star Marlyne Barrett Is Married To In Real Life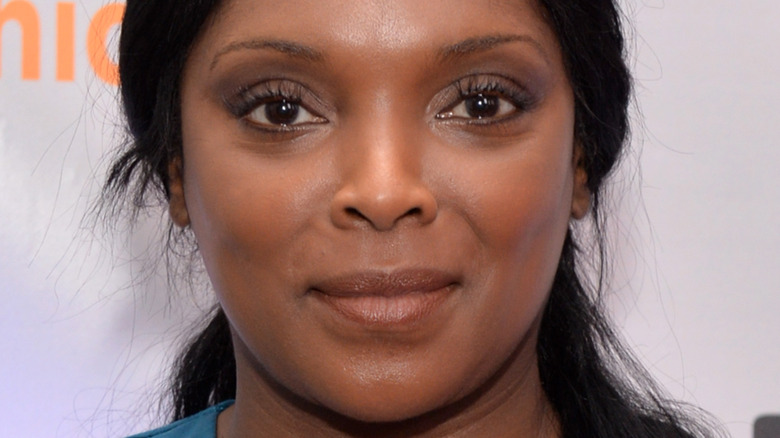 Daniel Boczarski/Getty Images
Marlyne Barrett's "Chicago Med" character, Maggie Lockwood, famously found love with Charles Malik Whitfield's character, Ben Campbell, while receiving cancer treatment. We can't help but wonder, though: What do we know about the "One Chicago" actor's real-life partner, Gavin Barrett?
In a heartbreaking parallel to the show, last year, the "One Chicago" star revealed to People she had been diagnosed with uterine and ovarian cancer. She had undergone surgery for a hernia months before, but upon realizing that her recovery wasn't going according to plan, she opted for a scan. It was then that the actor was given some devastating news. "I had an ovarian and uterine mass that had grown ... quite possibly the size of a football," she recounted.
Marlyne revealed that at the time of her diagnosis, Gavin was right by her side. "I fell into my husband's arms," she explained. He also did everything he could to make his wife comfortable. "I get pins and needles in my limbs from the chemo and he'll drop everything to give me food and give me hand and foot massages," she told the outlet. In another shoutout, the actor shared an Instagram post featuring a screenshot of a Hello article that outlined his support. "To My Loving Husband ... #nowords," she wrote. It's pretty clear Marlyne is smitten with her husband — but what more do we know about Gavin Barrett?
Marlyne Barrett married a pastor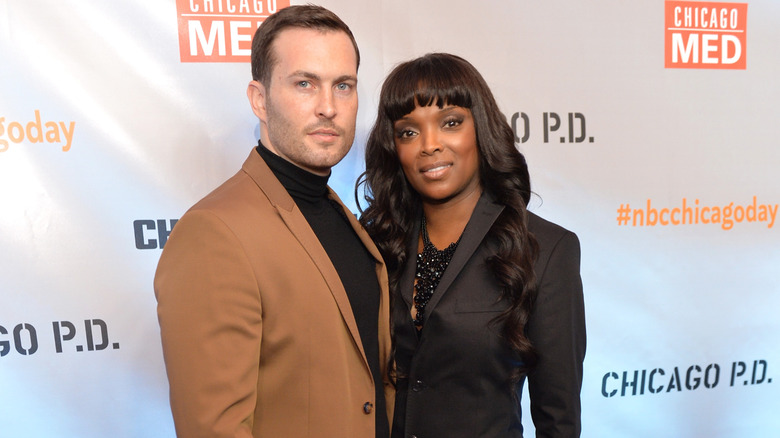 Daniel Boczarski/Getty Images
During her interview with People, Marlyne Barrett revealed that amongst her "Chicago Med" co-workers, she's known as "The woman of faith." It's not all that surprising, then, that she's married to a pastor. 
A glimpse at Gavin Barrett's Linkedin reveals that he became a senior pastor in 2014. A year later, he co-founded a church of his own, Zion Sixty One, and in 2020, he joined forces with Harvest Rock Church. According to a Facebook announcement made by Harvest Rock at the time, Gavin and Marlyne would become the first pastors outside the church's main campuses. These days, it's not entirely clear if the Barretts are still working with Harvest Rock. At the time of writing, there's no record of their  Los Angeles campus on the congregation's website. Adding to that, their YouTube channel – Harvest Rock DTLA –no longer has any content.
It's worth noting that Gavin hasn't been particularly active on social media since June 2022. Given that his wife Marlyne was diagnosed with cancer around that time, we're better that has something to do with it. As the "Law & Order" alum told the outlet, "He's dropped everything just to give me love." So, even if we're not sure about where Gavin is preaching these days if at all, we know he's dedicating much of his time to his wife.
... and he had a great track record in business
Just as his famous wife has been both an actor and a pastor (and, fun fact, Marlyne Barrett also has a nursing degree IRL), Gavin Barrett has also worn more than one hat over the years. As noted on his LinkedIn page, before he became a pastor in the mid-2010s, he had another surprising career path: personal trainer. 
Before pivoting to the church, Gavin's first position listed on his page was as a master trainer at Nephilim Personal Training. Before long, he became a director at LA Fitness. And, although he subsequently pivoted out of the industry to focus on the church, it's clear he had an impressive track record in his previous positions. On top of the client retention and sales increases listed on his LinkedIn, the pastor has spoken about his success during his sermons and attributed much of it to his faith. "Every company I worked for was madly successful ... but I believe it was madly successful because I was there. Because I'm the multiplier. I'm bringing the kingdom of God with me," he said in one clip shared on Instagram in 2020. 
From his dedication to his faith to his willingness to try his hand at something new, and most recently, his dedication to his wife in her time of need, it's easy to see why Marlyne is married to Gavin in real life. These two are the perfect fit for each other.