An Inside Look At Eric Andre's Dating History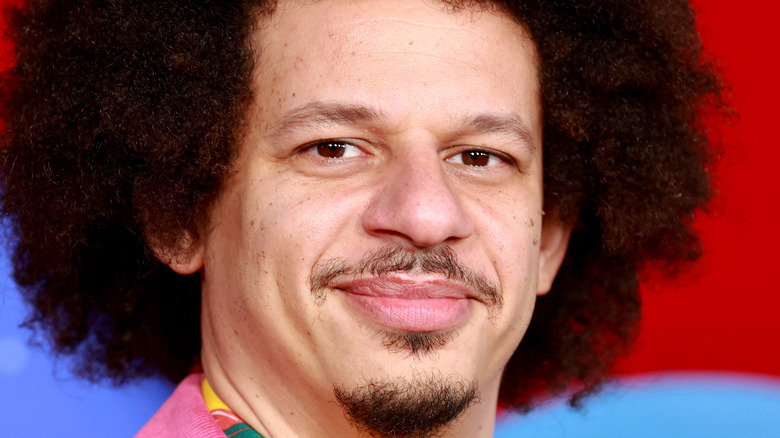 Matt Winkelmeyer/Getty Images
Eric André is one of those comedians whose face you often see on Twitter thanks to the perfect ways his performances can be made into memes and gifs. You know, he's the actor who's trying to get into the White House by yanking on its gates, yelling, "Let me in!" This of course comes from his show, "The Eric André Show" which started airing on Adult Swim in 2012. Other famous memes he's starred in include the "Why would you say something so controversial yet so brave?" gif and the "Who killed Hannibal?" meme set. Basically, he's well-known online for his comedy and hilarious sketches. And now he's becoming well-known for who he's dating.
Nothing can overshadow his successful career, especially not after his "Do you think Margaret Thatcher had Girl Power?" segment. But the fact that he's been linked to one of the most famous models of the moment definitely elevates his name a bit more. On top of that, if you look at André's past dating history, you can actually find a couple of other well-known actors and celebrities that the comedian has dated. He definitely has an interesting relationship history, and we'll break it down for you.
Emily Ratajkowski has been seen out with Eric André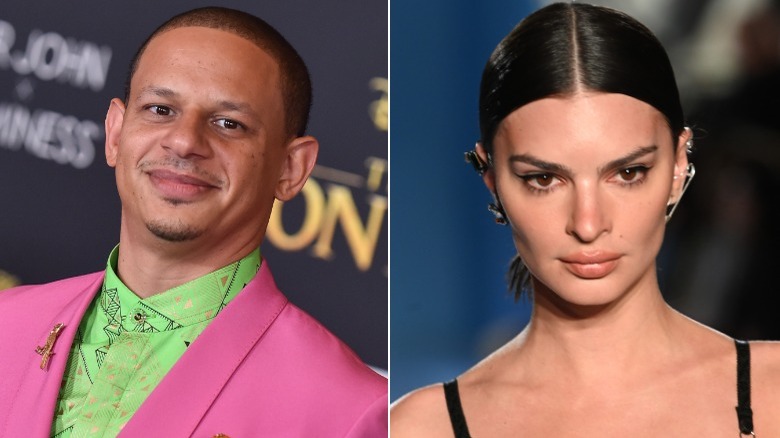 Slaven Vlasic/Getty & DFree/Shutterstock
Eric André has never been quiet about his love life (which we'll dig into in a bit). But his newest relationship has been one of the biggest celebrity dating bombshells in a minute. "The Eric André Show" host has been seen out and about with model Emily Ratajkowski. The two were seen sweet-talking and nearly making out in Grand Cayman at the end of January, as Page Six reported. This comes after Ratajkowski became the next hot It Girl to date Pete Davidson. They dated for a reported two months before they parted ways in late December 2022. Ratajkowski, also nicknamed EmRata, is the mother of an almost-2-year-old boy. She is also recently divorced after splitting from her now ex-husband, Sebastian Bear-McClard, in July 2022. 
Reports of Ratajkowski and André having dinner and hanging out started in early December. Since then, they haven't hidden the fact that they're seeing each other. On Valentine's Day, André posted nude (but censored) pictures of himself and Ratajkowski on Instagram while wishing everyone a good lover's holiday. So, it's safe to say, they're definitely an item and definitely having fun.
Eric André dated Rosario Dawson for over a year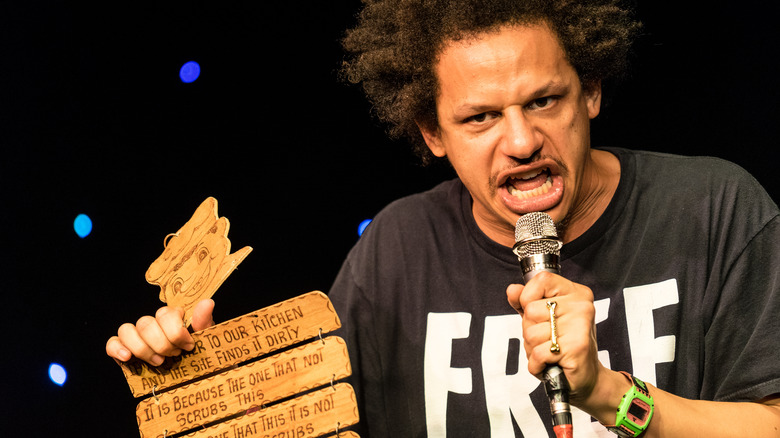 stock_photo_world/Shutterstock
While Eric André's relationship with Rosario Dawson perplexed many people as it was going on, they dated for over a year. The two split in December 2017 after going public with their relationship via Instagram on Valentine's Day months prior. Even Chance the Rapper thought it was a prank, prompting the comedian to post pictures of him and the "Star Wars" star touching tongues. The reason for their breakup? "It just ran its course. He was never something serious," a source told Us Weekly.
Before that, André shared that he and model/pop culture personality Amber Rose were nearly an item, while on "The Jenny McCarthy Show" in 2016. But he "totally blew it" with Rose. "I kind of blew her off like an idiot. I'm just like a pathological breaker-upper," he said, revealing that he leaned into his flight instinct that pops up when a girl likes him. He tried begging for another chance, but she was not interested anymore.
Before Ratajkowski, Distractify reported that André had a "mystery" girlfriend who wasn't famous but appeared on his Instagram here and there in 2018. Apparently, she also didn't know he was famous before they started dating. They met at a farmer's market. By April 2019, though, a mystery blonde was popping up on his Instagram. It's unclear if that was a love interest or just a friend, but still. Much to think about.