The Grim Reality Of Bruce Willis' New Diagnosis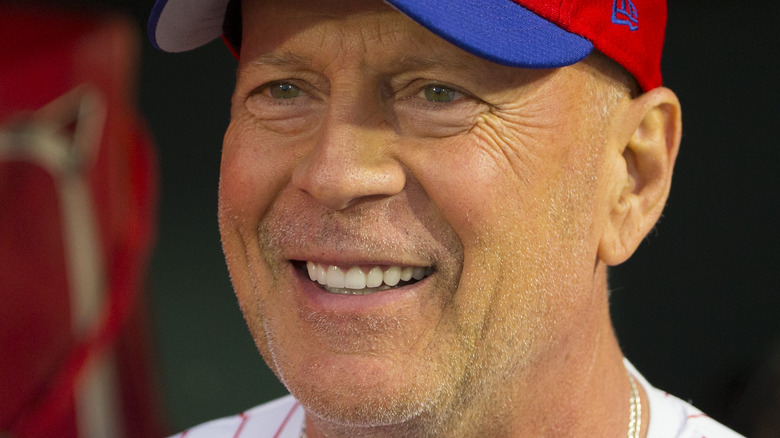 Mitchell Leff/Getty Images
Hollywood is still lamenting the devastating health news from Bruce Willis and his family. In March 2022, Demi Moore, Willis' ex-wife and co-parent to their children, announced on Instagram that Willis would retire from acting. As if that decision, by one of America's most beloved leading men, wasn't bad enough on its own, fans learned that it was because he was diagnosed with aphasia, a language (not cognitive) disorder affecting Willis' ability to communicate. "This is a really challenging time for our family and we are so appreciative of your continued love, compassion and support," Moore wrote.
On February 16, 2023, Rumer Willis provided a heart-wrenching update with further information about her father's illness. "Since we announced Bruce's diagnosis of aphasia in spring 2022," Rumer began on Instagram, "Bruce's condition has progressed and we now have a more specific diagnosis: frontotemporal dementia (known as FTD)." She noted that Bruce's earlier communication difficulties were only a symptom of FTD. "While this is painful, it is a relief to finally have a clear diagnosis," she added.
She encouraged fans to read more about the affliction through a link to the Association for Frontotemporal Degeneration website, for which Bruce's wife, Emma Heming Willis, will soon serve as brand ambassador. Willis' family is working with the organization to make the world aware of his situation, so people can learn what lies ahead for the "Die Hard" star. They also hope this knowledge might help the hundreds of thousands of others suffering from this disease.
What is FTD, and what does it mean for Bruce Willis?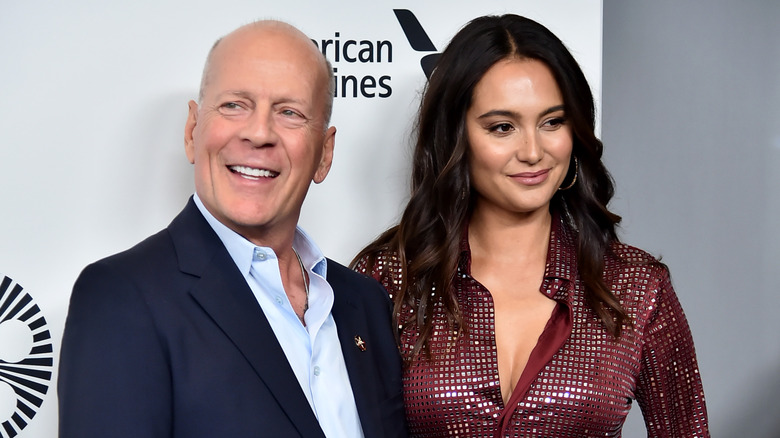 Theo Wargo/Getty Images
Bruce Willis' family wants the world to know more about the disease the "Sixth Sense" star was diagnosed with. In a statement released on their behalf, the Association for Frontotemporal Degeneration (AFTD) called FTD (frontotemporal dementia) "the most common dementia for people under 60." Willis was 67 years old at the time of his diagnosis. According to their facts, the disease, which is difficult to diagnose, affects a low estimate of 50- to 60-thousand people in the United States alone, and probably more.
FTD refers to a group of different but related disorders that affect the brain's frontal lobe. Though Alzheimer's is also a type of dementia, it affects a different part of the brain than FTD, and memory loss is not necessarily a symptom of FTD, at least at first. FTD can affect a person's behavior, movement, or personality, as well as language (or all four). It is also frequently misdiagnosed because doctors are either unaware of FTD or don't expect younger people — even as young as 20 — to have dementia.
Sadly, there is no cure for FTD, and it is fatal. The average life expectancy for patients with FTD is seven to 13 years. But with the Willis family's transparency and straightforwardness in discussing Bruce's health issues, they're hoping to help AFTD raise awareness, provide assistance, and continue their research to find a cure for the affliction. And it starts by having FTD patients like Willis share their stories.
Please visit the AFTD website to learn more about how you can help support Bruce Willis and others with FTD.
Celebrities come forward to show their support for Bruce Willis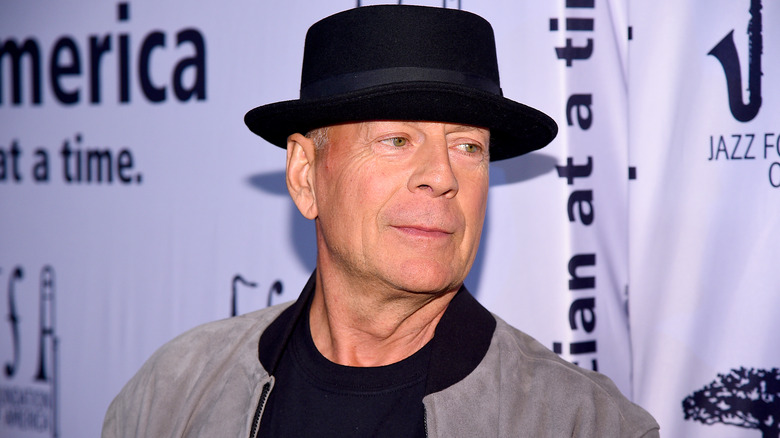 Theo Wargo/Getty Images
Upon learning about Bruce Willis' frontotemporal dementia diagnosis, many celebrities came out to support the actor. Tom Hanks, Rita Wilson, Selma Blair — who was diagnosed with multiple sclerosis in 2018 — Queen Latifah, and Paris Hilton all commented loving and supportive words. Besides Rumer Willis, the diagnosis was also shared by Emma Heming, Demi Moore, and his four other daughters.
Former First Lady of California Maria Shriver took to Twitter to send her love to Willis, as well as bring awareness to the situation. "My heart goes out to Bruce Willis and his family, & also my gratitude for shining a much needed light on this disease," she wrote, applauding the decision to share the diagnosis publicly to help people learn about the disease. "When people step forward it helps all of us. When people get a diagnosis it's extremely difficult, but also for most a relief to get a diagnosis."
"Rocky" actor Carl Weathers also tweeted his love and support for the "Pulp Fiction" actor. "Yours truly sends love and positivity to Bruce and his family," he wrote, noting his favorite movies Willis starred in. "His talent has been enjoyed 'round the world'! ... Love his work. #BePeace." CNN anchor Jake Tapper tweeted about the diagnosis, as he has a personal tie to the disease. "FTD is a profoundly cruel disease, my beloved father in law Tom suffered from it for years before he died," he wrote. "Sending all my love and prayers to their family."