Rachel Nichols' Rise To The Top Of The Sportscasting World And What It Cost Her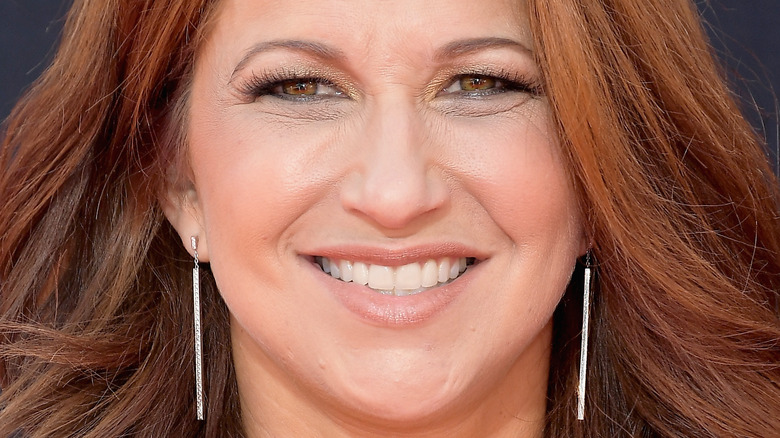 Matt Winkelmeyer/Getty Images
There may be no crying in sports, but there sure is a lot of drama. Professional sports is full of stars who got straight-up fired, former MVPs who went off the deep end, and pro athletes who ruined their careers in a matter of seconds. Those working off-field aren't immune and plenty of commentators have made headlines (and lost their jobs) due to questionable behavior. 
In 2022 alone, Fox Sports' Tom Morris was fired after he was accused of making sexist and homophobic remarks against a female co-worker. Buffalo Sports columnist, Jerry Sullivan likewise lost his gig after proclaiming, "The worst fans really are the women," during an appearance on the "Trainwreck Tonight" podcast (via SI).
Sometimes, though, folks are able to bounce back from controversy. That's the case with Rachel Nichols, who has always spoken her mind. However, voicing a controversial opinion was also what sparked her ESPN exit in 2021 — not that she's the type to back down. As she wrote in an essay for the University of Maryland's Philip Merrill College of Journalism seven years earlier, "'No' is a complete sentence ... you don't need to explain to everyone else why, and hope your reasoning is good enough for them and seems justified — just answer and move on." So that's what she did. Here's a closer look at Rachel Nichols' rise to the top of the sportscasting world, what it cost her, and how she came back.
Rachel Nichols always dreamed of being a sports journalist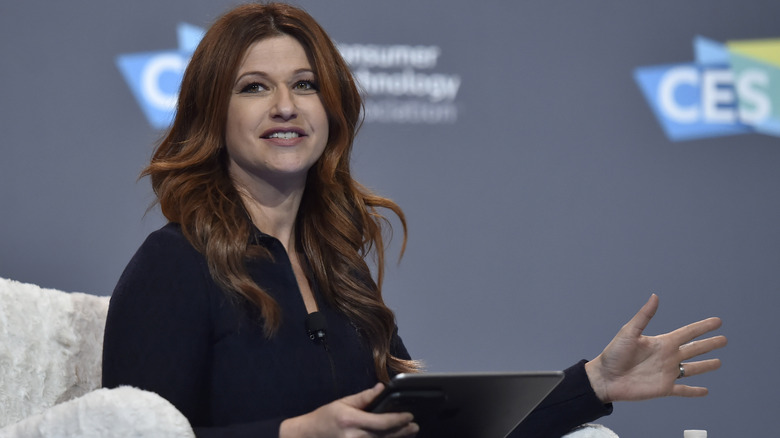 David Becker/Getty Images
Long before Rachel Nichols was a household name, she was a Potomac, Maryland native covering sports for her middle school and high school newspapers. She eventually enrolled in Northwestern University's Medill School of Journalism, Media, and Integrated Marketing Communications where she received her Bachelor of Science degree in Journalism in 1995. During her studies, she snagged numerous internships, including one at USA Today, then began working immediately after graduation. She first joined Fort Lauderdale's Sun-Sentinel in 1995 but left a year later for The Washington Post where she would remain until 2004. That's when TV and ESPN came knocking.
However, as she shared in an essay penned for the University of Maryland's Philip Merrill College of Journalism, reaching the pinnacle of sports journalism wasn't easy. "I was one of the first women to hold the Washington Capitals beat for the Post," she recalled. "I was young and female and there were a number of people within and around the organization who had never had a woman regularly assigned to and traveling with the club, and they made it crystal clear to me they would prefer me not be there." 
But Nichols wasn't deterred — after all, it was her dream job. "I don't remember ever wanting to be anything else, becoming a sports journalist was always my dream," she wrote. "I read the Washington Post religiously growing up, so that whole sports section felt like the coolest clubhouse imaginable to me, and anyone who worked there was a role model."
She made her name at ESPN — twice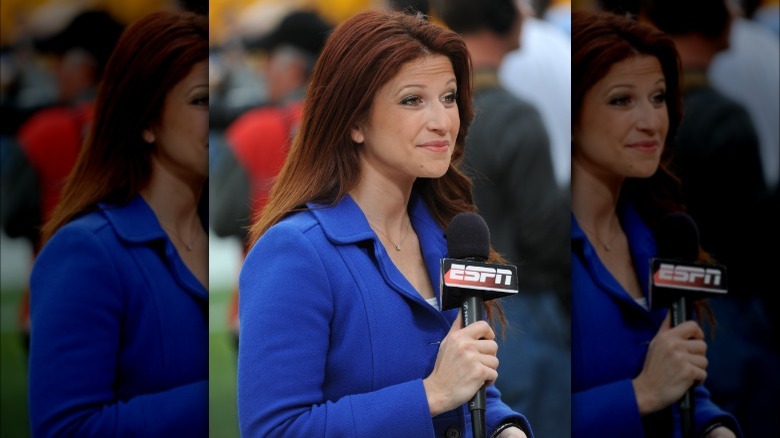 George Gojkovich/Getty Images
After nearly a decade of working in print, Rachel Nichols transitioned to the small screen when she was tapped by ESPN in 2004 to cover news, events, and interviews for a slew of shows, including "SportsCenter," "NFL Countdown," "Outside the Lines," and "E:60," which she actually helped launch in 2007. The gig solidified Nichols' status as an A-list sports reporter. But in January 2013, she decided to shake things up and leave ESPN for CNN and Turner Sports. With the move, she became CNN's sole sports anchor and even got her own show, "Unguarded with Rachel Nichols." Not to mention she was tasked with covering everything from the NBA to the MLB and the Olympics.
Sadly, the partnership wouldn't last. In January 2016, Nichols returned to ESPN when she was offered her own daily NBA show titled "The Jump." That was in addition to all of the work she'd again be doing for "SportsCenter," "Outside the Lines," and "E:60." The network was thrilled. "We are so excited to get Rachel back at ESPN in an expanded role," said Marie Donoghue, ESPN Executive Vice President, Global Strategy and Original Content. "Our mission in content development relies on smart, original voices like Rachel. Her credibility, integrity, and intelligence shine through in everything she does."
Rachel Nichols never forgot her roots
Despite becoming a staple on sports television and reportedly earning an estimated $1.5 million to $2 million per year at ESPN, Rachel Nichols never lost touch with her roots. In 2018, she returned to her alma mater, Northwestern Medill School of Journalism, Media, Integrated Marketing Communications, to deliver a convocation address to graduating journalism and integrated marketing communications students. 
She shared the honor with fellow journalist and alumnus Sheinelle Jones and, as Dean Bradley J. Hamm revealed, they weren't chosen simply because they were famous graduates. Rather, they were there because they were both dedicated to helping the future generation of journalists succeed. "Both have actively supported our students with career advice, visits to campus, and opening their workplaces to visiting Medill students," he said.
That's because Northwestern holds a truly special place in Nichols' heart. "To call my time at Northwestern 'formative' would be a colossal understatement — it shaped so much of the journalist, and the person, I've turned out to be," she enthused. "I'm so thrilled to have the chance to come back and be even a small part of that same experience for this year's graduating class."
She was caught on tape making controversial claims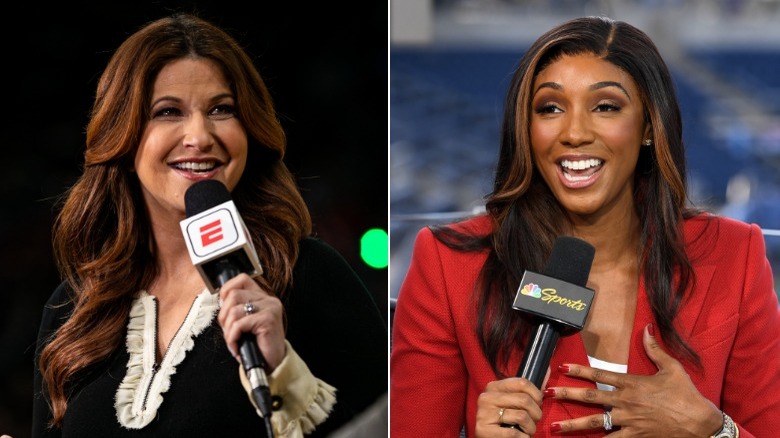 Shutterstock, Nick Cammett/Getty Images
In July 2021, Rachel Nichols' career almost imploded when a video surfaced showing her criticizing ESPN. In the clip, she appeared to accuse the sports channel of wanting "NBA Countdown" host Maria Taylor to cover the 2020 NBA finals instead of her simply because Taylor was Black. The New York Times broke the story, revealing how Nichols had accidentally recorded herself in July 2020 while talking on the phone in her hotel room. It seems she didn't properly turn off her video camera, which taped the conversation and automatically uploaded it to ESPN's servers. That's when someone recorded the clip on their phone and it quickly made the rounds internally.
While the tape wasn't publicly shared for an entire year, once it hit the news, Nichols found herself in the eye of a storm. The star could be heard wishing Taylor the best in her career while complaining that the job was in her contract. "If [ESPN] need to give her more things to do because [its executives] are feeling pressure about [its] crappy longtime record on diversity — which, by the way, I know personally from the female side of it — like, go for it. Just find it somewhere else," she griped. Adding her concerns that she'd also had a hard time climbing the ESPN ladder because of the white, conservative men at the top of it, she fumed, "I don't want to then be a victim of them trying to play catch-up for the same damage that affected me in the first place."
ESPN cut ties with Rachel Nichols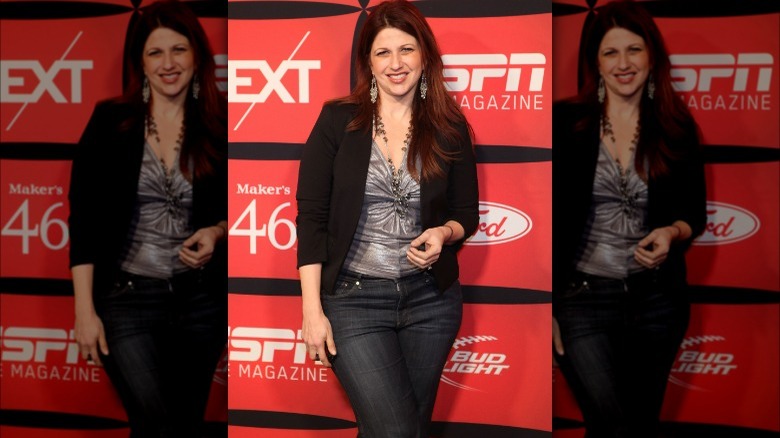 Robin Marchant/Getty Images
When ESPN executives and the network's HR department first heard Rachel Nichols' comments about Maria Taylor, they decided not to take any disciplinary action. Indeed, Nichols continued hosting her show, "The Jump," and working as a sideline reporter for the 2020 to 2021 NBA season. She even appeared on Taylor's show, "NBA Countdown," although only in pre-taped segments, ensuring the two women wouldn't have to interact with one another.
However, that all changed once the disparaging audio leaked. In July 2021, Deadline reported that ESPN had decided Nichols would only cover that year's NBA Finals on her show, "The Jump" while Taylor would host the pregame and halftime shows. What's more, neither would be the sideline reporter for the Finals. Rather, that gig went to Malika Andrews.
Jump to August 2021 and ESPN suddenly took decisive action against Nichols, canceling "The Jump" altogether and giving her no additional assignments. In a statement published by NPR, ESPN's senior vice president of production, David Roberts, said, "Rachel is an excellent reporter, host, and journalist, and we thank her for her many contributions to our NBA content." For her part, Nichols took to Twitter to thank the show's crew and to say she was grateful for the five years she had hosting it. "'The Jump' was never built to last forever but it sure was fun," she wrote.
Rachel Nichols and ESPN reached a quiet settlement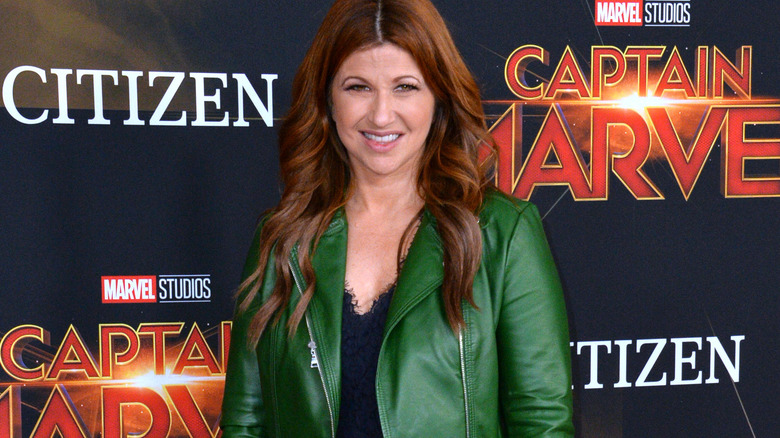 Featureflash Photo Agency/Shutterstock
When ESPN decided to cancel Rachel Nichols' show and take away all of her assignments in August 2021, it found itself in a tough legal situation. That's because Nichols actually had over a year left on her contract. What's more, OutKick founder Clay Travis theorized that the ousted reporter had a strong case to sue ESPN for breach of contract. That is if her claims that it stipulated she'd host the NBA Finals were true. Travis also highlighted the fact that Nichols was recorded without her knowledge and that she could potentially file two lawsuits. "I also think that she would have a tort-related lawsuit based on the taping of this conversation and its dissemination," he explained. "That would clearly have done great injury to Rachel Nichols' employment prospects." According to The New York Times, Nichols said she did speak with a lawyer, but that she never threatened to sue.
In January 2022, the two parties eventually settled the matter privately, dissolving the contract between Nichols and ESPN in the process. The following day, Nichols took to her Instagram Stories (via New York Post), to share an image of a sunset with the caption, "Going, going, gone."
She issued several apologies — sort of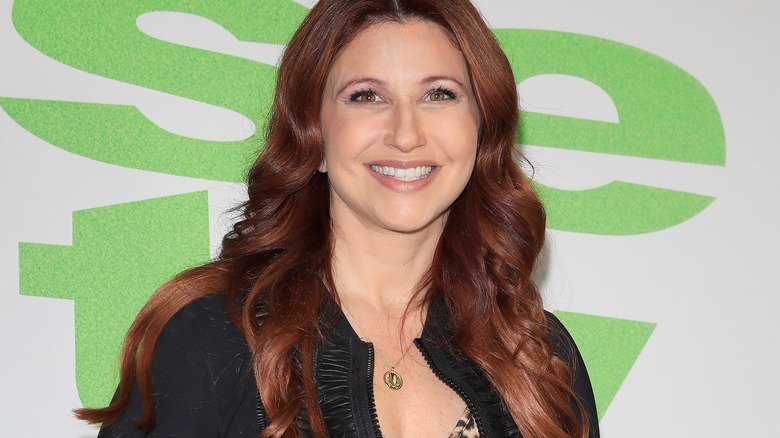 Joe Seer/Shutterstock
When the headline-making audio first leaked in July 2021, Rachel Nichols used her show, "The Jump," to issue a public apology. "I don't want to let this moment pass without saying how much I respect, how much I value our colleagues here at ESPN," she said, per New York Post. "How deeply, deeply sorry I am for disappointing those I hurt, particularly Maria Taylor, and how grateful I am to be part of this outstanding team." She also told The New York Times she had reached out to Taylor to set up an in-person meeting, but explained, "Maria has chosen not to respond to these offers, which is completely fair and a decision I respect." 
Indeed, Taylor didn't address Nichols directly in the aftermath. Instead, she tweeted this cryptic message, "During the dark times I always remember that I am in this position to open doors and light the path that others walk down ... Remember to lift as you climb and always keep rising."
Nichols revisited the controversy during a September 2022 appearance on the "All the Smoke" podcast. Issuing her regret that the situation had hurt her colleague, she reaffirmed her claim that her contract had promised her the job that had seemingly been offered to Taylor. "Do you think ESPN would ever say to Rece Davis, 'Hey, we want to give Maria this opportunity; you go be the sideline reporter?'" she mused. "They don't say that to men."
Matt Barnes risked his job to give her a voice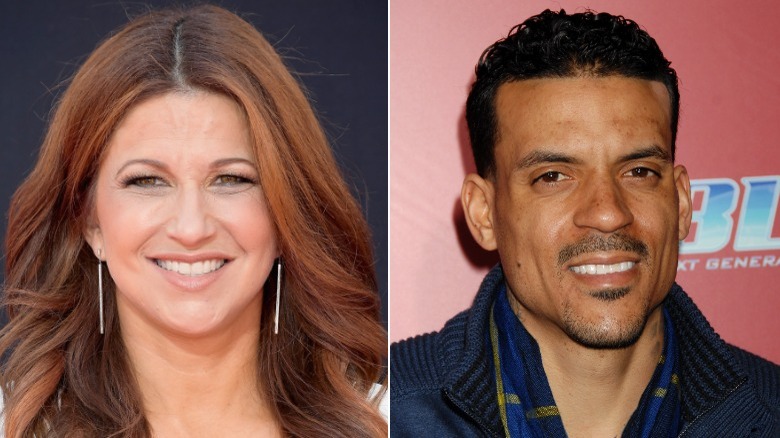 Matt Winkelmeyer/Getty Images, Shutterstock
When Rachel Nichols' former "The Jump" collaborator, Matt Barnes, invited her to share her side of the story on his Showtime podcast, "All the Smoke," in September 2022, he took a big risk. As he told Bootleg Kev four months later, he was still employed by ESPN at the time and his talking to Nichols raised some questions. "What was crazy was I had to talk to some ESPN people after that," he revealed. In the end, there was no blowback. Either way, he had absolutely no regrets. "If her telling her truth on my show was gonna cost me my job there, I would have took that," he proclaimed. Why? "Because that's ... how dope she was, how opening she was, how important and instrumental she was to me and ['All the Smoke' co-host Stephen Jackson] in particular."
During her appearance on the podcast, Nichols not only criticized ESPN for seemingly creating the drama in the first place, but she also accused unnamed sources of sabotage. "Unfortunately there were still some people who had bad feelings and held on to this tape for a year," she claimed. "And when there was a point they wanted some leverage with their own situations they fed it to the press."
Her career found a new home and thrived
Rachel Nichols' career may have hit a rough patch when she was forced to part ways with ESPN after over a decade of collaboration, but she was able to rise again thanks to another network. In September 2022, she revealed on an episode of "All the Smoke" that she had been hired to helm Showtime Basketball, gushing, "I am so thrilled." 
On Twitter, Nichols excitedly revealed the huge scope of her new role while sharing a press release regarding it. "They've asked me to produce, create, and host new sports programming across platforms, working alongside Hall of Famers, multiple guys with championship rings, and an uber-creative team behind the camera," she wrote. "We're going to have so much fun." Despite her past drama, Showtime Basketball's Senior Vice President of Sports Programming & Content, Brian Dailey, was also ecstatic. "Rachel brings unmatched journalistic credibility, great familiarity with our roster, and a work ethic that will take us to another level," he enthused.
In January 2023, Variety confirmed that she was already developing a new show called "Headliners," as well as a new podcast called "What's Burnin,'" for the network. "The strategy is to put this content in a bunch of different places," she told the outlet. "So you want to hit linear TV, but also YouTube and streaming and other platforms." In keeping with that plan, Nichols was also tapped by CBS Sports HQ (a streaming channel run by CBS Sports and Paramount) as an NBA contributor.