Ryan Reynolds Plays It Coy When Asked About The Birth Of Fourth Child With Blake Lively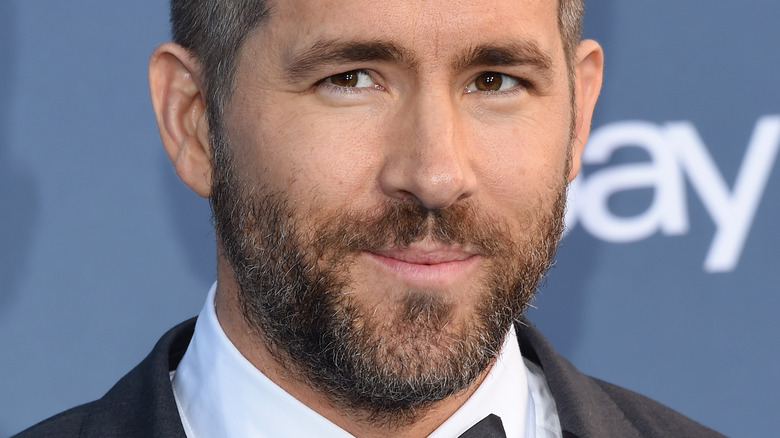 DFree/Shutterstock
#BabyWatch for Blake Lively and Ryan Reynolds' fourth child appeared to be over on Super Bowl Sunday 2023, after Lively shared a photo of her suddenly flat tummy. In an expertly coy Instagram upload, Lively appears smiling alongside Reynolds and his mom, Tammy, as they prepare to celebrate the festivities. "Puppy Bowl Sunday 2023 ... been busy," the actor and Betty Buzz founder wrote simply (along with posting a carousel of yum dishes she and her fam made). 
Lively's diversion didn't stop her comments from being flooded with fans shocked at her seemingly baby bump-less belly. After all, the "Gossip Girl" star also made huge waves last September when she popped up at the 10th Annual Forbes Power Women's Summit with an unexpected accessory — a burgeoning fourth bun in the oven. Lively and Reynolds were already parents to daughters James, Inez, and Betty, with Lively gushing at the event that she just liked "to create," whether that be "baking or storytelling or businesses or humans." Needless to say, her hubby is on board with her mentality. As Reynolds himself told Entertainment Tonight last November, "You'd have to be a moron to do this four times if you didn't like it."
When it comes to confirming Baby No. 4's birth, however, it seems the couple is letting Lively's Instagram pic do the talking (for now)...
Ryan Reynolds offered no spoilers on Baby No. 4's sex
As he prepares to join the Marvel Cinematic Universe with 2024's "Deadpool 3," it's a good thing Ryan Reynolds knows how to keep a secret! After wife Blake Lively revealed her missing baby bump on Super Bowl Sunday, everyone's minds turned to questions surrounding the baby's sex and name. During a February 13 interview with CNBC's "Power Lunch," however, the action star remained a locked vault. "I ain't telling," Reynolds said. "We didn't make a birth announcement. We just posted a photo and the media sort of did what it does after that." 
The actor did offer that he and Lively have got a handle on their now-household of six. "Everybody's actually doing fantastic ... I think if we hadn't figured it out by now, I think we'd be in deep, deep trouble," Reynolds said. The "The Proposal" star did, however, jokingly compare the state of his house to "a zoo." "This is my office here and, to be honest, I'll probably spend the rest of my life in here," he quipped.
The "Deadpool" star has always been adamant that he preferred daughters to sons if given the choice. As he joked to Today in November 2022, "I love my well-being and my home. I was the youngest of four [boys] and we were just arsonists and firemen." Plus, after three daughters already, the girl dad must have gained some personal wisdom in that department!