Tish And Billy Ray Cyrus Have Attempted Divorce More Than Once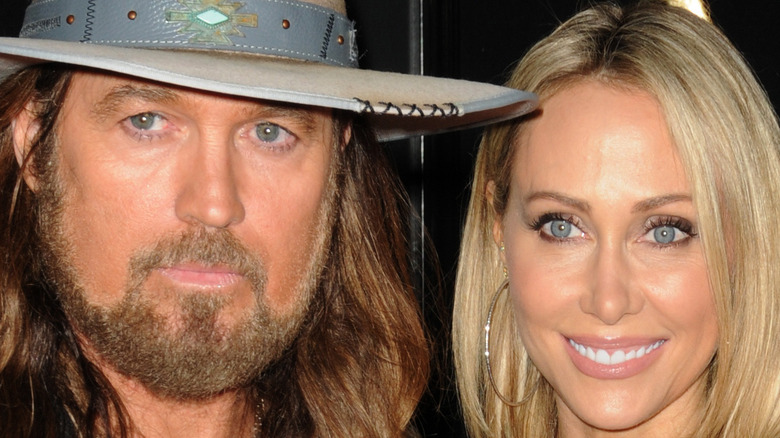 Kathy Hutchins/Shutterstock
Together, Tish and Billy Ray Cyrus built a powerful and artistic family. Tish and Billy Ray met in 1991, and just a year later their love was put to its first major test. In 1992, Billy Ray's "Achy Breaky Heart" transformed the otherwise unknown country singer into an overnight sensation. It also marked a time when two women gave birth to Billy Ray's children. Tish welcomed none other than Miley Cyrus in November 1992, seven months after he'd fathered his son, Christopher Cody, with a fling.
"Oh, my gosh, it was a mess," he told GQ in 2011. "Because the truth was I just really knew I loved Tish." But they worked through it and married in a secret ceremony the following year, much to his record label's chagrin. Tish and Billy Ray went on to have a son, Braison Cyrus, in 1994, and another daughter, Noah Cyrus, both of whom are also artists. Additionally, Billy Ray adopted Tish's children from her previous relationship, Brandi and Trace, who also became entertainers.
Tish and Billy Ray have faced their fair share of hardships. With three-plus decades of history, it seemed like the couple was unshakeable. But that wasn't what destiny had in store for them. In April 2022, Tish filed for divorce from Billy Ray, Us Weekly reported. And that wasn't their first or even second time doing so.
Billy Ray Cyrus has filed for divorce once and Tish twice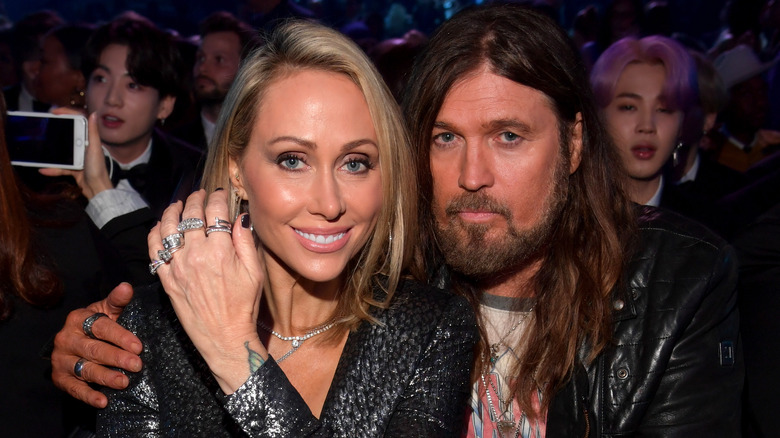 Lester Cohen/Getty Images
When Tish filed papers to dissolve her and Billy Ray Cyrus's 28-year marriage, the two had been living separately for two years, TMZ reported. This time, it's sounding like the divorce is going to stick. Billy Ray was the first to try to end the marriage, back in October 2010. The "Trail of Tears" singer cited "irreconcilable differences" and remained just as vague regarding the reasons leading to the decision in a joint statement released to the media. "We are trying to work through some personal matters," they said, People noted.
Apparently, Tish and Billy Ray were successful in their attempts to mend their relationship. By the following March, Billy Ray had dropped his petition and gushed about the state of his relationship. "Things are really the best they've ever been ... I dropped the divorce. I wanted to put my family back together," he said on "The View" (via Billboard). Tish celebrated their reconciliation. "Our family weathered a huge storm and I feel we are stronger than we have ever been," she wrote on Facebook.
Things proved to be not as good as they described. In June 2013, it was Tish who decided to pull the trigger, People reported. She called off the divorce a month later. "They recently went into couples therapy ... and it's brought them closer together," E! News Ken Baker said. It worked for a while, but it's looking like it's really over now.
Tish Cyrus and Billy Ray Cyrus have reportedly moved on
Tish and Billy Ray Cyrus may have contemplated divorce twice before, but neither had been in a public relationship during those trying times. The story is different now. In mid-2022, Tish sparked relationship rumors with Dominic Purcell after a series of flirty social media comments caught eagle-eyed fans' attention. In December, she confirmed the relationship with an Instagram photo. "Headed into the New Year HAPPY @dominicpurcell wishing everyone a safe and magical New Years Eve!" she captioned a photo of the "Prison Break" star with his arm around her.
Tish and Purcell are reportedly pretty serious about where the relationship is headed. "Tish wanted to keep their romance under wraps for a little while until she was sure he was The One," a source told Us Weekly in February. "However, that didn't take long, and they've been inseparable since." Tish isn't the only one who has moved on. Billy Ray has more than just found a new girlfriend since the divorce filing.
 In 2022, Billy Ray became engaged to Firerose, an Australian singer 34 years his junior, news he confirmed to People in November. The divorce and his engagement to Firerose reportedly impacted Billy Ray and Miley Cyrus's relationship. "Miley has been closer to her mom Tish throughout the divorce," an insider told E! News in October. Indeed, Tish has shared Instagram photos featuring Miley and Purcell in the same event, suggesting she's more supportive of her mom's new partner.