The Seedy Proposition Pamela Anderson Says She Got From Sylvester Stallone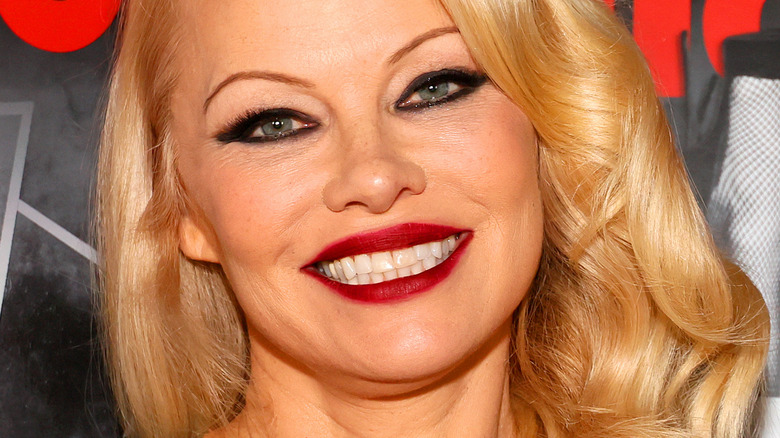 Dia Dipasupil/Getty Images
The article discusses instances of sexual abuse.
Pamela Anderson has always been one of the most recognizable celebrities thanks to her signature, unforgettable look on "Baywatch," and really just in general. From her iconic slow-motion run in her red swimsuit to her barbed wire tattoo, and gracefully arched, razor-thin eyebrows, Anderson is a pop cultural moment in and of herself. But with that fame, which had to do with her looks or her nonconsensual sex tape leak, came such a lack of privacy and a lack of respect for her body and her personal life. This often led to men making passes at her or asking her inappropriate questions in live interviews. According to Anderson, "Rocky" actor Sylvester Stallone is one of the men who gave her a seedy proposition.
Anderson appeared on a lot of late-night talk shows in the '90s at the height of her fame, which of course came with men overstepping their boundaries with cheeky questions. And with her new memoir, "Love, Pamela," and her Netflix documentary, "Pamela, A Love Story," she's telling her side of things and revealing a lot about the men in Hollywood that surrounded her. From Tim Allen to Stallone, no one's indiscretions are off limits.
Pamela Anderson alleged Sylvester Stallone gave her a proposition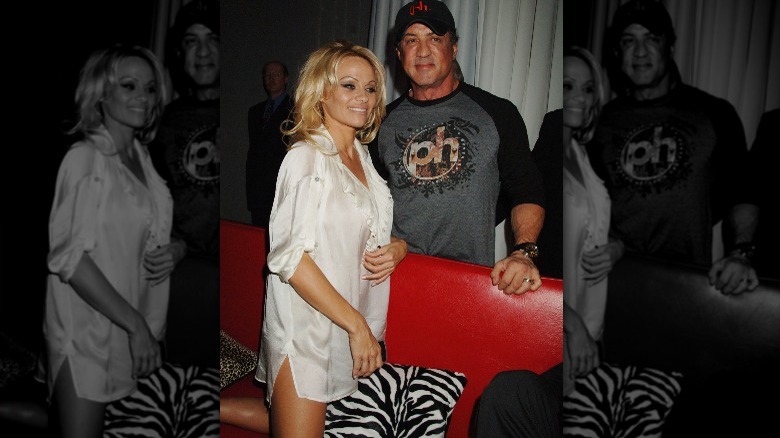 Dave M. Benett/Getty
The Netflix documentary, "Pamela, A Love Story," takes a typical documentary look at Pamela Anderson's story from the time she was born, her childhood in Canada, how she became famous, and everything that followed. Anderson didn't have a smooth life, and her beauty's always been used against her or used by men to take advantage of her; she shares at least two stories of sexual abuse before she was even 15. Once she became famous, that mistreatment didn't go away. Well-known men would continue making inappropriate comments, or worse, to her.
As Anderson went through the many boyfriends she had (outside of her marriages), she talked about how Sylvester Stallone made an interesting proposition to her. "He offered me a condo and a Porsche to be his 'No. 1 girl. And I was like, 'Does that mean there's No. 2? Uh-uh,'" she said, laughing at how she turned him down due to the thought of being one of multiple Stallone girls. "He goes, 'That's the best offer you're gonna get, honey. You're in Hollywood now." She turned him down because she "wanted to be in love. I didn't want anything less than that," she said. Of course, Stallone's camp denied the allegation. "The statement from Pamela Anderson attributed to my client is false and fabricated... Mr. Stallone confirms that he never made any portion of that statement," they said in a statement.
Pamela Anderson wants to 'take control of the narrative'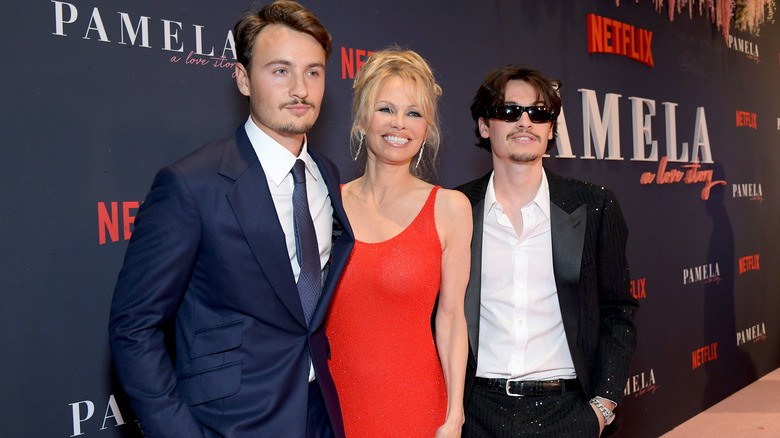 Charley Gallay/Getty Images
With the typical "he said, she said" nature of allegations, it's still a story that Pamela Anderson believes is true and is a part of the many things that shaped her journey through Hollywood. The documentary, "Pamela, A Love Story," and her memoir, "Love, Pamela," weren't even her idea to make; she's been pretty open about the fact that her sons, Brandon Thomas Lee and Dylan Jagger Lee, encouraged their mother to share her story in full such a way. In fact, Brandon Thomas Lee is a producer on the documentary. "[There's] a little bit of anxiety before it comes out because this has been a year, basically, of therapy, going through my life from my first memory to my last memory," she told People. "I'm really proud of it. It is something I wrote every word of. I didn't have a collaborator. I didn't have any ghostwriter, nothing." 
Anderson also told Drew Barrymore that due to her sexy public persona, Anderson had much less protection than other stars. "No right to privacy is what I was told. And that I probably wanted the attention when the tapes were stolen and put out there," she said. With these personal projects coming out after the Hulu series, "Pam & Tommy," which Anderson did not consent to, she said this documentary is a way for her "to take control of the narrative for the first time."