The Most Expensive Gift Ben Affleck Ever Gave Jennifer Lopez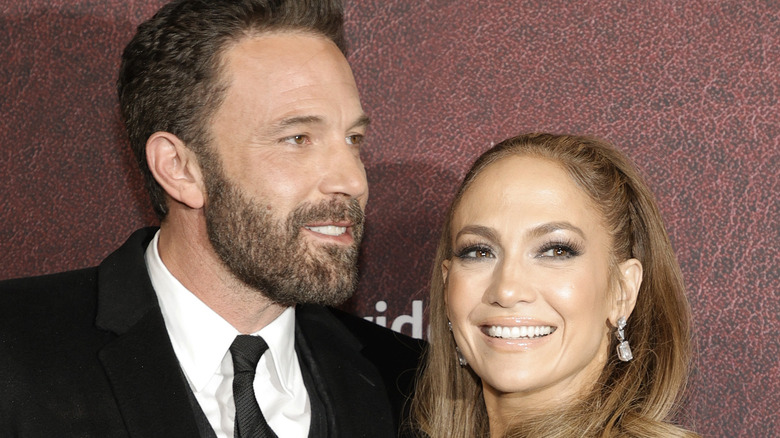 Amy Sussman/Getty Images
You've got to hand it to celebrities for being the world's best gift givers. Well, who could blame them? If you also had a cushy bank account with millions of dollars to spare, you would probably spoil your loved ones with the most extravagant presents you could think of too.
Some celebrities are on another level, though. For starters, when Kim Kardashian and Kanye West were still together, he gifted her a $1 million check and some Yeezy shares just because he felt like it. And in 2018, he reportedly bought her a Miami condo worth $14 million! NBD. But that's nothing compared to what queen Beyonce gave her husband, Jay-Z, for Father's Day. Back in 2012, the "Cuff It" singer bought the rapper a $40 million jet, which had his name emblazoned on it. The Sun reported that it could accommodate 16 passengers and features both a living area, a bedroom, a fully-stocked kitchen, and staff that tends to your every need. Must be nice to have all that cash lying around!
Meanwhile, Jennifer Lopez is also a lucky recipient of extravagant gifts. Most of her lovers had spoiled her with expensive presents, but not more than her current hubby, Ben Affleck, who had given her a multi-million dollar ring — not once, but twice.
Ben Affleck gave Jennifer Lopez multi-million dollar engagement rings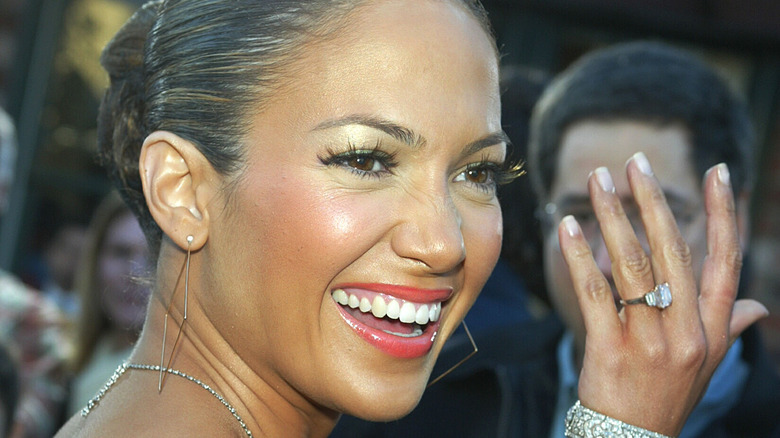 Kevin Winter/Getty Images
Don't be fooled by the rocks that she got — there's more where that came from! Throughout her life, Jennifer Lopez has been engaged multiple times, and with that came multiple rings. Two of them happen to come from Ben Affleck, and coincidentally, they were the most expensive presents he's given her to date.
When they first got engaged in 2002, the "Argo" star got down on one knee and with a pink 6.1-carat Harry Winston diamond ring reportedly costing $2.5 million. But in their second engagement two decades later, Affleck outdid himself and gave J. Lo an 8.5-carat sparkler that is believed to be worth a whopping $10 million. Gemologist Corrine Taylor Davis explained to Us Weekly that it's because the stone was rare. "There is literally nothing else on the market like it," she said. "This means that Ben has been working on this ring for months through private channels."
His efforts paid off, because, for Lopez, the color green holds a special meaning. "I always say the color green is my lucky color," she wrote in her "On the Jlo" newsletter. "Maybe you can remember a certain green dress. I've realized there are many moments in my life where amazing things happened when I was wearing free. It may be a coincidence, maybe not. But as I took a better look, I realized there are no coincidences."
Jennifer Lopez also loves showering Ben Affleck with gifts
Of course, Jennifer Lopez spoils her man back, too. And she does it in the best way she knows how: through song.
During their wedding, the singer reportedly performed an original composition for Ben Affleck, but the details about the track are still unclear to this day. However, filmmaker Kevin Smith, who was present at the event, described it as "one of the most precious moments" ever. "He's never been happier," he shared with Entertainment Tonight. "I've seen that dude be happy, but the pure joy that was radiating from his face was absolutely unforgettable." Lopez also reportedly wrote a follow-up to her song "Dear Ben" in her upcoming album "This Is Me... Now," and it's expected to be dedicated to Affleck, just like the original track.
For Lopez, love really does not cost a thing. On Valentine's Day 2023, she took her love for Affleck to the next level and had their names tattooed right on her rib cage. "Commitment. Happy Valentine's Day my love," she wrote in her post showcasing the new ink. "#CommitmentIsSexy #ThisIsUsThen #ThisIsUsNow #THISISMENOW."